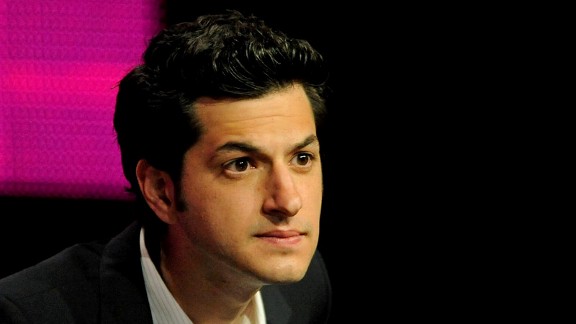 Phil McCarten/PictureGroup
Schwartz, who plays Jean-Ralphio on "Parks and Recreation," did not rap for us. Unfortunately.
Ben Schwartz, who plays the smooth-talking Jean-Ralphio Saperstein on the incomparable NBC comedy "Parks and Recreation," discusses his first Las Vegas Summer League experience, the New York Knicks' offseason, working with Roy Hibbert and Detlef Schrempf, and more.
On his first summer league game, an 83-52 Cavaliers win over his Knicks:
"I ate a pretzel. The pretzel was delicious. I had a nice bottle of water. ... It was good, man. It was fun to see everybody. We picked up [Chris] Copeland, I think -- I'm almost certain we picked up Copeland. It's fun to see him play before he puts on a uniform, before it's real. It's cool! It's fun, man. Some of these guys are trying so hard."
On the Knicks' offseason:
"I'm blindly excited for the Knicks. I can never speak negative. Jason Kidd, although he may be a little bit older, has been instrumental in winning a championship with the Mavs and being amazing. He was on the Nets. I remember seeing him play with [Keith] Van Horn back in the day. Marcus Camby, I was a huge fan for in '99. I cried when we didn't win. I'm happy to have him back.
"It's weird to see people go that you're obviously kind of have, like, relationships with just while watching games. It'll be exciting. I'm excited, man. When [Iman] Shumpert comes back -- I think he comes back in January ... there's always a chance. We also have Carmelo Anthony and Amare Stoudemire and Tyson Chandler, two of the players who are representing our country as the best basketball players in the world. People forget that if we just start jelling together, man, this is a dangerous team every year. If we stay healthy, it could be awesome to watch."
On his unbridled enthusiasm for the Knicks during these dark days:
"Listen, I've been a Knicks fan for so long and for so many seasons that are not nearly as exciting as last season was. It's so tempting to become a Nets fan, obviously. But I've been a Knicks fan my whole life -- I grew up in the northern Bronx. My dad has been a Knicks fan his whole life. I will forever be a Knicks fan. My son or daughter will be a Knicks fan."
On saying goodbye to Jeremy Lin:
"You grow attached to these guys! I buy the NBA League Pass so I can see stuff like that happen. Because I live in L.A. and I can't see the Knick games. We'll see. It was a blast having him on the team. It was fun seeing New York and everybody get so interested in basketball. It was so fun to watch for me. People in my industry -- I write and act -- who haven't watched basketball games knowing exactly all about it, learning this heartwarming story, loving this idea of redemption. It was really fun. I wish him the best of luck. I think our team is stacked. I think we have an amazing team. I'm excited to see us play."
On which NBA player would be the best comedic actor:
"I asked Landry Fields to do a show. But I think Steve Nash -- he's hilarious. I think he's funny as hell. I think Baron [Davis] is funny. I did interviews for ESPN for a bit, with like Matt Kemp and Jordan Farmar and all these guys. There's some funny dudes in there. Shawne Merriman was really funny. Matt Kemp was great. [Roy] Hibbert, man. I love Hibbert. Hibbert's my boy. I love him."
On working with Roy Hibbert and Detlef Schrempf on "Parks and Recreation":
"[Hibbert is] great. He and I are so very close. I'm psyched that he got the deal that he got. I think he deserves it. Absolutely, man. There's not a lot of raw centers like that in the NBA. He's a wonderful, gentle, great human being.
"Man, Detlef is my boy. Anytime he's in L.A., we try to get lunch. He invites me to his gold tournament every year, and every year I tell him that I don't know how to play golf and it would be the most embarrassing thing ever."