The defending champion San Antonio Spurs are tied at 2-2 with the New Orleans Hornets, with Game 5 set for 9:30 ET tonight.
Should be a wild one, with the Hornets looking to recapture the momentum they had in the first two games at home.
ESPN's David Thorpe has a thorough preview, in which he predicts the Spurs will win tonight. He points out that when the Spurs were losing, their star Tim Duncan was suffering from some kind of cold, which he appears to have shaken.
John Hollinger, on the other hand, has good reason to think the Hornets will win the series.
There are many storylines to follow. To me the most important one is this: The pressure is on New Orleans to maintain an extraordinarily high level of defensive intensity -- to keep the likes of Duncan, Tony Parker, and Manu Ginobili from getting easy baskets.
The key to any such scheme is players who are long, strong, and active. One of the most active of all Hornet defenders has been rookie Julian Wright. After not playing much for long stretches of the regular season, Wright has become an effective Hornet at both ends of the floor lately.
He talked to us a few days ago, about his first season in the NBA, the feeling of having left a team that went on to win an NCAA title, adjusting to the NBA, his teammates, New Orleans,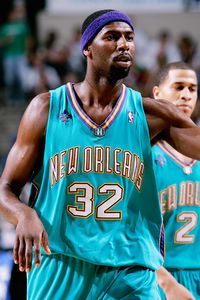 nicknames, and bowling:
I was just talking to David Thorpe, who did rookie rankings all season long for ESPN.com, and he watched a ton of video. I told him I was going to talk to you. And he said that more than any rookie, you improved during the season. And I'm just wondering what kind of player development stuff you were working on, who you were working with and why you got to be so much more effective as the season went on.
I started off playing a little bit in the beginning of the year. It was a five-, six-week stretch where I didn't play much at all. I was on the injured reserve. I wasn't able to. I felt I could give the team more, contribute more. Made me take a step back, decide what I could bring the team. Not just running out there randomly doing stuff.
I realized I could be effective defensively, in terms of, I got a lot of reps in practice. In practice, being a rookie, I got a lot of repetition on the defensive end because the veterans don't want to play defense and offense all the time.
I just tried to take that and run with it. Defense was what coach told me would keep me playing.
But in terms of skill development, it's a collective effort with the assistant coaches. They were telling me to work on certain things, working on my jump shot. Working on catch and shoot. And ball handling, because they felt if not this year, in good time I could do a lot with the ball in terms of handling the ball and on offense.
So, just trying to stay confident in that sense and work on my game, regardless if I'm playing 20 minutes or if I'm on injured reserve. That kind of helped me move along with the process and become better and be more effective for the team.
I know some coaches and trainers are really hesitant to mess with a guy's shot. Have you done anything to change your shot at all during this season?
They just started telling me to follow through and finish my shot. Sometimes I push it. Sometimes that's part of me not having balance.
So just trying to put everything together. Sometimes I don't have the focus on the reps, considering the reps, in terms of shooting based on college and high school. It never really was a focal point offensively for me. And I was a little step behind in that sense. But mentally I wasn't even taking the certain shots in practice.
So it made it difficult for me in terms of my chances. And games, you've got to make open shots. You have an open shot, you gotta take it. When I realized that, that's where I feel I got better and more confident, because you have to knock down the shots in the NBA. That's what I realized. That's why I put a lot together in terms of paying attention to my stroke.
Did something happen to help you gain the coach's confidence back? Was it the defensive practice you think that got you playing time again after you were out of the rotation for a while?
I got a big break as a rookie playing for a coach like Coach Scott. He doesn't give you too many chances. He expects you to learn on the fly and wants you to contribute. And he gave me a lot of chances, told me about it. And he said in early January, David West was hurt at one point. He was out for a couple of games. Coach was looking for someone to fill the void and go and have energy and go out there and produce.
I came to him. I asked him what he wanted me to do to be better and produce and improve. And basically I was saying how can I improve? So the same time that happened is the same time he got hurt. I got a break.
I went out and played with the confidence I had in me, put me in the rotation to this point. So confidence definitely is something that I could have at this level and I realize that that's what I try to keep regardless of a good game, bad game, and stay with it.
What was that first game back like? The first game when you got decent minutes, which game was that?
That was against Atlanta. Home game against Atlanta. I can't remember. I think I scored maybe 14 something like that. Then I had my career high, 20 points, and eight rebounds. ... I went from not playing much at all to 30 minutes.
It must have been hard to sleep during that time, huh? Were you pretty excited?
No, I felt like it was real instinct. I'm not much of a scorer, but when I feel like I'm in that situation, I feel I can become a scorer.
Like, obviously, I can't replace 20 points 10 rebounds with David West, but for a short certain time I tried to do as much possible for the team. That's what you've got to do as a bench player. But just gotta do what you gotta do. When the roles increase you have to have confidence to produce. So that's kind of what I'm taking with me into next year and to the playoffs. Given time I feel I could produce when necessary. But that's not my role.
So all season long, the Hornets bench players have been a effective defensive unit. Now you get to strut yourself against the San Antonio Spurs and you're doing an amazing job of eliminating Tim Duncan's opportunities and taking a lot of things they want to do. Can you talk to me about what you're doing as a team?
Well, as a bench player like, for instance, the coach is always say you don't have time to warm up, you go out there and I'm going out there and I'm guarding the other team's best player most of the time.
It's kind of like you have to stay focused and remember the personnel, remember what you're doing out there. That's why I'm trying to get to that point. Get locked in on every play regardless. You come off the bench or if you start the next quarter. It's just like that's kind of where I'm learning, guarding the perimeter guy. But the first time I came in to play I was mostly playing front court. But I'm playing, I start playing the perimeter, because in the playoffs, it's more physical.
So it's been a heck of an adjustment. This is the first time I've played the perimeter. But I'm definitely feeling like I have to have energy. And I feel I've been a game-cha
nging kind of player. A few mistakes, but mostly because of injury, not because of lackadaisical mistake or nonchalant.
What are you thinking about when Manu catches the ball and you're all alone with him out there? What's going through your mind?
I'm thinking, like I said, it's my first year. This is my first year playing perimeter, perimeter or defense, things like that.
I just gotta remember what they need us to do and go at it today. I was kind of pissed. I was kind of like this is, some things we already talked about. But you get out there, you realize good players, they know you know what they're going to do now and they know what they're going to do. You have to make the second effort to cut them off. I know he goes to the left a lot.
Do you live in New Orleans full-time?
Yeah, I live in New Orleans.
How is the city doing now?
The city is doing much better. I feel like when they get to the point where it's more stable, it's going to be a younger city. People are getting around and doing jobs that they created.
So it's going to be a younger city and also a little more centered in terms of the cost of living. I think I don't think the city will be as big as it used to be before the hurricane came. But it will be a special city. It's a collective effort. But everyone can be building and being contributing. That's what makes it special to play for the Hornets and play for that city. We're all going for trying to make it a better place.
I can't tell if it seems like some big PR effort but it does feel kind of like to me if the Hornets do well, the city does well. Do you guys feel like that?
Yes, from the All Star break, it was a big eye opener for people in New Orleans to see how it's almost three years removed from the storm, and certainly they ain't back on their feet.
Takes a long time to get families get everyone situated and get back to how it used to be. So that was a big eye opener. So I think playing for the city and try and get back and bring a lot awareness to the situation and things, help everyone to try to develop solutions to get them right back on their feet.
So you left the Kansas team that then went on to win a national championship, does that sting a little bit?
No, not at all. I came down to San Antonio to watch the game. I was moved by the fact that they actually they wanted me up on the podium celebrating with them and in the locker room and hotels. Things like that. This is a family. I left at the time I left, I didn't know what I was leaving. But you just make a grown man decision at the time. I felt it was time to move on. I wished them the best of luck for the season. I knew they had a great shot at winning. That's what you do.
When you make the decision you have to make it. It's immature to make a decision and then want the best, the other half of it, the good parts of it. So I was definitely excited for them. I just kept encouraging them talking to them throughout the year. And they're definitely deserving. It's a lot of work that comes to winning that championship. But they deserve it, anything that came their way after this year.
I know when top players like you leave, everyone at the college ends up thinking that it's going to be like the death of the basketball program. But I guess they did pretty well for themselves, right?
Yes, guys stepped up. I was saying, we are saying that if they win, or if they don't win, it was because I left, like saying they needed me to be there. No, like that's not the mentality or the attitude that was created, that was presented to me.
I talked to my teammates. I was there in September, for a weekend last year. And everyone is so focused. They all got behind each other and they made this run for this year. That's how it is every year. That's what happens when guys leave and graduate. The coaching staff puts the players in a best situation that year to win. The guys who they have, from boot camp on to the tournament time, have to produce.
Did you feel like you have that kind of team spirit on the Hornets?
Yeah, I've been fortunate to be on great teams. These guys, the camaraderie is something that's so real in the organization. Just the fact that everyone's at this level, they have families. They have all these other things that, distractions, not just negative distractions, but just distractions, things that could stop you from really bonding with the guys on the team.
But everyone on this team, whether they play five minutes, or whatever, it's something that's rare and special and I think that contributes to our success.
In the postseason so far we're playing for each other and that makes it so much easier and the chemistry is something that's really tough to get to this point so far.
Has anybody in the organization in particular, whether a player or a coach or a front office person or whatever been kind of the most helpful to you in getting used to the NBA?
Everybody's brought me along. Everyone at some point in time sat me down and talked about stuff. Pretty much I've been in a situation where I've got great advice from all my teammates and coaches. Makes it so real. It's to the point where my confidence, playing with guys, they want it developed. I think it takes everyone to help in terms of winning. So like they want me to grow up fast and really mature.
I know you've got to go in a second here. But I've got to ask you: I've seen different nicknames for you out there on the Internet. I'm going to run three of them by you see what you think.
Okay.
Radical Preacher.
(Laughter). Wow. Okay.
Have you heard that?
No, I've never heard that.
Another one is Flight 32.
Flight 32. That sounds familiar. On a broadcast or something.
And Giraffe Calf.
Wow, no, not that one.
Do you have a preferred nickname?
I guess Juju, as you know.
Yeah.
Juju, that's my nickname my family gave to me. But that's it. But if someone comes up with a great basketball nickname, that's fine, too. But Juju is my nickname.
You're not feeling the Giraffe Calf right now?
No, I don't know about Giraffe Calf. Maybe Flight 32. That's kind of cool. I can keep Flight 32 but I don't know about the other two. Radical Preacher (laughter). That's a big list.
All right. Anything you want to tell me I haven't asked you about?
On the record, I'm the best bowler on the team.
Nice. What's a good score for you?
A good score for me? Good score, let me try not to sound too arrogant or anything, a good score for me is 190.
You do a fair amount of bowling? Do you and the Hornets do a fair amount of bowling?
Oh, yeah. I bowl, not as much now as in the post season, but yeah. I used to bowl about two or three times a week at one point.
As long as you know you're staying off your feet the rest of the day, you can afford to do that for like one part of your day. So it's just that way. It's another thing I have a good time.
My teammates come out, people I know. There's this one bowling alley in particular. Nice to go out in the community, show my face, have a good time bowling.
I have a good time between when I'm not on the lanes. Just like on the court. Just like when I'm on the court or the lanes, it means business.
Who else is good? Who is your competition?
Chris [Paul] is competition, but he doesn't ever want to go head to head with me. He's so busy. He's no rookie, he's the one that's famous, I understand that. But my teammate, Hilton Armstrong, he goes up there a little bit. He's getting better. He uses the house ball, though. He needs to get his own ball. That's when you get better. Fits your hand, so you can bowl with it every time and make adjustments. But if you use a house ball ... I'm sure you won't bowl with the same house ball all the time.
Must be my problem.
Yeah, you won't be able to bowl consistently and get better if you don't have your own ball, have to make adjustments.
(Photo: Glenn James/NBAE/Getty Images)