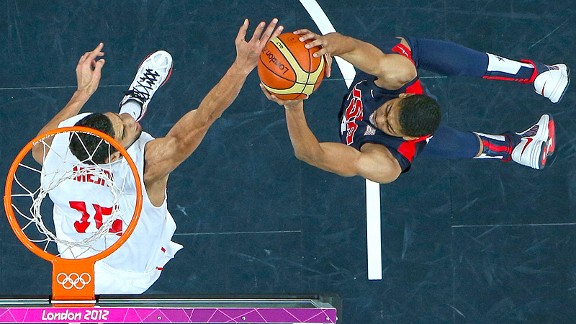 Ian Walton/Getty Images Sport
One of five Anthony Davis dunks against Tunisia.
Anthony Davis has a good life with Team USA. In his first prolonged stint of Olympic action, the 19-year-old top pick scored a dozen points without so much as a single dribble.
Seriously, all five of his buckets were lob dunks -- and his two free throws came when he was fouled on a tip jam attempt.
But the flashy lobfest wasn't all Davis brought to the game. He was active around the rim, seemed to know where to be on both ends and hardly looked physically overmatched against grown men. Against the worst team in the Olympic field, he looked pretty sharp.
Yet after the game, Deron Williams, while praising Davis, said "he doesn't even really know how to play the game yet."
That's a good summary of where Davis is right now: He's incredible ... for a nineteen year old who hasn't seen a second of NBA action.
All of which leaves a question mark about his role on this team. Is he here to learn, or to help?
If he were an NBA veteran with his current skill level, he'd never have been on the team. Consider how Tunisian big man Salah Merji blows past Davis for a fourth-quarter slam. A nitpicker would mention his inability to hold position down low or create a shot for himself.
But since Davis is on the team, and a big man with several elite skills, why does coach Mike Krzyzweski keep him under wraps like some top-secret space project?
This goes beyond fans who want to see the highly touted rookie in action. It seems worthwhile to determine if Davis has the ability to really help against international competition. If Kevin Love hadn't injured his leg on a third-quarter move to the hoop, it's unlikely Davis would have had dazzled against Tunisia.
Perhaps Davis should be playing more simply so he's ready should Team USA ever, because of injuries or foul trouble, have to count on him for substantial minutes in a close elimination game. Stranger things have happened.
Of course injuries are the reason Davis is on the team at all. If just one of Chris Bosh, LaMarcus Aldridge, Blake Griffin or Dwight Howard were healthy, Davis would be working out in a gym stateside.
With the above options removed, Davis's chief competition for the 12th Team USA roster spot was DeMarcus Cousins and Greg Monroe -- players with productive NBA seasons under their belts.
Monroe and Cousins aren't big-time stars, but both have spent years tussling with the likes of Pau and Marc Gasol and are certainly capable of catching and dunking -- the only two things Davis has been asked to do in Team USA's games. If the twelfth man was simply a roster-filler, and Davis is truly not yet ready to compete against the Spains and Argentinas of the world, why not bring someone who has proven useful at the highest level?
In some ways, Davis is a low-stress addition. He has no ego on a team full of mega-stars. He won't complain about lack of the playing time, touches that are always in short supply on such teams, or being put into a "timeout."
But with so few "true" big men on the roster, allocating a front court roster spot to an unprepared and perhaps undeserving player, even one as talented as Davis, is a decision that invites unnecessary risk. Davis won't suddenly become a clever veteran with extra playing time. But as long as he's in London, some extra reps might help Davis be more prepared should his services be needed.