I know, I know, I know. We all know. Everybody in the NBA knows, and they have known for years.
That Cleveland offense is dreadful to watch. It's just painful.
It makes you think: I may not be an expert on coaching in the NBA, but I'll bet you a bag of donuts that this is not the most effective way to run an offense.
See, Cleveland's offense is like most NBA offenses, only with, to my naked eye, 60% less passing, 70% less movement, 80% less teamwork, and 90% less fun.
I get mad at times, watching it. Why haven't the Cavaliers used the months since the trade to establish Joe Smith, Delonte West, or Wally Szczerbiak as players they trust with big shots? (Why did it feel like a bold experiment both times in these playoffs when West took the big shot?) Why does James almost never catch the ball with some room around the hoop? What's it going to take to get a fast break once in a while? Why does the team work and work and work only to give the ball to Ben freaking Wallace? Why doesn't LeBron James have a post game yet?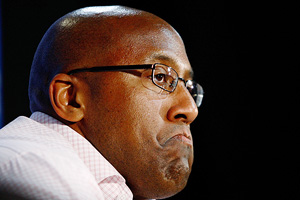 When you see the Cavaliers lose a close one, like Game 7 in Boston yesterday afternoon, there's just no way to get past the idea that some other scheme would work better.
If you could wave some magic wand and place any generic NBA coach running any generic NBA offense, instead of that dreck Mike Brown has been peddling for some time now, you'd be sure to see many more easy buckets for the Cavaliers, including perhaps even the occasional layup.
A few extra buckets like that, and Cleveland would surely have won this game and countless others.
Therefore, the reasoning goes, Mike Brown is the reason the Cavaliers lost, and he must be replaced immediately.
As soon as the final buzzer sounded yesterday, I knew somebody would be writing a blog post like this.
I think it's kind of a crock.
Bad Roster, Big Success
The Cleveland Cavaliers have pretty bad players but have nevertheless played extremely well in the playoffs. Last year they went to the NBA Finals, this year they took the regular season's best team down to the wire in Game 7.
They're using players other teams have rejected more than once, and hanging among the elite. The story of this team has been missed shots by James' teammates (Delonte West's 3 last night, Donyell Marshall's last year, and a thousand others) or that long stretch in a crucial Game 5 against the Pistons when no one but LeBron scored for ages. Give all the credit in the world to LeBron James succeeding despite that. But give a little to Mike Brown, too -- because it's simply impossible to believe that mediocre players could win this much when it matters in a system where the coach was the problem.
D
The reason the team can win, despite all that, is that the Cavaliers play great defense.
That generic coach we'd all often like to swap for Mike Brown? They might be +5 with that guy on offense compared to Brown. But they might be -15 on defense.
Mike Brown takes players like Wally Szczerbiak and uses them make Ray Allen such a non-factor that he spent much of crunch time of Game 7 on the bench.
Hats off to Coach Brown for that.
Joe P Tone of the Cleveland-based blog C-Notes writes:
Maybe you were one of the 17,000 who streamed out of the Q, waving towels and high-fiving strangers in a manner more seasoned sports cities would reserve for a title.

You probably thought you were doing that because of James, but witness this: Your king shot 39 percent that night. He led both teams in turnovers. And, sure, his 32 points were probably the difference. But just as big was the fury with which Joe Smith went barreling around screens all night; the effort, however, awkward-looking, that Wally Szczerbiak expended chasing Ray Allen; the refusal by any Cavalier to relent a single moderately easy basket.

That's what held the Celtics to 69 points, their lowest point total of the year. (Their next two lowest, 77 and 76, both came against the Cavs too). That's what sent the people streaming, whether they knew it or not. And while, yes, those players respond to James more than anyone, remember that the Cavaliers are run from the top down. Dan Gilbert wanted a defensive guy, so he got Brown. Brown preaches defense, so James does. Everyone else falls in line.
You should Terry Pluto and Brian Windhorst's book "The Franchise" on the topic of Mike Brown. Owner Dan Gilbert says that "In a 45-minute interview, Mike Brown impressed me more than anyone I've interviewed in my life. He was a guy with every tool in the toolbox. He had a philosophy, a culture and real character."
Pluto and Windhorst write:
When Brown has an idea, he states it clearly, and doesn't back down from it. He believes teams win with defense and rebounding. Most coaches say that, not all demand it of their players. They give mixed messages. Yes, we want to defend, but we also want to outscore the other guy. Their discussion of defense turns murky, vague, and isn't backed by actions. They tolerate poor defense. Brown not only talked defense, but had a few very understandable ways thta he planned to implement it. ... After listening to Brown for 45 minutes, Gilbert was ready to take the court and try and draw a charging foul.
Mike Brown has a system that gets the Cavaliers deep into the playoffs with the players they have. He is delivering on his promise. To me, the only time he really looks bad is when, like in the second quarter last night, there are stretches where Cleveland plays mediocre defense. That, to me, is the moment when Mike Brown is not doing his job.
But when the offense is stuck in the mud? That's an area for improvement, sure, but it's no crisis. That was always part of the deal.
The Superstar Challenge
One part of being a basketball coach is mastering the Xs and Os. Thousands of people have good ideas about what the players and the ball should do.
Making the pieces move as you'd like to, however -- that's a rare skill, because the pieces are, in fact, people, and people are complicated. People respond to teaching, credibility, and influence. Those are things maybe a few hundred people really know at the NBA level.
If Mike Brown wakes up one morning and decides to run the Lakers' triangle or Utah's flex offense, will it be so? Only if a lot of people, starting with LeBron James, think it's an awesome idea. The NBA is thick with tales of superstars veering from the path set by their coaches.
Who knows how tough it is to accumulate influence in a solar system that revolves around the twin suns of owner Dan Gilbert and star LeBron James. Especially when the bottom line for the franchise is that it really is important to keep James happy in the long-term.
I'd wager that there are hundreds of things every NBA coach would love to do, but they just don't have the leadership abilities, the institutional might, or the cojones to make it so.
Even the mighty Phil Jackson -- he of the umpteen rings -- has told of how hard it was to get Michael Jordan or Kobe Bryant to do everything he wanted them to do on the court.
Who knows what it is, if anything, that Mike Brown would like the Cavaliers to do that they do not do for some reason. I can only assume he has ideas, however. And
it would seem likely that James would be an advocate for the current "give the ball to LeBron James" scheme.
It is notable that Mike Brown and LeBron James have really not had a public spat to speak of, which is a tremendous credit to both of them. But surely that's not because they are both happily in love with this team's offense. Think about it. As much as you and I obsess about basketball, these guys think about it even more. They both know this is not how things are supposed to go at that end of the floor. They both have eyes to see that almost every other team. I'm sure they are both frustrated, and full of ideas about how it could go better.
But they are keeping it in the family, working in some new players, and fine-tuning the machine. And in the meantime, they're still listening to each other, and still building a relationship.
I admire that, and join a chorus of people, including LeBron James, who think the easiest improvements will come from roster moves. With some help, I wouldn't bet against this Mike Brown system eventually working. The defense will be good, and the offense? They were two scores behind Boston yesterday. Two measly buckets, or two extra stops in that second quarter, and they're in the Eastern Conference Finals, and everyone is writing stories about this genius Mike Brown.
Last summer, Brown picked the brain of inventive European coach Ettore Messina while LeBron James improved his jumpshot. This summer I'm sure they'll make other changes -- perhaps starting with a new offensive system. If they can make some small improvements, I'm quite certain they can get two good buckets out of the deal, and then everyone will be glad that Mike Brown is still the man in charge.
(Photo by Jim Rogash/Getty Images)