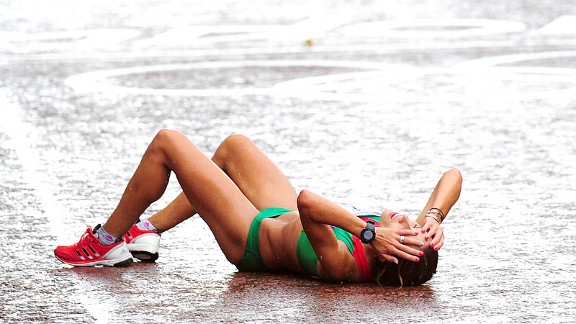 Stu Forster/Getty Images Sport
Ana Dulce Felix at the finish line of the 2012 Olympic marathon in London.
People just get better and better at things.
That's the trend. That underlies a lot, frankly, including the Olympics -- and the idea that the 2012 Team USA could hang with and possibly beat the Dream Team. It might be that the best basketball in world history is being played right now.
That improvement is also behind the reality that world records never seem to last all that long -- a decade is an eternity. Two decades? Almost unheard of. Somebody bigger, faster and stronger always comes along.
But maybe not always.
That's what some statisticians are saying. Stanford researcher Mark Denny, for instance, using a technique called extreme value analysis (which does not analyze physiology, but only trends of historical performance), suggests that based on historic trends, it might be that no human will ever run the 100 meters faster than 9.48 seconds.
That's one-tenth of a second faster than Usain Bolt's current world record. Interestingly, Bolt chopped nearly that same amount off the previous world record, 0.11 seconds, in 2009. Could it be that the entire future of sports will feature only that much improvement again?
It's all discussed in the current Economist, and the article is not online but an accompanying video is. The video opens with a marvelously snooty question from Economist editor Oliver Morton about sports in general: "Are people," he asks, "going to be able to go on getting better at this sort of malarkey for time immemorial?"
The answer is that in some kinds of malarkey, you probably can't expect much better than what we have right now -- and not even performance-enhancing drugs (which, science argues, have a finite effect on elite athletes, who are already working with genetic and training advantages) will necessarily change that.
A 2010 study by Geoffrey Berthelot suggests peak performance has stagnated in 23 of 36 track and field events. For instance, the women's marathon times were becoming drastically faster decade after decade, but over the last decade ... there have been a lot of very fast times, but none faster than Paula Radcliffe's 2003 record of 2:15:25. It could be that she ran about as fast as that event can be done.
What does that mean for hoops? Might basketball be one of those sports that has just about peaked?
One key to answering that is to consider how many young people are playing the sport right now. In terms of pure statistics, the more young people who compete and the more young people who are well-trained, the greater the likelihood that some of them will emerge to be the best ever. When sports are in earlier phases, as marathoning was to women starting in the 1960s, the class of the field improves rapidly.
It could be that basketball, still growing in popularity, is still in that early phase.
Not a lot of people out there have the chance of developing into Michael Jordan or LeBron James, but if a billion people give the sport a shot, the chances are far greater that the sport will find a few.
Think about it in terms of the women's marathon. To get to the starting line of this year's Olympic contest, a woman had to have qualified with a time of 2:43 or faster. A field of 118 women lined up at the start. Marathoning, however, is exploding in popularity and participation. The last few decades have made that sport almost mainstream. Whatever historical trends may predict how fast a woman might cover 26.2 miles, they'd all agree that if the sport became very popular, more women would qualify to be on that starting line. And a race with 200, 300 or (just imagine it) 1,000 participants is not one where you'd necessarily expect this year's winner, Tiki Gelana, to run any faster. But it is one where the odds are high that somebody would have a day for the ages.
When more and more people are learning and training in a sport, that sport continues to improve. Basketball has long been popular. It's among the cheapest sports to try; it's free in the park or on the street in most of the world. But in terms of global youth participation, it's still more popular than ever. Reports indicate that more people play the game in China than live in all of the United States. As long as more and more people are trying to excel at basketball, it seems likely the best in the world will keep getting better, even at a time when athletes may be encountering limits of human performance in other sports.