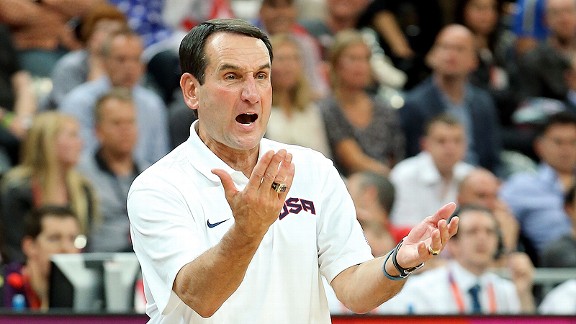 Christian Petersen/Getty Images
Mike Krzyzewski: nationalist leader
Name: Mike Krzyzewski
Birthdate: February 13, 1947
Is he an emotional leader or a tactician?
Like many great college coaches, Krzyzewski deploys his emotional guidance and ability to recruit as the foundation of his success. The cult of Coach K is on display every time Duke takes the floor at Cameron Indoor Stadium. Though Duke teams are very sharp tactically, they aren't remarkably innovative. In fact, most Duke squads are fairly straightforward. Krzyzewski coaches the fundamentals exceptionally well, but his belief in structure and discipline inhibits his use of more elaborate tactics, like exotic zone defenses, that you'll find elsewhere in college basketball.
However, Coach K was also one of the first coaches to emphasize the importance of 3-point shooting, and the motion-based, ball-screen-heavy spread offense that the Blue Devils now run has roots in Mike D'Antoni's famous system.
Is he intense or a "go along, get along" type?
Oh boy, is he intense. A couple boneheaded plays and his forehead scrunches up to yank his eyebrows into angry arches, his mouth pulls into a sneer, and his eyes look ready to ignite. He learned from Bob Knight, after all.
But you don't see that too much on the Team USA sideline. Coach K knows how to communicate with his audience. His seriousness and sturdy relationships with guys like Kobe Bryant command respect from the pros.
Does he rely on systems, or does he coach ad hoc to his personnel?
Defensively, you know what you are going to get with Duke, and to an extent, Team USA: pressure half-court defense. Both teams want to push the point guard as far from the basket as possible, deny easy entry passes to the wing and have their big men rotate hard from the opposite side of the court for blocked shots and charges. It's not cutting-edge, but when Coach K has guards who can pressure the ball, it can be brutally suffocating.
Duke's offense is typically more tailored to the personnel, and he likes to install quick-hitters throughout the season that highlight his best players' strengths. That's probably true for Team USA, as well, which has run some great stuff out of dead-ball situations. Generally speaking, there's a loose set of guidelines on offense to put the U.S. superstars in the right place, but the real instructive work seems to have come on the defensive end.
Does he share decision-making with star players, or is he The Decider?
At Duke, he's a dictator and can be restrictive with atypical talents like Josh McRoberts. With Team USA, he relies on guys like Chris Paul, Kobe Bryant and LeBron James to drive the energy at practice and on the court.
More coaching profiles
Does he prefer the explosive scorer or the lockdown defender?
Though Duke teams often feature a freewheeling, explosive offense, Coach K is definitely a defense-first guy. That's been his focus with Team USA, though his Olympic charges have not shown the same level of discipline he would expect from a Duke team. A Team USA player who gets burned while gambling for a steal won't get benched with a stern rebuke.
Does he prefer a set rotation, or is he more likely to use his personnel situationally?
He prefers a set rotation, though that can mean reusing combinations of three or four players rather than full five-man units.
Will he trust young players in big spots, or is he more inclined to use his grizzled veterans?
A big part of the philosophy at Duke seems to be finding solid players who will stick around and develop over four years rather than a John Calipari model of stocking the sidelines with an annual platoon of one-and-done players. Duke players have to get with the program, and that means structure and discipline that usually takes some time to pick up. However, exceptions are made in the case of truly great talents like Kyrie Irving, who inspired Coach K to give him tons of minutes and freedom as a freshman.
Team USA is a trickier situation because the talent hierarchy is less obvious. But generally speaking, Krzyzewski prefers to play the players he knows best -- but he knows when to play his best players.
What were his characteristics as a player?
A coach's dream, of course, Krzyzewski was a heady guard and an extension of his coach on the floor. Bob Knight has recounted a story of when he told Krzyzewski he needed to score 12 points for his team to win, and Krzyzewski, more of a passer, netted exactly 12.
Which coaches did he play for?
Bob Knight at United States Military Academy (West Point).
What is his coaching pedigree?
Coached under Bob Knight for one season, 1974-75, at Indiana, before taking over at West Point. After leading the Cadets for five seasons, Krzyzewski became the head coach at Duke in 1980.
He first got involved with USA's international team in 1979 as an assistant at the Pan America Games. He was also an assistant on the 1984 and 1992 U.S. Olympics teams before becoming Team USA's head coach in 2005.
If basketball didn't exist, what might he be doing?
In another life, Coach K would be Colonel Krzyzewski -- professor and head of the Behavioral Sciences and Leadership Department at West Point.