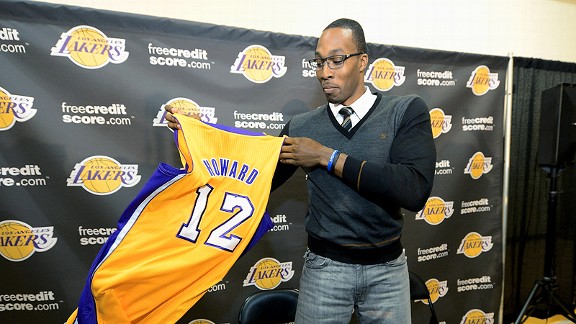 Kevork Djansezian/Getty Images
Dwight Howard said all the right things on Friday ... except for the only word that matters in L.A.
EL SEGUNDO, Calif. -- Dwight Howard's introductory news conference to the Los Angeles Lakers was plenty long, filled with a good amount of laughs and noticeably short on discussing the subject that matters most around these parts: championships.
He used the word only once, when he was talking about the Lakers' accomplished core of Kobe Bryant, Pau Gasol and Steven Nash, saying, "I'm looking forward to learning a lot from those guys, because one day I want to be the guy that leads the team to the championship, and this is the perfect time to start."
Seeing how he wouldn't offer a pledge to be a Laker beyond this season, the Lakers might find this a perfect time for Howard to finish. Except Howard doesn't appear to be at that stage yet, doesn't seem to have reached the point where he is consumed by winning. He spent much of his news conference avoiding any labels at all. He didn't want to discuss why he was The Guy Who Wanted Out Of Orlando or The Guy Who Wanted To Be In Brooklyn or The Guy Who Opted Back In At The Deadline or any other manifestation he has taken on in the past year.
"What happened in the past is behind me now," Howard said. "I've grown up over these past four months and I look forward to starting fresh today and doing the best I can for the city of Los Angeles."
He talked a lot about rejuvenation and adjusting to his new environs and entering a new phase in his life and career.
He must have said "fun" 50 times. He offered appreciation for Orlando, expressed excitement for Los Angeles, bestowed forgiveness on the media.
He unveiled his Kobe imitation. He imitated a woman he encountered on his daily walks through Beverly Hills who always begged him to "come to the Lakers." (His imitation of that woman sounded a lot like his version of Stan Van Gundy.) He plans to work on his Gasol and Metta World Peace.
But he didn't talk about his plans to add to the Lakers' winning tradition.
In Howard's defense, neither did Lakers general manager Mitch Kupchak in his brief introduction. Kupchak glanced at the names hanging on the far side of the Lakers' practice facility that include "Chamberlain" and "Abdul-Jabbar" and said, "We're hopeful that 10 years from now we can add a jersey to that wall over there that says Dwight Howard." He never mentioned anything about increasing the 16 championships that are represented on the walls, as well.
Kupchak can be excused for the momentary lapse. After all, he doesn't need to say he's going for a championship when his actions scream it for him. Since the season ended, he has added Howard and Steve Nash. Can't think of many people getting it done like Kupchak has this summer. Mike Trout and Gabby Douglas, perhaps.
Howard still has work to do. He needs to get clearance from his back doctor to play basketball, for starters. Howard can't even guarantee he'll be in the lineup on opening night.
What he can do in the interim is learn the lingo of Lakerland.
Most newcomers step right into it, pausing to acknowledge the organization's legacy of winning and expressing joy in becoming a part of it.
Take Antawn Jamison's first chat with the media here last month: "I think this team has a great opportunity to accomplish a championship," he said. "It's great to be a part of an organization where the only thing you work toward is winning a championship."
He was at a one-championship-per-sentence ratio there. And those are the outsized standards they operate under.
Reportedly, that's one of the reasons Howard had apprehension about joining the Lakers in the first place. Anything less than a championship right away would be considered a failure -- his failure, not Kobe's. Perhaps it's the reason Howard didn't want to spend most of his time talking about championships Friday, because it would only ramp up the expectations. Perhaps his failure to even lay out his championship path is one of the reasons the odyssey of the past nine months has frustrated fans so much.
At least you could see how a championship fit into LeBron James' Decision to team up with Dwyane Wade and Chris Bosh in Miami. In fact, one of LeBron's problems was enumerating just how many championships he was going to win with them. By naming the Brooklyn Nets his preferred destination, Howard didn't show how that would bring him closer to a championship than he'd been with the Orlando Magic. Howard reached the NBA Finals with the Magic in 2009. The Nets haven't been to the playoffs since 2007.
Howard wound up with the Lakers. Which means he has wound up in the championship discussion whether or not he wants to initiate it. When asked to project his vision, Howard kept saying things such as, "I'm just looking to expand myself, I'm looking forward to being great here in L.A. and I'm looking forward to the future."
There was only one time when Howard talked about the most coveted piece of NBA jewelry.
"We're looking forward to getting this ring," he said.
Then again, he was doing his Kobe Bryant imitation when he said it.