ESPN's Marc Stein broke the news: Starting next season, the NBA will be enforcing a ban against flopping.
While many are cheered by the news of video replays being scoured, and fines being handed out, no one knows if it will actually reduce the amount of theater. (There are already thoughtful cases being made that fines will not stop players from doing everything they can to give their teams advantages with the referees.)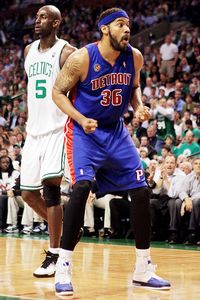 So, about half a day into its public life, I'm ready to revise the NBA's anti-flopping policy.
My wrinkle? Put Rasheed Wallace in charge.
Make Rasheed the NBA's Vice-Commissioner of Anti-Flopping.
You know his heart's in it. From Stein's article:
Detroit's Rasheed Wallace, a player who has 15 technicals this season and has been suspended in the past for being over the limit for technicals, gave his opinion of floppers to ESPN after the Pistons' 106-102 loss to the Boston Celtics in Game 5 of the Eastern Conference finals on Wednesday.

"All that bull(bleep)-ass calls they had out there. With Mike [Callahan] and Kenny [Mauer] -- you've all seen that (bleep)," Wallace said. "You saw them calls. The cats are flopping all over the floor and they're calling that (bleep). That (bleep) ain't basketball out there. It's all (bleeping) entertainment. You all should know that (bleep). It's all (bleeping) entertainment."
Just give Rasheed Wallace the video of the worst flops every few days, and then let him decide the punishment at his leisure.
In most cases, I'm thinking a good conversation might do the trick. If that's not enough, he can give them the singing and dancing treatment. A third offense would bring "the jersey" when you least expected it. After that, he can just use his creativity to humiliate people as he sees fit.
It would work. I can just feel it.
UPDATE: Brian Windhorst of the Akron Beacon-Journal on how Rasheed Wallace has handled flopping in the past:
There are a lot of people who I know that hate, hate, hate flopping. One of them is the Plain Dealer's Branson Wright, who fancies himself a bit of a purist. We've sat next to each other for hundreds of games over the years and each time he sees one he'll let out a prolonged moan. I am not in this camp, I think it is part of the game just like other gamesmanship plays are. But the league is obviously trying to reign some things in.
In the 2006-07 season there was a play when Anderson Varejao -- king of the timed response to defensive contact, oh, OK, the flop -- hit the deck on a jump ball. And he was doing the jumping! And he got the call! I felt this was one of the greatest moments of the season, a signature move by a maestro. Branson literally got up from the table and walked away.

Actually, Andy's great play from that season was taking a charge from Rasheed Wallace in the fourth quarter of Game 6 of the Eastern Conference Finals. Sheed had just been called for a bad loose ball foul at the other end and was steaming. He pushed and shoved Varejao up the court, he must've hit him five times before he got the ball. Then setting up in the post he hit him twice more. Andy took them all. Then, at just the correct moment when Sheed was making his move, Andy went to the deck. Sheed was hit with the charge and then he freaked out, tackled LeBron and was ejected. To me, that was sheer mastery. And, as Andy's often criticized yet not incorrect agent Dan Fegan once said to me: "A charge is just as good as a block." Actually, it's better because you get the ball and a foul on the other guy.

I think the key phrase in Stein's story is fines will only come on the "most egregious type of flops." Or as some in the NBA would call them: Ginobilis. I certainly recognize that this will change the way the game is played and there's no doubt Andy is a target and will probably feel this rule at some point next season. More than likely, the league will pass out a bunch early on and announce them all with the hope that it will stem the tide, then will let it go in the late season and playoffs.
(Photo by Elsa/Getty Images)