The Chicago Bulls are a team with a lot of young talent.
But they have not just underperformed. They have underperformed dramatically.
Beyond what happens on the court, they have been adrift on a broad sea of negativity, as they cycle through coaches and player incidents on and off the court.
The team is not getting killed strictly on talent. They are not getting killed strictly on strategy. More than anything, based on a flood of conversations I have had with agents, players, and others close to the Bulls, they are getting killed on spirit.
That makes an opportunity for the right motivator to come into town, get everybody on the same page, and potentially look really really smart.
But it's going to be a tough job, getting these beaten Bulls to be communally inspired.
Is Doug Collins the guy for that job? Maybe.
If indeed Collins has the job (the Bulls say it's no done deal), he will arrive with a lot of mojo. He has also implied he wouldn't care to coach again without a lot of authority. He's a big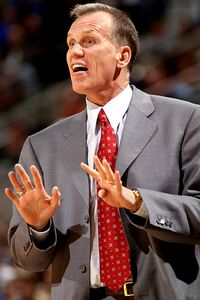 name, and he might have the clout to pull off some large-scale cultural changes.
What's more, presumably he has some strong connections. Not only was he once the head coach in the Windy City, but his son Chris is an assistant coach at Duke, the alma mater of Bulls Luol Deng and Chris Duhon.
But I'm nervous. I see Coach Collins, at least as of the last time he coached, as a little bit old-school. And I feel this Bulls team is ripe for leadership 2.0.
For instance, last time Collins coached the Bulls, he was replaced because his young talent could not get on the same page.
Phil Jackson was that new breed of coach, and he has written about the transition, including in his book Sacred Hoops. Much of that book is about the time Jackson spent changing the coaching philosophy on the Bulls after he replaced Collins:
At the core of my vision was getting the players to think more for themselves. Collins had kept the younger players, especially Scottie Pippen and Horace Grant, on a tight rein, frequently yelling at them when they made mistakes. Throughout the game, they'd look over at the bench, nervously trying to read his mind.
There are other parts in the book where Jackson talks about Doug "Play a Day" Collins, who was forever trying to come up with different ways to get players besides Jordan involved. And he talks about how some of the coaches on Collins' staff were brilliant. His list includes Tex Winter and Johnny Bach, but not Collins.
And then Jackson goes on to talk for most of the rest of the book about how one builds a winning culture.
Most leaders tend to view teamwork as a social engineering problem: take x group, add y motivational technique and get z result. But working with the Bulls I've learned that the most effective way to forge a winning team is to call on the players' need to connect with something larger than themselves. Even for those who don't consider themselves "spiritual" in a conventional sense, creating a successful team -- whether it's an NBA champion or a record-setting sales force -- is essentially a spiritual act. ... When players practice what is known as mindfulness -- simply paying attention to what's actually happening -- not only do they play better and win more, they also become more attuned with each other. And the joy they experience working in harmony is a powerful motivating force that comes from deep within, not from some frenzied coach pacing along the sidelines, shouting obscenities into the air.
I don't know if Phil Jackson -- a rival of Collins', even in their playing days -- is the most objective judge of Collins here. And I don't even know if that last quip was even about Collins.
And these are tales of the past. Everyone can improve, evolve, and learn.
But I can't shake the feeling that this roster, with this coach, at this time, will prove to be a bad match.
(Photo: Glenn James/NBAE/Getty Images)