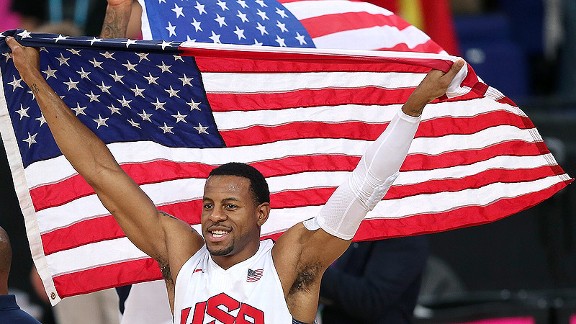 Streeter Lecka/Getty Images
One of the NBA's best defenders who can finish in transition and, now, hit 3s ... changes things.
Since trading away Carmelo Anthony, the Nuggets have lost two straight first-round playoff series as the fifth or sixth seed and have been searching for a way to leap from promising to contending.
Can the presence of Andre Iguodala make the difference?
Young guns returning to action
Before diving into exactly what Iguodala will do for a team that ranked in the bottom third in defensive efficiency, let's look at the rest of the roster. Like Oklahoma City, which can't help but improve simply because so many of its top players are so young, Denver is loaded with baby-faced talent who embrace a culture of playing super hard.
Ty Lawson, Danilo Gallinari, Kenneth Faried, Wilson Chandler, JaVale McGee and Jordan Hamilton are 25 years old or younger. Even without adding anything else, another summer of work and another year of development should make this group noticeably better.
But adding Iguodala is even better, because he makes everyone's life easier.
He'll help out Lawson, who sometimes suffers from poor decision-making with ballhandling duties. He'll take the defensive pressure off Gallinari, who will spend less time chasing smaller players around the perimeter and more time giving opposing power forwards migraines. And he'll be the defensive leader any team with McGee desperately needs.
All three of those young players have star potential, and flaws. They also have experience beyond their years as a winning club and a new do-everything teammate -- real reason for optimism.
Andre the giant
There really isn't a team on which Iguodala wouldn't fit, but his style and abilities appear to mesh especially well with George Karl's Nuggets. Spend just a quarter watching Iguodala fight through screens, close out shooters and attack the glass and you'll see how incredibly fit and hardworking a player he is.
That quality, above all else, must be the calling card of the Denver Nuggets. These guys will play 10-deep, and they play hard and fast. They share the ball (first in assists as a team) and sprint the floor in transition. Denver runs so well that according to HoopData, it took five more shots at the rim than any other team in the league.
That's good news because, excluding LeBron James, Iguodala is about as good as it gets as a transition finisher/passer, even though he hardly ever played with lineups in Philadelphia as athletic as those he'll find in Denver. Iguodala also quietly improved his 3-point shooting last year, canning 39.4 percent. That's big because the Nuggets' pick-and-roll-heavy half-court offense relies on catch-and-shoot 3-pointers from the weak side.
Denver was already one of the best, most efficient scoring teams in the NBA last year, but it was like filling up a leaky bucket because it also gave up points at the same rate as the lowly Washington Wizards. Iguodala is, of course, an excellent individual defender on the wing, but the Nuggets will hope he can also provide an organizing presence on that end. Paired with long, active guys such as Chandler, Corey Brewer and Gallinari, Iguodala can catalyze a fast defense that generates steals, deflections and even more fast breaks.
Admittedly, it's tricky to speculate as to exactly how profound an impact he'll have. Great NBA defenses are typically anchored by big men who rotate on time and protect the rim without fouling. As good as Iguodala was on the third-ranked 76ers defense, Elton Brand's veteran savvy inside was crucial as well. Players such as Faried, Timofey Mozgov and McGee will need to step their games up to take full advantage of Iguodala's smothering defensive presence.
Still, Iguodala-Brewer-Chandler might be the best three-man combination of wing defenders in the league, and it's difficult to project Denver's defense not improving if only by replacing the minutes previously allotted to Al Harrington.
As fast as you can go
The Nuggets were the second-fastest team in terms of possessions per game last season. Is it possible they'll be even speedier this year?
Consider that with Arron Afflalo gone, there should be more minutes for Denver's double-point guard lineup featuring Lawson and Andre Miller. As fast as Lawson is with the ball -- perhaps no guard is as fast with the dribble -- Miller has mastered the art of the hit-ahead pass -- he's as good as they get when it comes to using the pass to push the pace.
The frontcourt will often be Iguodala-Gallinari-McGee, with Faried and Brewer in that mix, too. Complement those swift, explosive finishers with an ace distributor like Miller and a blur like Lawson, and you have an offensive machine.
The Nuggets are deep with speed. There won't be many lineups that don't have a decided collective advantage in end-to-end quickness against just about every team. But speed isn't like size. Andrew Bynum is the biggest guy in the league, whether he wants to be or not, on a given night. But a fast player is only as fast as he chooses to play.
For the Nuggets to max out their ability, every player will need to commit to playing at that intense pace, because though they have loads of skill the peak talent on the Nuggets isn't anything to shout about. This team is all about motor, about using effort level to unleash wave after wave of talented athletes toward the rim.
History suggests Iguodala can be the leader for such a team, and his new squad is chock-full of guys who just bring it night in and night out. The Nuggets will be as fun to watch as they are exhausting to face. They may not have a superstar, but few teams will put in such consistent 94-foot effort.
It's easy to envision home-court advantage for the Nuggets in the first round of next spring's playoffs.
Just don't blink.