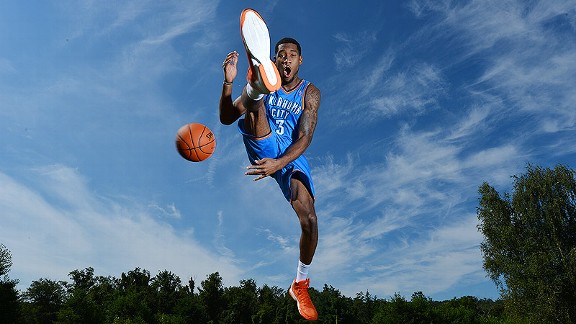 Jesse D. Garrabrant/NBAE via Getty Images
The Thunder's Perry Jones with a rare moment of rookie trickery.
Tuesday the rookies are all in the gym of the Knicks' practice facility in Tarrytown, New York having their photos taken for their first trading cards.
We brought Jade Hoye and the TrueHoop TV crew along to make a video or two. One will be with Austin Rivers. The other we had planned seemed like a no-brainer. A few years ago at this very event, Kevin Love unleashed an eye-popping series of trick shots. My thought: There are dozens of rookies here today. Surely it would be a cinch to get several of them to show us some trick or another on camera.
There are some hoops for players to shoot around on, and when players have free time they tend to congregate in an impromptu shootaround. I found Bulls rookie Marquis Teague there, and shared my idea with him. How about showing us a trick or two?
His response: "I don't know any tricks."
Is that possible? It may be. But it's surprising, from a guy who has spent his entire life in the gym. Never mind. There are 38 other rookies here. We only need four or five good tricks to make a video.
To make a long story short ... it's as if "I don't know any tricks" is a new NBA mantra. Oh sure, we got to see Meyers Leonard shoot a leftie college 3 (he hit it) and dunk over Draymond Green. But when it came time to show off some skill or another for the cameras, the list of those with not one trick to share was long. Harrison Barnes, Andre Drummond, Austin Rivers ... nada.
Damian Lillard said he couldn't even spin the ball on his finger. Fab Melo laughed at the idea a big man could help with a trick, saying "all we do is elbow people." I said the way things were headed, we might ask him to show that to us.
Andre Drummond did a word-perfect job lip-synching along with Lil Wayne and Jay-Z. Cool, for sure, but nothing to build a trick shot video around.
There was one last hope. The rumor spread that Tony Wroten, Jr. was the guy. The livewire Grizzlies rookie was showing off dribbling skills between photo shoots. Three or four players had insisted that in this draft class, Wroten was the guy.
This was a sure thing. I approached and explained the project. Wroten smiled.
And do you know what he said? Verbatim: "I don't know any tricks."