When it comes to straight-shooting, old-time basketball gurus, Laker assistant Tex Winter is right up there near the top of the list.
Yesterday he took some time to talk to me about these NBA Finals, and he had plenty to say -- for instance he blamed Kobe Bryant's inefficient offense on poor shot selection, saying the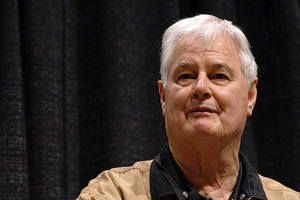 defense had little to do with it.
On Kobe Bryant's decision making, and his matchup with Ray Allen:
Ray Allen has always been very good against Kobe, particularly offensively. Kobe has had a tough time covering him. He has a hard time paying attention to him, but you really have to, with Allen, because he's moving a little bit like Hamilton in Detroit. He's running around a lot of screens, doing a lot of moving, and if you don't pay special attention, he's going to hurt you. And Kobe is the kind of player, he likes to see if he can help a little more, try to come up with steals and someone like Allen can take advantage of that.

I don't think Ray Allen's defense is much of a factor against Kobe. He's getting shots. He got shots in the first ball game. When he took the high-percentage shots, he hit a high percentage. But down the stretch he took some very low percentage shots, and he shot a low percentage.

I think it's just a question of decisions on Kobe's part.

But Ray Allen is a good defensive player. He's a good all-around player.
On Laker adjustments for Game 2:
I feel like it's a learning process, these seven game series -- even though it might not last seven games.

It's a process, and I think that we're taking it in steps. We certainly learned from the first ball game. We knew from our scouting reports and so forth pretty much what to expect, and I don't think there were too many surprises. There are things that during the course of a ball game, in a matchup situation, that you do learn, and make adjustments do.

You have to, as you go along.
On which team should be considered the favorite to win this series:
I think it'll be an interesting series. It's a little early to point out who should be the favorites. With the format and the 2-3-2, it's important for the home team to win their two ballgames, because they've got three on the road.

But I don't think they're going to lose three on the road, though. As good a team as Boston is, even if they do lose one here, I think they're good enough that they're not going to lose three in a row on the road. So then they're back home for two.

It's a cat and mouse game. It's tough. It's hard to predict really, what'll happen.

What I'm saying is, I guess, that we really need to get one on the road.

This could be a critical game for us.
(Photo by Juan Ocampo/NBAE/Getty Images)