"Kobe," says Celtic Coach Doc Rivers, "might be the best help defender since Pippen."
In the first quarter, that reality was a grave problem for the Celtics.
Rajon Rondo was not having his best night, and Kobe Bryant was leaving Rondo at will to harass other Celtics. Kevin Garnett and Paul Pierce did not enjoy the attention, and combined to shoot one of seven as the Lakers went up by 22.
It is hard to imagine a better recipe for the Lakers. So the Celtics changed the ingredients.
Rivers peered down his bench and called for #50.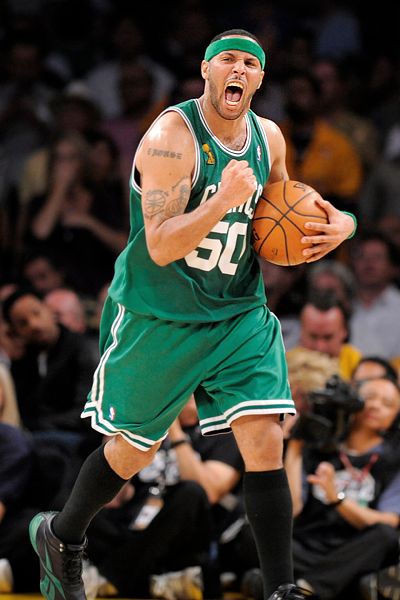 Eddie House has been moving around the NBA for eight years. He has never been a pivotal part of a big-time team. Boston started the season with a depleted bench, and the reason House was available was because he had something of a reputation as a guy who believes every shot he takes is a good shot. He is not known as a passer. He's no threat to get a triple double, nor will he ever win defensive player of the year.
Left open, however, Eddie House can shoot. If he could hit a few shots, Kobe Bryant just might stay standing by House, insteading of ransacking the village known as the Celtics' offense.
When House first checked into the game, the script was scrambled. His defense was perfectly good. He was extremely active and gave up nothing easy. And he was more effective than Rondo had been initiating the offense.
But, House did not nail those open shots, sinking just one of four. He missed both of his open three-pointers in the first half.
How could this be? Eddie House was not himself. This was the big stage. All the world watching. A team down 18, needing inspired point guard play. Opportunity coarsed through his veins. And all the man needed to do was the thing that he was born to do.
Shoot.
So what did he do at halftime? "I had a masseuse kind of rub my shoulders at halftime, to just kind of loosen me up," he says. "My shoulders were a little tense. Just got a little rubdown, got relaxed, and then when I got the same shots that I had in the first half I knocked them down."
In warmups after halftime, he hit about 17-20 three-pointers. Things were looking up.
In the second half, he was left open for three-pointers twice, and nailed both. He also nailed the all-important 18-foot jumper with 4:07 left that gave Boston their first lead of the game, and big psychological lift.
Most importantly, in the second half, Bryant honored House as a shooter by staying near him, and Paul Pierce and Kevin Garnett both capitalized by combining to shoot 8-14 in the second half, and the Celtics mounted their historic comeback.
During Eddie House's time on the floor, the Celtics outscored the Lakers by 20 points -- giving House the best +/- of any player in the game.
"If I was the coach of the Celtics," says ESPN's Dr. Jack Ramsay, "I'd give the game ball to Eddie House."
(AP Photo/Mark J. Terrill)