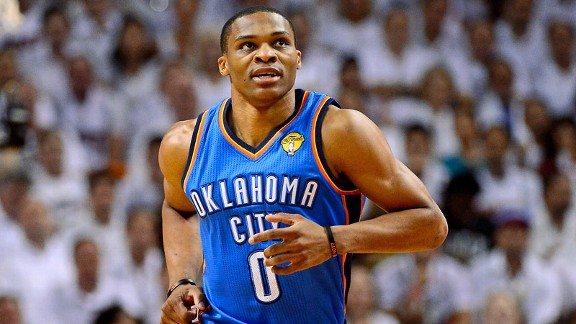 Ronald Martinez/NBAE/Getty Images
Russell Westbrook is the latest player to be tapped by Team Jordan.
The release in 1985 of the first Air Jordans (colloquially known now as Jordan 1s, but then as just Air Jordans) was a sensation if you were 12 years old. There were gadgets on the market that were alluring to teenage boys -- boomboxes with smart new features like dual cassettes and ones that came with cords so the batteries wouldn't keep burning out -- but the gift you wanted to see drop in December were a pair of new Air Jordans.
Much of the appeal was derived from Jordan's ascendance as a different kind of player, but he was still only 21 years old at a time when you couldn't find a 38-44 team on national broadcasts all that often (though WGN showed a few games).
There was something else about the shoe that mesmerized. Real sneakerheads and hardcore hoopers cited the fit and construction as among the shoe's best assets, but most of us who coveted the first Air Jordans were drawn to something else, something ineffable to an adolescent. No kid could possibly know the shoe would become a cultural artifact or spawn an new industry. Lacing up the shoes just made you feel good. Some kids wore the Away design, others were Home partisans. The brand's marketing campaign hit the mark. There was a collective recognition that Air Jordans were the coolest thing going. And this was years before the Internet, when generational crazes were rare and more meaningful.
Over the past quarter century (gulp), the Jordan Brand launched a business that would become an economic tentpole for sports. The brand has plenty of competition and no shoe can lend legitimacy to a professional player simply by signing them, but being a starter on Team Jordan, so to speak, is a nice, sexy résumé item for a budding superstar, given the legacy of the brand and its namesake,
That's one reason Russell Westbrook's jumping to the Jordan Brand was deemed a big deal -- for both star and brand.
At the Oklahoman, Darnell Mayberry discussed the move with Westbrook, its implications and Westbrook's somehow letting Michael Jordan's incoming calls go to voicemail:
Q: Does Michael Jordan still handpick the players he wants to represent his brand?

A: Yes. I think so. To my knowledge, I think he wants guys that relate to the brand. I don't think they want too many guys. But they want guys that relate to the brand.

Q: Did he ever reach out to you personally?

A: Nah, not before the process. A little bit (afterward). I didn't get a chance to holler at him though. But he tried to reach out.

Q: Wait a second. If Michael Jordan calls, you take his call.

A: (Laughs). I didn't know. I didn't know what it was, who was calling.
You can check out the entire transcript here.