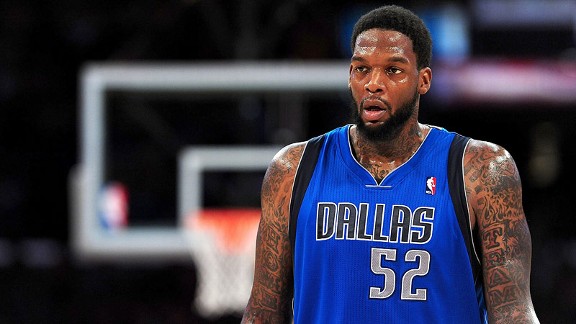 Noah Graham/Getty Images
Eddy Curry: The Mavs' newest reclamation project.
LOS ANGELES -- Would you look at Eddy Curry? Wrestling Pau Gasol down on the right block, taking him middle after a massive drop step, then deking him with an up-and-under move?
Eddy Curry?
"I was just trying to get Pau off his feet a little bit," Curry said with a sheepish smile. "It worked. I got him out of position, and I was able to stand between him and the basket and bank it off the glass."
As Curry toweled off at his locker, Mavericks owner Mark Cuban stood outside in the concourse snarling, "The Curri-nator!"
"Eddy was a beast," Cuban said. "He still has a long way to go defensively, but underneath and in the post, he's not afraid of anybody."
Curry's line Tuesday wasn't beastly -- seven points, four rebounds and four personal fouls in 17 minutes -- but he bothered Gasol all night on both ends. Once a ghastly 300 pounds-plus, a slimmed-down Curry bumped Gasol on both ends of the floor. While he was out there, Curry was the most physical player for an undermanned team that had to resort to guerrilla warfare to beat the Lakers 99-91 in Los Angeles.
"I asked [Gasol], 'You got something personal against me or something?'" Curry said. "'You trying to body me?' But it was fun."
Fun hasn't played a prominent role in Curry's career since he was drafted fourth overall by the Chicago Bulls in 2001, except for legions of NBA fans for whom Curry has been a reliable punch line over the years. Between his weight issues, personal turmoil, serious heart problems that jeopardized his career, and his association with the Isiah Thomas Knicks, Curry became a cautionary tale -- a young project gone bad.
On Tuesday night, Curry was effusive after the game. His exuberance wasn't glib or an expression of self-satisfaction. Curry was simply a guy who'd had a blast for two hours.
"It was a fun game, man," Curry said. "I'm a physical player, and I look for contact. We're out west, so we'll see them again. It was fun."
Curry is the unlikeliest of reclamation projects. He had a cup of coffee with Miami last season but never played meaningful minutes for the Heat's championship team. Claimed off waivers less than a week ago, he didn't figure to play a much larger role with the Mavericks. But with injuries to Chris Kaman and Dirk Nowitzki, Dallas' front line was thin, especially against a starting frontcourt of Dwight Howard and Gasol. The Mavs needed Curry's size Tuesday -- they'd worry about the skills later.
For Curry, Dallas is the perfect lifeboat, an organization that demands professionalism and features a coach who can maximize the strengths -- few as they might be -- of every rostered player.
"[The Mavericks] take guys who kind of float around," Curry said. "They give them a home. They give them confidence and just reboot them a little bit. If Mark gets you over here, he sees something in you, and the team will get it out of you."
Seventeen minutes in October does not a restoration make, but if the Mavs can bank some wins against a relatively soft schedule with a 29-year-old Curry as a contributor, his story just might take a turn.