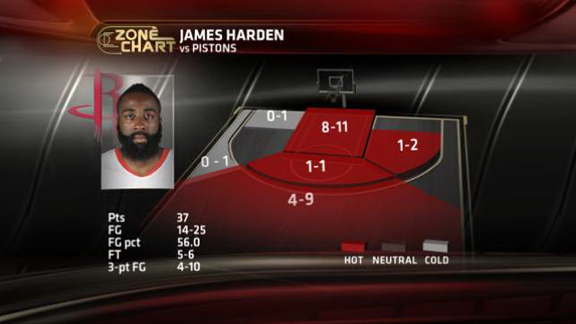 If there was any doubt about how James Harden was going to mesh with his new Houston Rockets teammates, he silenced those on Wednesday with one of the great team-debut performances in NBA history in their win over the Detroit Pistons.
Harden scored 37 points and had 12 assists in helping the Rockets rally and then pull away in the fourth quarter.
Most Points, Debut With New Team
After Changing Teams, NBA History
The Elias Sports Bureau noted that he was the first player in NBA history to hit both of those benchmarks in his first game with a new team.
His 37 points are tied for the second-most by any player in his debut after changing teams, in NBA history.
There are all sorts of absurd statistical combinations emanating from Harden's performance.
They include such things as how Harden is the first Rocket to hit the 37/12 benchmark since Hakeem Olajuwon in 1994-95.
The coolest of those stats may be this one:
In the past 25 seasons, four players have had games with at least 37 points, 12 assists, 6 rebounds, 4 steals and 1 blocked shot.
The fearsome foursome are Michael Jordan (1988-89 Chicago Bulls), Larry Bird (1991-92 Boston Celtics), Dwyane Wade (2008-09 Miami Heat) and Harden on opening night.
Harden repeatedly attacked the rim with success. His eight field goals and 10 field goal attempts from inside five feet were both career bests.
It wasn't a bad Rockets debut for Jeremy Lin either. Lin had 12 points, 8 assists and 4 steals.
Perhaps more notable was how he meshed with Harden.
The two were on the court together for 35 minutes. In that span, the Rockets outscored the Pistons by 23 points, shot 54 percent from the field and were 7-for-16 from 3-point range.
In the 13 minutes they were off the court, the Pistons outscored the Rockets by 13 points and Houston shot just 33 percent, including 3-for-11 on 3-pointers.
Elias Stat of the Night
The Rockets' starting lineup Wednesday came into the game with a combined 512 career games played.
According to the Elias Sports Bureau, that is by far the most inexperienced starting lineup the Rockets have put out on opening night since the team moved to Houston in 1971. The Rockets' opening-night lineup for the 1984-85 season had a combined 901 games played in Olajuwon's NBA debut.
Statistical support for this story from NBA.com