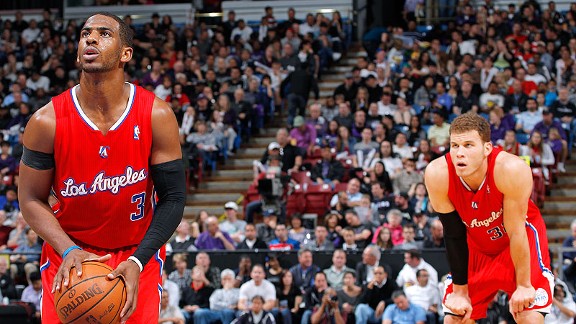 Rocky Widner/NBAE/Getty Images
Can Chris Paul and Blake Griffin build on what they started last December?
On a Saturday afternoon last spring, Chris Paul and Blake Griffin took the podium in the interview room at Staples Center after the Clippers' Game 3 comeback 87-86 win over Memphis in the first round.
It was the franchise's first home playoff win since 2006 and the second-half rally was fueled by Chris Paul in a most typical Chris Paul way. Pull-up jumpers. Wily steals. But the signature moment of the game was an incredible flash of improvisation by Paul.
The play took place with about 90 seconds to go in a 2-point game, the kind of slow-to-evolve possession when even the least inspired defenders on the floor are digging in and every ounce of consciousness is focused on the basketball.
From the top of the floor with his left hand, Paul blew by O.J. Mayo. When Paul met Marc Gasol and Zach Randolph in the paint, he flicked the ball between the big men to Griffin, who had dived from the right wing to the rim. Griffin was looking for a lob -- you can even see him gather himself for a leap -- but Paul delivered the ball directly in Griffin's path underneath the Grizzlies' defense. The resulting jam was Griffin's easiest basket of an otherwise brutal series.
At the podium, Paul described what was going through his head during the possession: Paul saw how Gasol and Randolph had left a little daylight between them. He also saw the baseline and Griffin's angle in from the wing. But most of all he saw Griffin's "Blake Face" -- the signal that his big man is hungry to finish at the rim.
Paul's 3-year-old son, sitting on his father's lap at the podium, then demonstrated "Blake Face" for the media. The clip immediately became part of NBA TV's postseason montage.
The scene was a living fantasy for the Clippers' organization and its fans. Here was the best point guard on the planet sitting with his charming kid alongside the most dynamic young talent in the league, the blue NBA Playoffs background draped behind them. It was May and the team had played to a raucous, sold-out house.
For the first time in Los Angeles, the team had a living, breathing identity other than its miserly, irksome owner. In Paul and Griffin, the Clippers had two telegenic stars, a magician and a superhero. The pair had charisma and was intensely likable to the vast majority of basketball fans.
And while the shtick as a podium tandem was infectious, Paul and Griffin were really starting to build chemistry on the floor. That's what Paul's brilliant feed in traffic and Griffin's thunderous dunk were all about.
The Clippers went on to beat the Grizzlies in one of the most interesting cage match playoff series in recent memory -- one whose intensity and chippiness were reignited Wednesday night in the Clippers' season opener, a 101-92 win for Los Angeles.
After player introductions, Paul and Griffin greeted the fans together at midcourt with a welcome over the public address. Three hours later, Paul and Griffin were dressed after the game as Men in Black ("Bet you can't guess which one Blake is?" Paul quipped) for Halloween. They headed to the interview room, where the duo will now take questions at the podium rather than the Clippers' locker room for regular-season home games.
The change in program was a sensible solution for a press corps that, in three years, has grown from a bridge game to a full-scale mob. But the underlying message from the Clippers is this:
As vital as last season was for the franchise's rebranding operation, the stakes for 2012-13 are of gigantic proportions.
This season, every game is a playoff game.
---
Paul's current contract expires on June 30, and only he knows the threshold the team has to clear to retain his services for four additional years. Paul has expressed a steady commitment to want to stay in Los Angeles long term, but if the team lays an egg in a first-round series -- by no means an improbability in a hyper-competitive Western conference -- what then?
Paul is a supportive, but demanding teammate with an image of a team that's every bit as precise as his vision on the court. It's not the least bit unusual in the NBA for the front office to consult stars on matters of team-building, but virtually every personnel decision this offseason was filtered through Paul for his input. Chauncey Billups, Jamal Crawford and Willie Green were personally recruited or hand-picked by Paul, while Lamar Odom, Grant Hill, Matt Barnes and Ronny Turiaf round out the collection of veteran signings designed to give Paul the tools he feels he needs to succeed.
It's clear Paul wants this whole thing in Los Angeles to work. Unlike many other marquee free agents with meal tickets over the past few seasons, he doesn't see greener grass on the landscape. He has the 23-year-old Griffin as his primary dance partner and the opportunity to be a decision-maker on the selection of coaches and teammates, to say nothing of a city that was practically built for young men with money.
Paul has plenty of reasons to stay put, but he's not a man of unlimited patience and he knows he can't do it by himself.
---
As nice as it is for Paul to have the power to surround himself with trustworthy vets, the development of Griffin will probably have more to do with his outlook at the end of the season than having a grip on the machinery of the franchise. Paul offers encouragement to teammates in handfuls, but that doesn't mean he doesn't have lofty expectations for Griffin. Toward the end of Season 1, the choreography of Paul's pick-and-roll play with Griffin had become more cohesive. But plays like the one that punctuated Game 3 against Memphis should be commonplace in Season 2.
Griffin is an inexhaustible worker, which is good news because there are plenty of tasks on his to-do list, which shouldn't come as surprise because he's played only 160 NBA games. Under the tutelage of Bob Tate, Griffin is learning to release the ball on his midrange shot at the top of his jump rather than on the way down. Improved efficiency on that face-up jumper will allow Paul to more readily work the pick-and-pop game he mastered with David West.
Griffin also needs to give Paul the kinds of picks that give a point guard full view of the floor. Get up there, stand with a wide base, and get a hit on Paul's defender. Even if the big men don't make contact, they can create space for Paul to probe. One extra step for Paul with the ball in his hands is the difference between a waltz and a slog.
The Clippers finished the 2011-12 season ranked 18th in defensive efficiency. Many of the problems existed on the perimeter, but the back line was frequently crossed up. Griffin is still learning the principles that guide an elite defense, and an elite defense needs a power forward who torments opponents. Coaches can prescribe coverages, but the best defender develops an ability to adjust to the game's conditions, to switch it up on the spot to prevent, say, a high-low pass between Gasol and Randolph.
Griffin's speed affords him all kinds of luxury on the defensive end that a hulking, slow-footed big man doesn't have. He shouldn't be spooked by a guard on a pick-and-roll, and he should worry less about staying connected to his guy if the defensive scheme calls for him to trust teammates to help. Challenge that guard and give him the Kevin Garnett treatment (though getting down on all fours is entirely unnecessary).
Trust, instincts, timing -- these are delicate nuances for a young power forward, even one with an unimpeachable work ethic. Paul undoubtedly understands this, but a trip beyond the second round of the playoffs will require Griffin to be a quick study. Wednesday night's win over Memphis suggested he's been hitting the books. Griffin battled defensively all night, made life difficult for Mike Conley by forcing him away from the middle and that hitch in his jumper is gradually fading.
---
These are all fine points, but collectively they'll signal to Paul what he has to work with in Los Angeles. He has all the freedom in the world from a coach whose only request is that he extend the defense to a breaking point. The roster is stacked with capable backups and a reliable platoon of veterans chosen by him. Paul is well-aware there are several teams that would be willing to extend him those same perks next July when he's a free agent.
But none of those teams has Blake Griffin.
If Paul can get everything he needs from Griffin, it's difficult to see the Clippers not surpassing what they accomplished last season. And if that happens, it's hard to imagine Paul wanting to peddle his wares elsewhere.
The burden of that eventuality isn't entirely on Griffin, but he's the only person in the world who will share that podium with Paul after each and every home game.