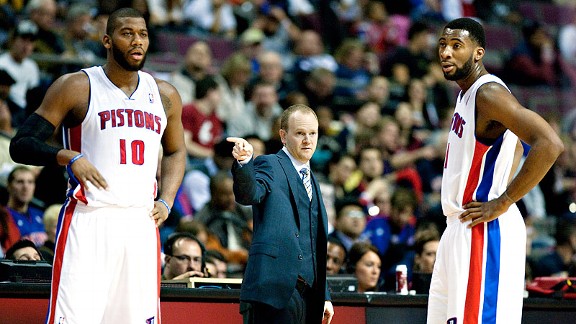 AP Photo/Duane Burleson
The Pistons have great potential in the frontcourt, but do they have the patience?
LOS ANGELES -- Three long years ago, the Detroit Pistons dove into the offseason willing to spend but unwilling to change.
Joe Dumars had every reason to be stubborn. In a league where superstars drive success, the Pistons team president had crafted a champion and perennial contender in Detroit with a core comprised of castaways, rugged defenders and a few potent scorers. To this day, it's hard to put a single face to the franchise at that time, and the Pistons stick out on any list of past title winners because of this.
Dumars had built a championship unit unlike any we'll likely ever see again and was deservedly hailed for his ability to do so.
But with his prized catch nearing its expiration date, past success became an impediment on the future. Dumars had carved out a nice chunk of cap space heading into the summer of 2009, but instead of looking to tear things down and start over he augmented, adding Ben Gordon and Charlie Villanueva -- accomplished middle-tier players in the basic mold of Richard Hamilton and Rasheed Wallace (in the latter's case, without the defense) -- for a combined $90 million.
The Associated Press news story that day hailed the signings as the beginning of a "new era for a new-look franchise," but it was more about holding onto to the past a bit too long. While Dumars presumably envisioned a day when Gordon and Villanueva would be the coveted first and final spots in pregame introductions, Gordon is now riding the bench in Charlotte after a cost-cutting trade and Villanueva is at the end of the greeting line doling out handshakes and chest bumps.
The duo is averaging a combined eight points in 20.8 minutes a game this season. Villanueva accounts for none of it.
"Obviously I wanted it to be different," said a sullen and lost Villanueva.
But different is what's best for them. Three straight seasons under .400 have made that clear enough.
Little by little the Pistons have severed ties to their championship past, ridding themselves of Hamilton and Ben Wallace all within the past two seasons. There has yet to be a total rebuild -- or, in other words, an admission of the team's past title plan as an outlier; Villanueva still remains, as do the recently re-upped Tayshaun Prince and Rodney Stuckey, and Jason Maxiell and Will Bynum. But the identity of this club now directly coincides with its future.
Greg Monroe, 22 and as thick as a redwood, has quickly emerged as one of the best young offensive frontcourt players, and the Pistons potentially have a perfect defensive partner for him in 19-year-old rookie Andre Drummond.
Now the Pistons have no choice but to take the long road. And they've already begun to take steps toward that route, particularly when it comes to their new center.
Drummond has looked the part of a professional ever since he arrived as a freshman at Capital Prep Magnet school in Hartford, Conn., with the athleticism and body of a young Amar'e Stoudemire. He has since had no trouble filling out his long, 6-foot-10 frame (before June's draft, Drummond actually had to lose weight, and he's already as large as Monroe) or filling minds with wild fantasies of what he's capable of (as evidenced by a preseason so chock-full of big dunks and blocks that a five-minute-long highlight reel was cut in his honor).
But the production has never quite caught up to the possibilities.
Despite arriving at UConn as one of the best recruits the school has ever nabbed, a prep star that was said to have the potential to contend with Anthony Davis for the top spot in the draft, Drummond struggled to live up to oversized expectations. He flourished on defense, finishing with the 24th-best block percentage in the NCAA, but the offense was a mess. As a result, so was a season in which the Huskies expected to contend for the national title.
And while an opening act filled with alley-oop dunks quickly raised hopes for a rookie that sunk to No. 9 in the lottery, he appears in for a similar battle in the pros. In a 108-79 drubbing at the hands of the Lakers on Sunday at Staples Center, Drummond was able to hang with Dwight Howard and Pau Gasol on a physical level; the rookie could often be seen giving up little ground to the muscle-bound Howard and doling out shoves to Gasol. But Howard easily faked Drummond out on two consecutive third-quarter post possessions, and any attempt at offense outside of putbacks went awry.
"He's a baby," Villanueva said, referring more to Drummond's age than his demeanor. "Sometimes he just looks like he's clueless out there on the court. He's young, you have to take that into consideration. At the same time, you see that he hasn't played basketball for a long time. But he's so good. So if he keeps working, he's gonna be an elite player in this league."
Drummond's final line was a minor blip in a massive beatdown that saw the Lakers get back on track and Pistons fall to 0-3. He finished with five points on 2-for-6 shooting, seven rebounds, two blocks and a turnover. But even while his body was thudding off the Staples Center hardwood, it was hard to not fast-forward to what could be.
But the Pistons have shown patience through three games. Despite lauding Drummond for his effort and coachability, a Monroe-Drummond frontcourt isn't in the plans just yet.
"It could be there, but everyone's got to play well for it to get there," Pistons coach Lawrence Frank said. "Jason Maxiell and Jonas Jerebko, they haven't been the problem. They've played pretty damn well. They've been two of our more consistent guys. As much as we'd like to get there, Jonas and Max have played well.
"I think it will happen, once it's earned, once it's based on merit. Look, a lot of things will change. Every day there are moves that are made. But we'll continue to look at it."
And in the meantime, Drummond will continue to listen.
While teammates will tell you that Drummond is without a doubt 19, there's a calmness behind that giddy smile and maturity to his approach. He wants to listen. He wants to learn. He wants to be a part of something big, even if it makes racking up more mistakes than points right now.
"Sometimes I forgot how old I am," Drummond said. "People will ask, 'How old are you?' and it takes me forever to answer.
"Everybody has to be accountable for everything, no matter how old you are. I've shown signs of me being a rookie, but there's other times where I show I know how to play the game."
He and the Pistons are figuring that out together.