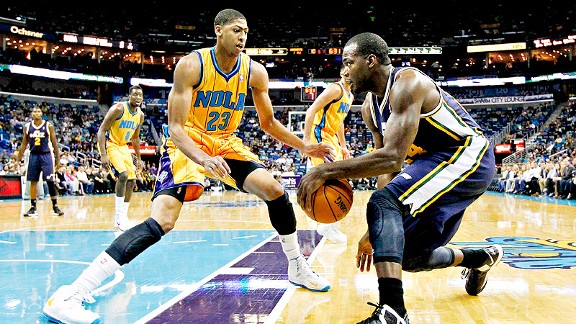 Derick E. Hingle/US Presswire
After a blow to the head in a win against Utah on Friday, Anthony Davis sat out.
Note: As part of a new HoopIdea focus on a smarter, healthier game, Beckley Mason addresses the latest controversy over concussions in the NBA.
It didn't look like much, just a bump that NBA players exchange dozens of times a game. But when Austin Rivers caught Anthony Davis in the temple with his pointy elbow, it was enough to not only send Davis from the game but keep him from flying to the next contest.
The diagnosis is a "mild concussion." The league's new policy -- instituted a year ago -- is for such a player to sit pending input from the league's own concussion expert and others.
This level of caution is the very new normal in the NBA. Just two seasons ago, Mike Miller suffered blows to the head in three straight games, the first of which was diagnosed as a concussion.
How did that happen? Miller wanted to play and said he could play, so he got to play.
It was the player's prerogative.
That's the policy by which Davis' head coach Monty Williams, who spent a decade playing in the NBA before moving to the bench, remembers abiding.
"He got touched up a little bit last night. That happens a lot in basketball," said Williams of Davis before Saturday's game against the Bulls, reported ESPN's Nick Friedell. "We've got to protect the players, but I think the players should have more say so in how they feel. I'm sure I had four or five concussions when I played, and it didn't bother me."
Williams is describing the NBA's warrior code that demands sacrifice of one's body for the good of the team. It's the same code that inspires players to take the floor despite broken fingers and twisted ankles.
If you can play, you must.
The more we know about concussions, the more we know how dangerous such a code can be. There's just no safe way to "play through" a brain injury.
That doctrine even applies to "mild concussions," a term Forbes healthcare blogger Dan Diamond rejects. Diamond says if a player is concussed -- meaning he suffered an injury to the head that altered the metabolic function of the brain -- it's gone beyond the realm of mild:
Think about a sprained ankle, which is a "mild" ankle injury. But a broken ankle is more severe and, like concussion, you wouldn't say that "I had a mild broken ankle."
It's possible that had Davis played, he would have been fine. But the research is worrisome, and has shown that a concussion suffered while still healing from a previous blow to the head has the potential for bigger impact. In March, Chris Nowinski, Co-Director of Boston University's Center for the Study of Traumatic Encephalopathy, the world's foremost center for traumatic brain injury research, told me "even if you pass all the tests, there's still a risk -- especially in that first week after the concussion -- a huge risk that you go back out there and get another one or just another hit to the head and it's career ending."
What's so insidious is that a player like Davis may not show any outward symptoms of a concussion -- none of the headaches, nausea or short-term memory loss often associated with such injuries -- and still be injured on a metabolic level. If it were up to Nowinski, Davis would be sitting for at least 10 days following his injury.
This is serious stuff, and the irony here is that Williams himself has experience with the danger of a player returning to action too soon. Just last season, Hornets center Jason Smith came out of a game after taking a knock to the head, only to return to action later in the contest and receive a second blow. After the game, Smith was diagnosed with a concussion. He was not cleared to play again for nearly six weeks.
As the days dragged on and Smith still couldn't return to action, Williams regretted his role in the young center's ordeal. "I'm kicking myself on putting him back in the second time," said Williams. "I'm not going to let that happen again. I don't care how many games we lose."
Williams is one of the game's brightest young coaches and, as evidenced by the quote above, he cares about his players. He also probably regrets saying that the NBA's policy on concussions is to "treat everybody like they have white gloves and pink drawers."
For his part, Davis "desperately" wanted to play, according to Williams. Eager to prove himself in this "man's league," Davis was willing to risk catastrophic injury in just his third career game.
That's just the sort of macho thinking that can score short-term macho points at the expense of a career.
It's also the mentality that the NBA's policies are designed to overcome. Thanks to inspired new regulations, Davis gets to maintain his honor and Williams can't be accused of babying his star. The ethic of self-destructive, perhaps plain stupid, bravery remains intact throughout the league, but the NBA now makes sure the metabolic functioning of its players' brains also remains intact.
As Williams conceded: "It's just the way the league is now."
For those looking forward to a long and thrilling career for Anthony Davis, I'd add: "thank goodness."