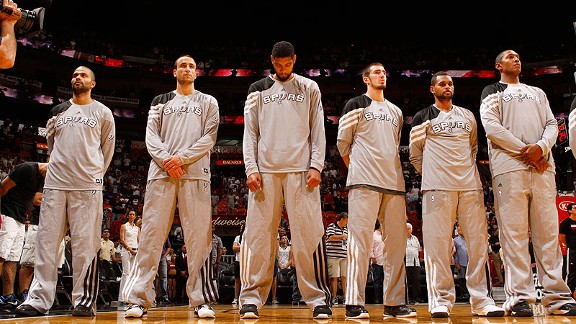 Issac Baldizon/NBAE/Getty Images
The 4-0 Spurs are floating under our radars ... again.
It's near impossible to excite casual basketball fans about the San Antonio Spurs.
You can try to wax poetic on the systematic beauty of the Spurs' offense or the precision of their defense, but those are abstractions that can't be easily captured by a YouTube clip or illustrated on a screensaver.
The Spurs are a tough sell, even to those with a genuine curiosity about the game. The basketball is beautiful, but it's all motion and fundamentals and responsible passes made by responsible men and smart decision-making and resourceful plays and a product of diligent preparation, and who really wants to invest their heart and soul into that stuff after nine hours at the office?
It isn't that Tony Parker and Manu Ginobili don't exude creativity as playmakers, but we demand something else of our stars, because it's clear that perfecting the teardrop or the Eurostep isn't enough. For a lot of people, the most profound moment of anticipation while watching the Spurs is what will transpire during an in-game sideline interview with their coach.
So what is it that we want out of the Spurs? More style? Less attention to detail? A bolder display of raw athleticism? A little more personal conflict to draw us in? Is there anything novel about the 4-0 Spurs?
I've been checking in on the Spurs over the first week of the season, and, well, there's little new to report apart from a few subtle wrinkles.
Want the basic gist of what they've been doing offensively -- both now and forever? Go here.
Gregg Popovich appears to be moving Kawhi Leonard around a bit more in the half court, and the second-year wing seems more confident with these responsibilities, gliding along the baseline to create space for the primary actions.
Reclamation project Boris Diaw has a noticeably better grasp of the Spurs' defensive schemes and, though you probably thought you'd never see these words in print, Diaw has been superb on that end of the floor. Popovich prefers that his big men stay low when they defend the pick-and-roll, and damn if Diaw hasn't been in the right spot in virtually every half-court possession -- mindful of where his smaller teammate is, arms extended perpendicular, inducing low-percentage contested midrange jumpers.
And Tim Duncan? Through four games, it's been a catalog of his greatest hits. Parker is now the team's offensive catalyst, but the Spurs have been looking for Duncan early, and he's rewarded them with a revival of his best skills.
A gutty cross-screen from Ginobili along the baseline gets Duncan a deep catch for an easy hook over an unwitting group of Jazz defenders.

Parker's timing on the pass off a pick-and-roll gives Duncan an acre of space to drive the lane untouched and finish with an easy jam against the Thunder's late help defense.

Duncan's early work in the post means that OKC's Kendrick Perkins doesn't stand a chance against Duncan's patented jab step and show 'n' go.

And when Indy's Roy Hibbert cheats toward the paint for just a wee instant, that's Duncan's signal to float out to 17 feet where the ball will be delivered with a bow on it for an easy face-up jumper.

Duncan has also found the perfect high-low partner in Diaw, who can time a pass through the lane with a blindfold on. Diaw's passes from the foul line consistently find Duncan in prime position underneath for an easy lay-in (Exhibit A: the game-tying bucket inside of two minutes in the Spurs' opener at New Orleans).
All of this translates into a player efficiency rating of 25.5 for Duncan, good for third in the league among regulars (everyone not named Rasheed Wallace).
What's the lesson here? We already know that basketball governed by discipline rather than fueled by pyrotechnics can win in the NBA, that repetition produces results, that systems matter and that charisma, while good for business, may not have much to do with winning games.
So it goes with the Spurs. The model franchise. The professional outfit. The merchants of consistency.
The friend with unimpeachable character for whom you have all the respect in the world but never feel the urge to meet up with for a drink.