Brandt Andersen owns the D-League team called the Utah Flash.
It's possible you have never heard of the Flash. Which means that Andersen might not be such a big deal to you.
(Don't stop reading! This matters!)
But it's worth noting that he's not just a D-League team owner. In his own way, he's kind of the Mark Cuban of the D-League, in that he's a big spender, an outside-the-box thinker, and a youngster!
He's 30. Which strikes me as extremely young. (It was noteworthy to me when I reached the point that most NBA players were younger than me. Now owners are younger than me too?)
Brandt got where he is first by selling his company -- they made software to help small businesses process credit card transactions -- and then taking his smile and his cash to David Stern to discuss ownership possibilities.
Coach Stern apparently wanted to see the kid prove himself some in the JV, and suggested a D-League affiliate to start.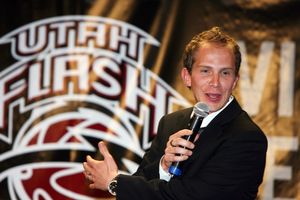 And there is no denying that the kid is tearing up the JV.
He has been spending money like water, including on an in-progress Frank Gehry arena.
In the process Andersen has brought a brand of class, optimism, and deep pockets to a league that is used to long bus rides, small pay checks, and dreams of bigger things.
Recently, Andersen and the Flash made a bit of a splash by hosting the Iranian national team.
I had dinner with several members of the National Team from Iran the other night and it is clear that we are really not so different.

When you ask them what is on their minds it is like any conversation you would have with a friend; providing for family, housing inflation in their neighborhoods, and who their favorite basketball players were growing up.

This trip has been about basketball and building relationships. I think everyone who has been involved with helping to bring them here has been impressed and left with a hope that things will get better between our nations.
Outside the context of basketball, it's worth noting that there are noises being made that the U.S. and Iran could be bracing for war. Saying nice things about anyone should not be news, but in the context of war, powerful people saying nice things about potential adversaries is almost political.
And it gets even more political when you factor in what Brandt told me (and has been reported on Ridiculous Upside): "I have offered," he says, "to take the Flash to Iran next year. I talked to [NBA Deputy Commissioner] Adam Silver about it, I talked to the Iranian delegation. The Iranian delegation is excited. This would be the first NBA team ever to go to Iran. Adam Silver seemed to think it was a good plan. I'm going to push pretty hard."
Personally, I hope the trip happens. Sports have a long history of succeeding in enabling international relations where politics fail. This could be one more such instance.
(Photo by Melissa Majchrzak/NBAE/Getty Images)