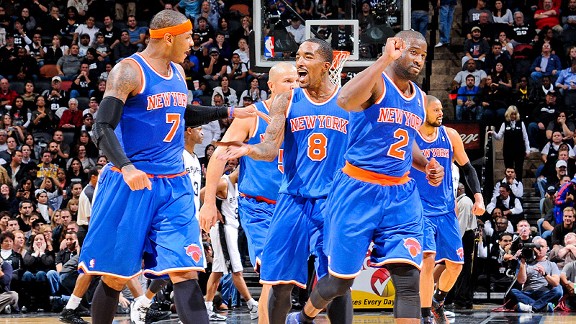 D. Clarke Evans/NBAE/Getty Images
Have Carmelo Anthony and the Knicks cracked the code?
The Olympics are an interesting laboratory for the NBA's best players. International basketball long ago embraced small-ball systems, and the composition of the U.S. roster this summer invited the Americans to follow suit once again.
For Carmelo Anthony, this meant playing the power forward spot, a decision that everyone in the known universe not named Carmelo Anthony has been prescribing as a way to advance his stagnant career.
Anthony had been reluctant. In his defense, it's not as if he's the first small forward to resist change. It took LeBron James eight years to buy in, and Rudy Gay is still skittish about sliding over to the 4 when Zach Randolph or Marc Gasol takes a seat.
This season with the Knicks, Anthony has logged exactly one of his 226 minutes as a small forward. One minute! You can barely heat a Pop-Tart in one minute.
Anthony's other 225 minutes have been at power forward. What has this done for his individual numbers?
Not much. He's logging a Player Efficiency Rating of 21.08, virtually identical to last season and his lowest mark since his sophomore season in the NBA.
But what are his team's efficiency numbers offensively? 111.6 -- tops in the league. You can go inside the numbers with Bradford Doolittle here.
Anthony's move to power forward has allowed Mike Woodson to get more efficient lineups and players on the floor. J.R. Smith's playing time is up seven minutes from last season, and he is rewarding the Knicks with a PER of 23.38. A leaner Raymond Felton can play alongside Jason Kidd in the backcourt -- both are shooting extremely well from the outside -- and Felton's numbers have improved.
Anthony's adjustment to the 4 gets defensive ace and off-ball maven Ronnie Brewer substantial playing time. The four most common lineups with Brewer are defensive juggernauts. Nobody in the NBA who has played more minutes and posted a better defensive rating. Brewer is also posting tremendous numbers on the offensive end. As one of the premier cutters in the game, he has introduced an element of deception and motion to a Knicks offense that was stuck in the mud last season.
On Thursday night, the Knicks roared back to beat the Spurs in San Antonio. After the game, Spurs swingman Stephen Jackson had this to say:
I think last year Melo would have forced a lot of shots. This year he's trusting his teammates, and it's shown out there, especially tonight. It's amazing how they went from two guys shooting all the balls to a team that everybody has confidence in everybody else.
"On offense, they are playing together, and guys are accepting roles around their strengths," Spurs coach Gregg Popovich said.
It's important to note that Anthony had a poor statistical night in San Antonio. He scored nine points, shot 3-for-12 from the field and went to the line for only four attempts in 41 minutes -- though he did collect 12 rebounds.
But let's focus on Jackson's comment. "Last year Melo would have forced a lot of shots." Know how many times Anthony took 12 shots or fewer when he played 30 minutes or more in 2011-12? Twice.
Phenomenons like these always remind me of something legendary baseball writer Peter Gammons said a few years ago. Back when sabermetricians identified on-base percentage as one of the most undervalued statistics in baseball, there was a tendency among a small slice of devoted statheads to treat players who didn't draw walks as terminal cases.
Gammons, who was by no means dismissive of analytics, was quick to point out that strike-zone judgment could be learned. If a major league player identified that as a weaker element of his game, he could teach himself the skill. He might never lead the league in walks, but he could become a measurably more valuable batter.
Anthony has never been one to draw walks, so to speak, and he probably hasn't been called coachable in years. But what if he can teach himself how to take pitches? What if he can, at 28, pick up the nuances that allow scorers to make their teammates and themselves more efficient?