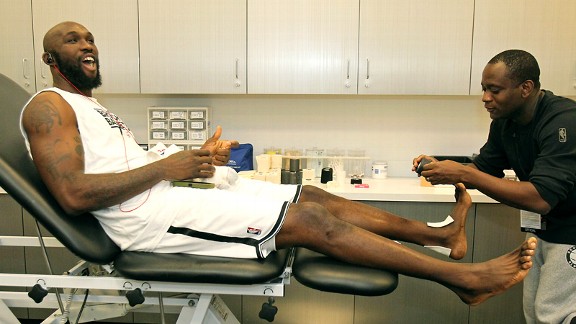 Nathaniel S. Butler/NBAE/Getty Images
The sounds of flopping dance through Reggie Evans' headphones pregame.
The Nets forward was featured multiple times on Flop of the Night last season, and is now known throughout the league as both one of the most physical, and floppiest players.
Perhaps that's why officials didn't blink when Evans fell over clutching his forehead (video) after getting tangled up with Celtics rookie Jared Sullinger.
It was a classic "Lock and Flail," flop: when Sullinger raised his arms to get free of Evans and proclaim his innocence, the cagey big man flipped onto his back. It was enough to fool TNT commentator Marv Albert, who said Evans "took a shot to the head" before replay confirmed otherwise.
Albert's partner on the broadcast, Steve Kerr, wasn't buying Evans' dive from the start, noting that, "Evans was a highlight ... of the NBA's flopping rule video."
Twitter's reaction to Evans' flop made clear that he is one of the players most associated with trying to fool the refs. As Glen McComb (@lenymo) tweeted: "Reggie Evans with the Flop in #Brooklyn. He was one of the favourites early to receive first flopping fine. Odds just shortened."
We should find out soon if Evans will be hearing from the NBA about this latest flop.
When you see an egregious flop that deserves proper recognition, send us a link to the video so we can consider it for Flop of the Night. Here's how to make your submission: