Have you been watching the ongoing Team USA documentary "Road to Redemption?" (If not, you can catch up on Nike's website.)
Watching the first two episodes, and then following recent action against Turkey and Lithuania, I have tremendous optimism that this team will play well enough to win gold.
Dedication
Coach Krzyzewski talks, at one point, about playing "exquisite basketball." That's a high-level word. A lot of coaches talk about playing hard. And hard is a huge part of it. But hard, mixed with just the right amount of soft stuff, like listening, noticing, and being generous -- that's exquisite. That's winning.
The team certainly seems to be working toward that end. The message has clearly gotten through that the opposition is serious, and actual practices, actual plays, and actual preparation will be necessary.
We need Kobe Bryant, LeBron James and company playing at a high level, not just at any old level -- as we once believed.
Even if team USA's defense didn't blow anyone out of the water early in Thursday's tune-up against Turkey, you have to like what happened in the rest of the game. ESPN's Chris Sheridan quotes Turkey's coach, Bogdan Tanjevic:
"They had great technique, great effort, and defensively they were much better than the World Championship team of two years ago, and they are definitely in better shape than they were two years ago, and they use a team system -- not a star system."
That's all good. Team USA is not likely, this time around, to get blown out by Puerto Rico in the opening game. All indications are that Jerry Colangelo and Mike Krzyzewski have selected players well, and pushed the right buttons.
What Does "Respecting Opponents" Mean?
If you consume the media surrounding Team USA, you will be overdosed with the right message: Team USA is taking its competition seriously, because the world has earned that respect.
But less clear is: Is Team USA working harder at their own game, or are they actually doing what they do against NBA opponents, and learning all about their opponents?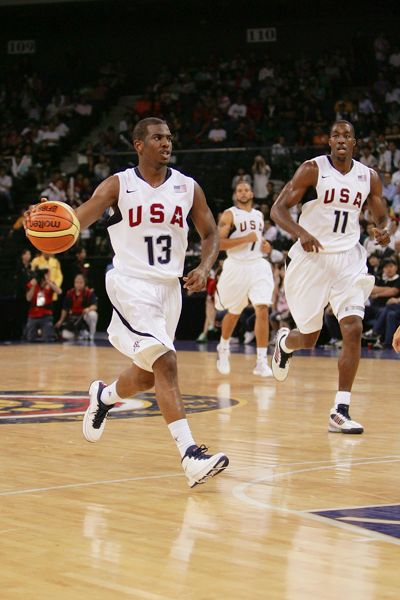 It might seem like a small point. But I think it's kind a big one, both in terms of basketball, and in terms of how the U.S. relates to the world.
Remember back in 1992, at the Olympics in Barcelona, they asked Charles Barkley if he knew anything about the team's next opponent. "I don't know anything about Angola," he replied, "but I know Angola is in trouble."
Bless him for his honesty. And credit where credit is due for a funny line.
But that attitude does not fly if you really believe the rhetoric that the world has gotten really good at basketball.
And in the documentary, you still hear many versions of the idea that "if we bring our A-game, we're all good."
That comes along with what is, to me, an outdated notion for a modern media era. That would be the breathless "elite players as deities" approach to the game. (Some Nike copy on the "Road to Redemption" website: "Kobe. LeBron. J-Kidd. Individually, they're untouchable. Together, they're invincible.")
Either we know those players are beatable or we have not properly learned from the recent history of international basketball. The notion that the these players are superhuman might be useful for selling shoes, but I'm not at all sure it describes where we are at this point.
(A quick note about Nike's role in this documentary. I salute the sponsorship of a long-form, painstakingly made look at our national team. Those dollars could have gone to more billboards in Beijing. But it is also undeniable that there is a lot of attention paid to topics that serve Nike. For instance, while there is barely even mention of Team USA's opponents, there is a lengthy visit to meet the marvelously patriotic people who lovingly make each jersey. I half expected someone to turn to the camera and say "and you can have one of these jerseys for just $89.95." And before I started watching, I wondered if Nike would have the nerve to keep the one non-Nike athlete, Dwight Howard, from the spotlight. It's galling: Howard is a ghost. Almost never on the screen at all. We are told again and again that nothing matters more than representing your nation, being a selfless teammate, and being patriotic. Then we don't see Dwight Howard, and we do see archival footage of Michael Jordan covering the Reebok logo on his Team USA warmups with an American flag. So, nothing matters more than all that stuff, except perhaps your choice in sports apparel brands.)
The Lessons of Defeat
To me the lesson of the team's loss to Greece four years ago: Our players are humans, and their players are humans. There are no deities on the court anymore, and any team having a great night could win almost any game.
I like that mindset better, because it's true, because it makes the victories more impressive, and because it reflects the idea of expanding minds.
When I tuned into that documentary, I wanted to see stuff like Tayshaun Prince playing dominoes on a private jet with Chris Bosh. And I got that. But I also wanted to hear and see American players being knowledgeable about their opponents. I wanted to see the coaching staff telling the team how amazingly well Spain runs their offense, demonstrating this or that scheme to stop Lithuania's Sarunas Jasikevicius, teaching techniques that would keep the team better prepared for Greece, noting the Russian team is better than four years ago, and pointing out what Argentina is doing differently this time around.
In short, I wanted to see the work of Tony Ronzone put into effect. I wanted to see NBA players preparing like they do for NBA games: By mastering the specifics of their opponents.
Maybe it's too early in the series. Maybe that stuff happens away from the cameras. Maybe I have nothing to worry about.
But so far we have not seen anything like that (other than a white board in the background, with some names of opponents on it). So far, the talk we have been able to see is along the "we play our best and we'll be all set" line.
"What we're trying to do," explains Coach Krsysewski as he takes the team to the Statue of Liberty, "is to develop a spirit where we're not just saying something, but we're showing them something."
I find myself nodding along. But he is talking about patriotism. I want to see that applied to game preparation. There is so much talk about the team respecting the opposition. Show me that, and I'll know that Team USA really is not just an improved team, but one that has embraced the hard lessons of globalization.
(Photo by MN Chan/Getty Images)