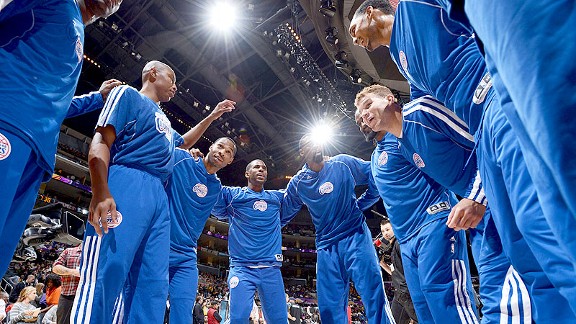 Andrew D. Bernstein/NBAE/Getty Images
Whatever the Clippers call it this season, it's a lot more fun than Lob City.
Blake Griffin didn't shoot, and Chris Paul was ticked off.
Paul is in the business of finding open shots for teammates. It's a vocation he loves and performs better in than anyone alive, and he even delivered a manifesto on the subject on Saturday after the Clippers' win over Chicago.
"My job as a point guard is to make the other team think I'm trying to score," Paul said. "I'm not bad at that. That's my main objective. I can get two people on me, and then I'm able to throw it back to Blake, and once that continues, we become that [much] more dangerous."
Early in the third quarter, Paul got a step on Kirk Hinrich going left. Joakim Noah was attending to Griffin on the right side of the floor, but when Noah saw Paul attack, he moved toward the paint and away from Griffin, who was now left alone about 18 feet from the basket.
Paul's main objective was achieved, as the entire Bulls defense thought he was trying to score. Leveraging that attention, Paul slung a pass across his body to Griffin, now wide open.
But instead of catching and shooting, Griffin cradled the ball for a second, almost inviting Noah back into his airspace. Noah closed on Griffin and now it was too late for Griffin to launch that face-up jumper he's been working on tirelessly. Griffin's only recourse was to shuttle the ball back to Paul, who was barking and gesticulating at Griffin like someone in a hurry behind a blue-hair in the left-turn lane.
"I looked at him and I said, 'Shoot it!'" Paul said. "He can do it and we need him to do it because once he develops that, which he's already done and keeps gaining more and more confidence, he becomes unguardable."
Griffin flashed a smile when those comments were relayed to him a few minutes later.
"I had to hit a couple so he'd get off my back," Griffin said, tailing off with a chuckle.
---
Teammates don't reveal moments like these with such ease without an established trust. When Paul arrived in December 2011, he and Griffin knew each other only by reputation. Today, as the 8-2 Clippers head into a showdown against the Oklahoma City Thunder, Paul and Griffin know each other as people.
After each home game, the pair strides into the Los Angeles Kings' locker room, which is set up with a playoff-style podium. Paul is usually the first to arrive. He'll take questions for about four minutes before Griffin slips into the room, sits down, cracks open a can of Red Bull that's sitting before him, but which his lips will never touch. The two will share the podium for a couple of minutes before Paul exits, leaving Griffin to finish.
The two-man show is both a stylistic and substantive departure from last season. Last winter, Griffin would glower in the corner of the locker room after games and grunt platitudes to a swell of reporters. Across the way, Paul would perform his we're-not-satisfied shtick, win or lose. He was never expressly surly, but he was definitely guarded.
Maybe it's the roomier and more orderly digs of the new setup, or maybe it's the fact that the Clippers are beating the holy hell out of teams like San Antonio, Miami, Chicago and the Lakers, or maybe it's just the passage of time, but Paul and Griffin are far more accessible and revealing than last season -- both on and off the court.
That wry, playful persona you see from Griffin when he's tooling around in a KIA with his red track suit? He's brought it to the arena and the practice facility. He doesn't punt basketballs across the practice court and storm off when he loses a free throw contest to DeAndre Jordan. Paul and Chauncey Billups don't have to tell him to chill when he seethes after a miscue in a scrimmage.
Paul has also softened. When he rides guys in practice, he's less likely than last season to elicit a defensive response, according to teammates. When the moment invites it, they might even give him a little crap, a gentle acknowledgment that Paul's perfectionism is a little pathological but greatly appreciated. It's a group that knows Paul well, and that familiarity has spawned an environment that's one part frat house, one part creative firm.
And now Clipperland feels like a fun workplace where you imagine a very successful team to reside -- and that's playing out on the court, where the Clippers are plowing through their schedule.
---
Coming into the season, this evolution wasn't a foregone conclusion. The 2011-12 Clippers were a divisive force in the NBA. Lob City should've made the Clippers darlings of the league, but the team became inordinately unlikable to a legion of NBA fans. The Clippers hadn't earned a thing, but carried themselves as scowling, whining, flopping prima donnas. Over the course of the season, their popularity dropped through the floor.
Four weeks into the new season and the Clippers have undergone a quiet, sneaky rebranding. The optics surrounding the team are entirely different. They've become the likable, up-tempo team we imagined they'd be. For a team infamous in 2011-12 for its tactlessness, the Clippers refashioned themselves without people talking about it, which makes the feat even cooler.
Paul's inside-out dribble still propels the offense, but the ball pops around the court. Clippers games have pace, and there's a discernible rhythm on both ends of the floor.
Flanked by his vets and a few young guys who defer to his savvy, Paul has relaxed. He'll never be a jokester, but his leadership is now more peppy than austere, and it has infused the Clippers' on-court product with some whimsy.
Griffin's antics have been shelved for the most part, but not the exuberance. He's out there to perfect that midrange jumper, to wall off the paint from a speedy point guard, to play an honest-to-goodness brand of defense and, yes, to catch hanging lobs from his guards at unreasonable heights. This season, Griffin isn't about humiliating opponents, but rather elevating himself -- and he's done it without losing style points.
Jordan, the Clippers' wide-grinned center who's carrying a hefty contract, has found his game. He's still a top-three dunk machine, but the game is rounding out, and when he's playing well, there isn't a more infectious guy on the team. When Jordan subs out for Ryan Hollins these days at Staples Center, he's leaving the floor to a standing O.
Fun teams feature cult heroes. Jamal Crawford has been hosting that party for a decade and has brought his wares to Los Angeles. He's leading the Clippers in scoring and the Staples Center court is littered with tibias, fibulas and whatever else gets fractured by Crawford's crossover dribble.
Then there's Eric Bledsoe, a 6-foot mass of bedlam who checks in for Paul nightly and proceeds to drop a lighted match on the hardwood. On a recent night at Staples Center, you could overhear the official scorer, an all-business professional whose job consists of enumerating the game's basic data points -- "Foul 32," "Miss 11," "Steal 12," "Turnover 15" -- break character to utter in an equally matter-of-fact tone, "Bledsoe is a freak." NBA assistant coaches, social media platforms and Bledsoe's teammates unanimously agree.
---
We know that basketball games are won because talent and certain empirical truths prevail. But can intangibles such as optics, camaraderie and fun translate into wins? When you have players who understand expectations and enjoy their work environment, can those conditions enable a team to achieve the upper range of its potential?
Right now, the Clippers are a case study. We know they're talented, and Paul's command of the game makes them an efficient team that will win far more games than they'll lose. They've gone from unwatchable to captivating, the League Pass special that fans signed up for last season.
Ankle breakage, inside-out dribbles, alley-oops, brimming confidence, a new-found jumper, freaky lilliputians who block shots and strip balls with impunity -- all of it is inspiring. Now we'll find out if it's sustainable.