Shining a quick spotlight on three of the key players in Wednesday night's wins.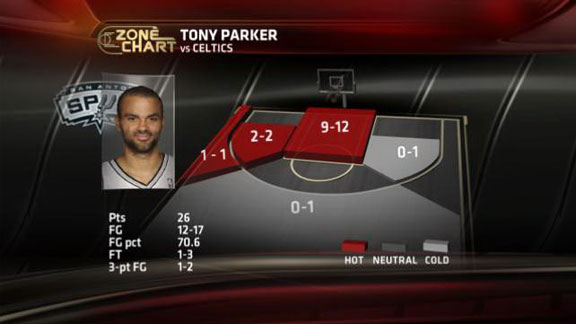 Tony Parker, Spurs
One of the keys to success for the San Antonio Spurs in their win over the Boston Celtics was Tony Parker's ability to get to the basket.
The Spurs won for the 13th time in their last 15 games in Boston, with Parker going 12-for-17 from the floor. He was 4-for-5 in the paint in the first quarter and 3-for-4 in the paint in the fourth quarter.
Parker entered the night 39-for-86 on his paint-based shot attempts this season, including 12-for-29 in his previous three games.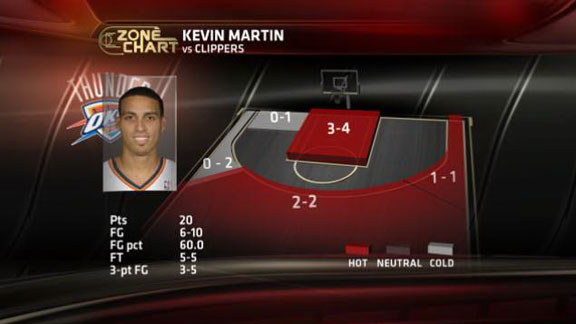 Kevin Martin, Thunder
Earlier Wednesday, we told you that Kevin Martin was the NBA's most efficient scorer so far this season.
That continued with his 20-point effort off the bench in the Oklahoma City Thunder's win over the Los Angeles Clippers.
Martin made three shots on four attempts in the paint and made three more 3-pointers.
Note those two three-pointers that came from straight-on. Martin is 9-for-17 on shots from that area this season.
Maintaining anything close to that rate of success would be a huge improvement from last season, when he was 25-for-77 (32 percent) on 3-pointers from that part of the court.
Paul George, Pacers
The surprise star of the night was Paul George of the Indiana Pacers, who teamed with Roy Hibbert on a record-setting night in a win over the New Orleans Hornets.
Hibbert set the team single-game mark for blocked shots with 11 and George broke Reggie Miller's record for 3-pointers in a game with nine.
George was 5-for-6 on his 3-pointers from the right sideline and corner. He had made only seven 3-pointers in 18 tries from that area in his previous 12 games this season.