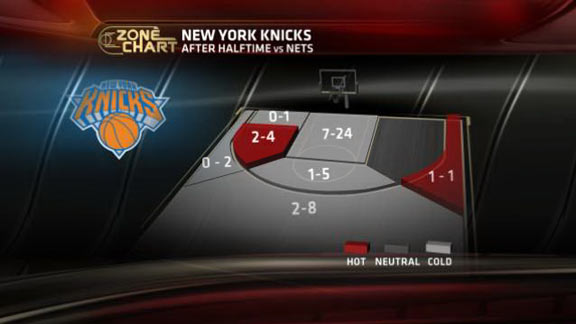 One of the statistical points of interest from the Brooklyn Nets win over the New York Knicks on Monday night was its defense against the Knicks in the paint.
The Knicks were 13-for-21 in the paint in the first half and had shot 59 percent on their shots in the paint over the previous three games.
But in the last 29 minutes, the Knicks ability to score inside completely changed. Finishing in the paint became almost impossible. The Nets outscored them 30-14 in that span, including 18-2 in the third quarter
As you can see in the image above, the Knicks shot 7-for-24 in the paint in the second half.
Carmelo Anthony, who was 4-for-6 in the paint in the first half, was 1-for-5 in it in the second half.
Raymond Felton missed all 10 of his shots in the paint for the game, an area in which he entered having made half of his shots (37-for-74) this season.
Five of those misses came in the second half, including two, sandwiched around a turnover, in a 90-second span with just under seven minutes remaining.
He was partly absolved of blame because the Knicks scored on both of his missed opportunities.
But he then airballed an 11-footer that would have put the Knicks up three with less than 90 seconds left.
Rasheed Wallace, who entered a 68 percent paint-based shooter for the season (17-for-25) was 0-for-4 for the game as well.
The Nets got shredded for 63 percent shooting in the paint by the Los Angeles Lakers and Golden State Warriors in the final two games of their West Coast swing.
But since returning home, they've held their last two opponents to 45 percent shooting in the lane, including the Knicks' 20-for-45.