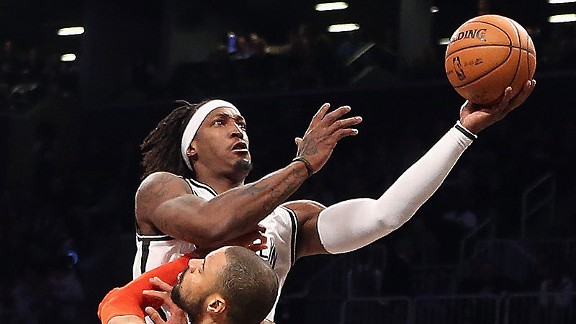 Bruce Bennett/NBAE/Getty Images
Gerald Wallace plays, and sometimes acts, with gusto.
When Reggie Evans received the NBA's first ever flopping fine and cemented his reputation as the league's most notorious actor, not everyone was pleased. Although he was the victim of Evans' fine-worthy flop, Metta World Peace said Evans' Brooklyn teammate, Gerald Wallace, was the real flopper.
"That's ridiculous," World Peace said in response to the Evans' punishment, according to a report from ESPN NY's Mike Mazzeo. "I'd rather Gerald Wallace get fined than Evans."
Well, World Peace may have to settle for a warning after this Flop of the Night (Video) from Wallace during the second half of Brooklyn's win over the Knicks Monday night.
It's a classic "exploding pick" flop: Wallace runs right into Chandler, who is pivoting to face the basket with the ball in his hands. The contact is minimal, but that doesn't stop Wallace from violently throwing his head back after crashing into the all-but-stationary Knicks big man. The play erased a wide open Carmelo Anthony jumper in a tight game that ended up going to overtime.
It will be up to the NBA to decide whether Wallace's flop merits a warning for "overembellishing" the contact -- remember Wallace snapped his head back despite running into Chandler's hip.
When you see an egregious flop that deserves proper recognition, send us a link to the video so we can consider it for Flop of the Night. Here's how to make your submission: