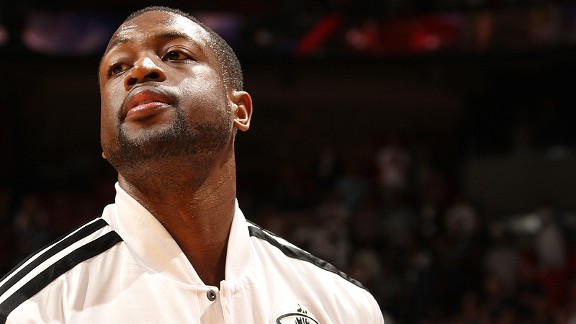 Issac Baldizon/NBAE/Getty Images
The reason he's not scoring 30 a night: Team.
Regular TrueHoop readers know one of my favorite topics is the idea that while it takes all kinds of stereotypically macho things like toughness and guts to win basketball games, on most NBA teams what's needed is almost the opposite of that.
Excelling at macho stuff is the cost of admission to the NBA. Every team has a lot of it.
But good teams stick those macho pieces together into a cohesive whole, I theorize, with the glue of selflessness. It's the opposite of what many believe works in sports. But it's essential nonetheless.
And that's the theme of Tzvi Twersky's cover story about Dwyane Wade in the current SLAM. Wade says the macho stuff, like that he could still score 30 a night if he thought it would help. But, machismo being what it is, he leaves it to others like his manager Lisa Joseph and Heat assistant coach Dave Fizdale to get into the nitty gritty of why his personal statistics are down (and, for instance, he was only eighth in the most recent #NBARank) even while team success is up. From a section of the article that's only in the print version:
Wade is somewhat irked by the widely held belief that time has finally dulled his game.

"I know everyone has an opinion and everyone has a right to exercise that opinion," says Wade. "It just sucks that people don't really understand the reasoning why. When we got together the first year, I averaged 25, LeBron averaged 26 and it doesn't work. Everybody was talking about, 'Well, they have to find a way to make it work.' Then we find a way to make it work, and everyone talks about this and that. They don't really understand."

They don't understand the finite difference between losing in the 2011 Finals to the Dallas Mavericks and winning in 2012 against the Oklahoma City Thunder was some nuanced and inspired coaching by Spoelstra. That it was due in large part to Wade graciously handing over the ball and keys of the team to one of his best friends.

"He had the humility to take a step back to allow LeBron James to become the greatest player in the world," says Fizdale. "If he would have kept competing at the level he was competing at to show who he was, then LeBron would have never developed that. That's the reality of it."

What Wade and his coach are saying without actually verbalizing it is not obvious to the average fan. They're saying, in essence, that while LeBron made the Decision that brought championship expectations to Miami in 2010, Dwyane made the decision that ultimately brought the Championship to Miami in 2012.

Explains Joseph: "He's like, 'I'll get all the accolades at the end of my career. I've won a Gold medal; I've got a ring; I know what this feels like and I want it again and I'm not going to be able to do it on my own. So I don't have a problem taking that step back.'"