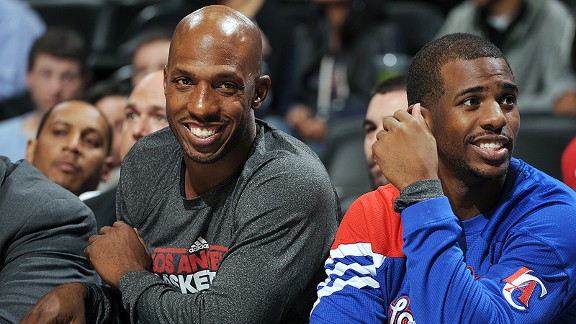 Garrett W. Ellwood/NBAE/Getty Images
Chauncey Billups deployed veteran trickery to great effect Monday night.Chauncey Billups is a high risk to receive a flopping warning from the NBA league office after his egregious "roughing the punter" flop -- the very same flop that played a critical role in the Clippers beating the Jazz Monday night.
Utah, which lost by a single point, would probably prefer the win to the flopping warning, but you get what you can get in this league.
The Billups flop (Video) came with only 75 seconds left to play in the game, with the Jazz clinging to a two-point lead. After Chris Paul almost lost possession and had to save the ball to Blake Griffin, the Clippers offense was in total disarray. Billups found himself with the ball during a possession that seemed to be going Utah's way. As Billups elevated to shoot, Mo Williams flew out to contest the shot, while taking special care to avoid the shooting Billups.
Billups, however, needed points any way he could get them, and therefore -- the video shows -- kicked his leg out and tumbled to the ground as though Williams had run right through him. Referee Dick Bavetta, whose view of Williams was obscured by Billups, awarded the Clipper guard three critical free throws. Billups hit two, tying the game.
Many plays contributed to the Jazz loss, but it's hard not to feel Bavetta's call had outsized impact, even though it was a call that anyone watching on TV could clearly see was a mistake. The replay was aired before a single free throw had been attempted. Hundreds of thousands of TV viewers could have correctly reversed the call on the spot. But thanks to NBA rules, the game's officials had no access to that replay in real time, and so Billups got his free throws.
When you see an egregious flop that deserves proper recognition, send us a link to the video so we can consider it for Flop of the Night. Here's how to make your submission: