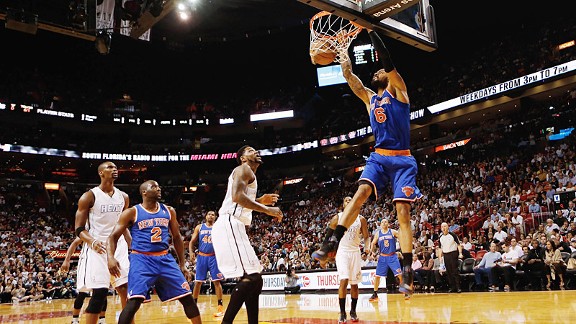 Christopher Trotman/NBAE/Getty Images
There was a little too much of this on Thursday night for the Heat's beleaguered defense.
Chris Bosh says it's the frenetic pace. LeBron James says it's about communication. Shane Battier says it's all in the head. Erik Spoelstra says it's execution.
However you diagnose the Miami Heat's defensive meltdown against the New York Knicks and the champs' general listlessness all season, they're a disaster on that end of the floor.
There are no shortage of explanations, but Miami's woes are especially bizarre because, with the exception of Ray Allen, the personnel is largely the same as last year's championship team, which ranked No. 4 overall in defensive efficiency. Theoretically, most of the principles are the same, but somewhere between application and result, the defense is drifting off-course.
Occasionally when you look at a colossally bad defensive performance, a single, obvious flaw reveals itself. What's notable about Thursday night's train wreck is how diverse the lapses were.
The switch-outs that guided the Heat to success in the 2012 playoffs allowed Miami to respond quickly to opponent's actions. Against the Knicks, those switches created confusion both at the point of attack and in the back-side rotation. The Heat have a lot of guys who can defend bigs, smalls and space, but right now that flexibility isn't producing results.
For the most part, the Heat got back in transition promptly on Thursday night, but virtually every Miami defender would backpedal to the middle of the floor to stop the ball with no one splaying out to the wings where the Knicks had been spotting up and blistering opponents all season.
On those rare occasions when the Heat accounted for perimeter shooters while Raymond Felton and Tyson Chandler ran a high pick-and-roll, there was nobody to bump (or "chuck") Chandler off his course to the rim.
And the rotations behind the Heat's traps of Felton (a questionable strategy in itself) made the Heat appear like a bunch of second-year players straight off the bus from their first training camp. When the Knicks have long-range threats like J.R. Smith, Steve Novak and Jason Kidd spread along the perimeter, it's unconscionable to have a third guy drifting away from one of those shooters toward a trapped Felton at 27 feet, leaving the two remaining defenders to account for Chandler diving toward the rim along with three shooters primed for a catch-and-shoot.
James isn't himself without blame. He's an all-powerful defensive god when his antenna is up and he's reading every movement, potential action and passing lane on the floor. When James is locked in, there isn't a defender in the league who makes smarter risk-reward decisions like when to shoot the gap on a post feed and when to stay home; when to zone up on the two guys he's covering on the weak side, and when to call, say, Mario Chalmers to fill his spot so he can meet a driver at the rim.
One of the great pleasures of Heat basketball is observing James play half-court defense in a big game. Try it sometime -- instead of watching the ball, focus solely on what James is doing. But had you done that last night, you wouldn't have caught a glimpse of that sharpness. James was working -- primarily because he spent a ton of time on the ball -- but those secondary decisions weren't made with a lot of precision. Even on a bad night, James is still a plus-defender. But if you're looking for a reason why a No. 4-ranked defense falls to No. 23, decision-making by principal defenders is a contributing factor because, tempting as it might be, you can't blame Allen for everything.
It's an empirical fact that the Heat are playing horrific defense, but we're also pretty certain they feature the personnel to play elite defense. There's actual evidence of this somewhere in a glass case inside AmericanAirlines Arena. So how manageable are these issues? Are they merely coasting rather than playing on a string, which is how the Heat characterize their defensive proficiency when everyone is where they're supposed to be and all five guys moves as one unit in the half court? Would a healthy Battier and a few more minutes of Joel Anthony do the trick?
This time last season, the defense wasn't exactly locking opponents down. The Heat weren't running shooters off the 3-point line and they were gambling more loosely than Floyd Mayweather. Miami took some lumps early but privately understood that Spoelstra was engaged in some experimentation. The Heat were trying to figure out if they could morph a fairly conventional scheme into one that could maximize speed and instincts without sacrificing the integrity of the entire defense. It took a while, but the strategy bore a Larry O'Brien Trophy.
Is that what's going on here in the early going? Is an outing like Thursday night just a symptom of a team that's futzing around in the laboratory trying to come up with new solutions?
Chalking up bad defense to systematic failures (Defenders aren't pushing guards down on the pick-and-roll; Nobody is sinking to the level of the ball when it goes inside; etc.) is usually more satisfying than attributing them to generalities like energy motivation, but there's something that rings true in the postgame statements from James and Bosh about the Heat's lack of urgency. The game tape looks like a snuff film, but even watching all the Heat's tactical errors on defense, you find yourself saying, "They know better than this."
The knowing part is simple, as are the basic adjustments required to fix what's broken. This isn't about buying into a system -- that sale was made a year ago. It's not about hiding older, poorer defenders, abandoning a pick-and-roll coverage that isn't working or modulating the pace.
This new project is about fully appreciating that immortality doesn't exist in sports. You never know demise until it's too late.