Despite Kobe Bryant's team-high 35 points, the Los Angeles Lakers came up short of getting back to .500 this season, losing to the Oklahoma City Thunder 114-108.
The Lakers have not won consecutive games under Mike D'Antoni who falls to 4-6 since taking over the team.
They are 1-8 this season when Bryant scores at least 30 points and have lost six straight games.
It was the Thunder's 11th straight game scoring at least 100 points, the longest streak by the franchise since Jan.-Feb. 1995 when they had 19 straight.
Russell Westbrook was a big reason why the Lakers fell to 2-6 on the road this season as he scored 27 of his 33 points in the first half including five 3-pointers. It was the most first-half points in his career.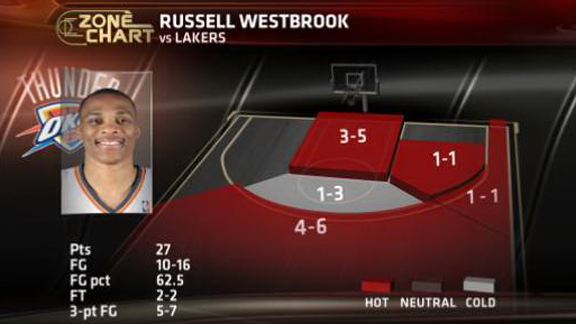 Russell Westbrook's hot hand in the first half helped the Thunder beat the Lakers.Westbrook made eight of his 14 field goals from at least 15 feet Friday, his most made shots from that distance in a game this season.
Westbrook entered Friday shooting 32.9 percent from 15+ feet and 49.7 percent inside 15 feet, but reversed that trend against the Lakers.
The Thunder used their transition game to outscore the Lakers by 15 points in the second quarter Friday and build a lead they never relinquished.
Eighteen of Oklahoma City's season-high 41 second-quarter points came in transition and the Thunder continue to be the most efficient transition team in the NBA this season, averaging 1.32 points per play.
Jodie Meeks scored 17 of the Lakers 19 points off the bench.
The Lakers' bench entered Friday next-to-last in scoring averaging 23.4 points. The Lakers fall to just 1-10 this season when recording 20 or fewer points off the bench.
Games Decided By 10-or-Fewer Points
Lakers Since 2007-08
The Lakers fall to 1-11 this season in games decided by 10-or-fewer points, the worst in the NBA.
They won more than 66 percent of such games in the previous five seasons, the highest percentage in the NBA.