If you listen to Suns executives like Steve Kerr and David Griffin tell it, Slovenian point guard Goran Dragic is one hell of a point guard.
The 6-4 Dragic is so good, they say, that they might have taken him with the 15th pick of the first round.
And now, according to Paul Coro of the Arizona Republic, Goran Dragic will be in a Suns uniform this season, after lengthy negotiations to free him of his European contract.
While the Suns are not exactly a tight-fisted team -- payrolls have been high -- Phoenix has made several dubious cost-cutting measures in recent years. The team could have had the likes of Luol Deng, Rajon Rondo, Rudy Fernandez, and Sergio Rodriguez but sold or traded away the picks, to the profound frustration of fans in a hurry to see the team win a championship while Steve Nash is still one of the NBA's elite point guards.
But in the case of Dragic, the team has paid and paid and paid.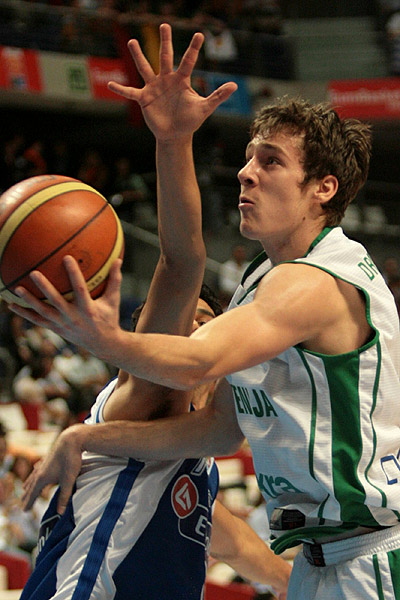 They reportedly paid a half-million dollars to move up three spots in the second round to head off the Detroit Pistons, who were also said to be interested. Phoenix reportedly paid another half-million dollars to help buy him out of his European contract.
On top of that, speculation is that the Suns may have awarded Dragic one of the longest and richest contracts in the history of second-round picks. And, thanks to the luxury tax, the Suns will pay all of that money twice -- once to Dragic, and again to the NBA.
All of which makes you think: Dragic had better be good.
On that front, the Suns' brass has a lot of conviction. I love that. Identify the players you like and then -- everyone else's views be damned -- go get them.
Did you watch that behind-the-scenes video of the Suns war room on draft night? Griffin and Kerr either did an amazing job acting, or they really went into this draft with eyes for the two players they got: Robin Lopez and Goran Dragic.
He has been touted as Steve Nash's eventual successor.
But what if Steve Kerr and company are simply wrong?
They have more information than anyone. But based on the available evidence, there are some worrying signs.
ESPN's John Hollinger a method of using statistics to project European players' statistics into NBA numbers.
On that front, Dragic does not impress.
"His translated Euroleague stats from last year," says Hollinger, "are terrible."
"It's off a small sample (358 minutes), but it projects to 10.1 points and 5.6 assists per 40 minutes, 44.0% shooting, and a 8.38 PER."
An average NBA player has a PER of 15. In fairness, PER does not capture defense beyond blocks, steals, and rebounds. And defense is Dragic's calling card.
Nevertheless, put it all together, and what is Hollinger's assessment? "Yikes," he says. "Hardly seems worth all that trouble."
Jonathan Givony of DraftExpress has analyzed Dragic's play on the court, and he too wonders what all the fuss is about. Givony wonders if the money European are offering NBA-level players, and the fear that Dragic might never make it to the U.S., caused the Suns to panic a little. Givony e-mails:
It doesn't make a great deal of sense to me personally. I think Dragic is a solid prospect who could develop into a nice rotation player in two to three years, but the way people are talking, you would think he's going to be making a run for Rookie of the Year honors.

Right now Dragic is pretty much going to help you in one area only: defense. He is great at putting pressure on the ball, getting in the passing lanes, and getting his team extra possessions. He's going to struggle running an offense, though, and unlike a lot of combo guards these days, he's not going to make up for that with his perimeter shooting nor his ability to create his own shot.

I actually think Dragic would have been better suited staying in Europe for another season -- there were a lot of minutes to be had playing with Tau in both the Euroleague and ACB, and he probably needed that bridge between the NBA after the fairly underwhelming season he had with Olimpija last season.

The track record of players coming straight out of the Adriatic League and finding any kind of success in the NBA, especially immediate, is pretty much nil historically. (Nenad Krstic, Sasha Pavlovic, Vladimir Radmanovic are the only three I can think of out of a long line of failures). Now try to think of successful European point guards in the NBA ... outside of Tony Parker and Jose Calderon, it's slim pickings. That's why we're always going to approach these type of prospects with cautious expectations.

But I understand Phoenix's perspective. They've been severely overworking Steve Nash during the regular season in recent years, and considering that he's turning 35 this season, they can't afford to play him 34-35 minutes per game for 82-100+ games at the pace they play at. So they need a good backup. Problem is Dragic isn't ready for that in my mind. I'm not even sure how different he is compared to D.J. Strawberry actually.
The very same D.J. Strawberry, that is, who looked good in summer league as the athletic, tenacious guy who hounds scorers on the perimeter but is offensively challenged. How many of those can one team use?
Which all leads to an interesting question for Suns fans: Where is all this headed?
The team clearly did not click right off the bat with Shaquille O'Neal at the end of last season. Perhaps time together, a chip on the shoulder, and a new coach in Terry Porter will be good for some more wins.
But roster-wise, there haven't been any earth-shattering changes. The newcomers are Matt Barnes (who had fallen out of the rotation in Golden State), Lopez, and Dragic. There ought to be development from Strawberry and Alando Tucker.
The lion's share of the minutes, however, will still be consumed by Nash, O'Neal, Amare Stoudemire, Raja Bell, Leandro Barbosa, Grant Hill, and Boris Diaw. Increasingly, that is seeming like it is not enough to win the tough West.
On the other hand, with lofty expectations for Dragic, the puzzling trade for O'Neal, and a new style of play under Porter, the Suns may have succeeded in doing the impossible: Somehow they got more interesting over the summer when they lost Mike D'Antoni, who coaches the most entertaining style of play in the NBA.
(Photo: Pierre-Philippe Marcou/AFP/Getty Images)