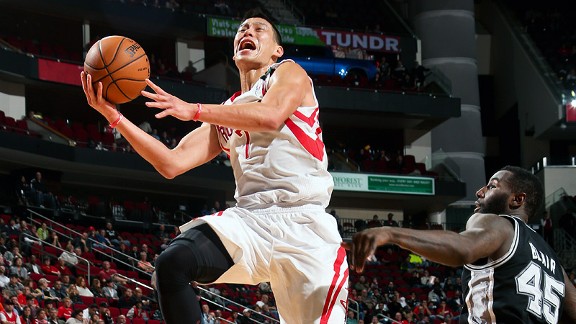 Layne Murdoch/NBAE/Getty Images
On the nights he performs best, Jeremy Lin lacks any instinct for self preservation.Jeremy Lin played out of his mind for 26 games last season and became a global sensation. Then he got hurt and missed the rest of the season, touching off a big ol' hoops fight: Was the real Lin that guy who had starred in Linsanity, or was 26 games such a short period that we still had no idea what he really was like? What could rightly be expected from him in the years to come?
Lin critics would say, essentially, "Call me when he has a good season or two." Lin defenders would point to the historic record showing that players who have runs like that almost all end up mattering in the NBA.
Twenty games into his life as a Rocket, the issue remains unsettled. This season Lin's game has been more subdued -- he has not dominated the ball like he did on that injury-ravaged Knicks team, nor has he put up the same kinds of numbers.
Until, that is, an epic overtime Monday night tip against the Spurs.
With Rockets star James Harden nursing a bum ankle, the Jeremy of Linsanity returned and darn near led the beat-up, so-so Rockets to victory over the Spurs, who top both Marc Stein's and John Hollinger's power rankings.
This was a remarkable game in that for periods, the calculating Spurs could scarcely get a shot off because Lin and the Rockets were seemingly everywhere anticipating everything. The energy level was somewhere between frenetic and intense, and -- as overtime proved -- almost certainly unsustainable.
Lin tied a career high with 38 points, and tacked on seven assists and two steals while making four of five 3-pointers. He threw his body all over the court, getting so banged up that in a few instances he appeared to be injured. At one point in the second half commentators exclaimed, "Oh no, Jeremy Lin!" as he grabbed his right ankle, then headed back on defense limping badly. Another time Lin hit the deck hard and lay there stunned as the play reversed direction, abandoning Lin to what looked, briefly, like something serious.
Lin played on, 42 minutes in all, flying into the third row of baseline seats and driving through the Spurs' defense time and again.
As the game wore on, fatigue was more blatantly part of his game. In the third quarter, Rocket Toney Douglas whipped a pass to the spot where Lin was supposed to have been. After the ball bounced out of bounds, a tired Lin tapped his own chest as if to day "my bad."
On the final possession of regulation, the score tied, Lin waved off a pick, setting up a perfect reprise of his crowning NBA moment: That isolation 3-pointer game-winner in Toronto. This was his moment.
But he was spent, his dribble high and ragged. The superbly conditioned Spur Danny Green poked the ball away twice on that one key play. By regulation's end Lin was, fittingly, once again on the floor. The Rockets had entrusted the game to Lin and, this time, he didn't even get a shot off.
On one possession of overtime it took Lin a full eight seconds to cross half court -- like a big man of yore, he joined his teammates on offense many seconds after the ball. And in no small part because of team-wide fatigue, the Rockets lost.
It was a great night for Lin fans nonetheless. "There," you could hear them saying, "see, he can play like that."
But watching the all-out effort and mindless risk-taking -- not to mention abuse -- that it took for Lin to lead his team in that manner ... the same old questions about Lin's game emerge, and they have nothing to do with his heart, skill level, athleticism, racial makeup or professionalism. Instead it's all about the tenacious all-out effort he puts into his best nights. Sure, he can play like that. But how often and for how long?