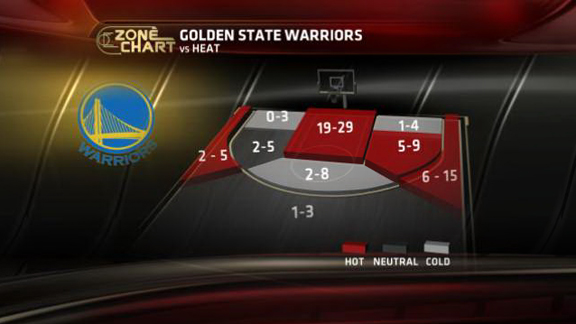 The Warriors were hitting from inside and outside against the Heat.
Who would have thought at this point in the season that we'd be writing about the composure under pressure by the Golden State Warriors?
But this team merits mention after continuing its road success under arduous circumstances.
So here are five stats to know from the Warriors' stunning win over the Miami Heat.
1. The Warriors are hot. They've won five straight games to start this road trip, all against Eastern Conference opponents. It's the first time they've won the first five games of a road trip since 1978.
2. Mark Jackson's team is 7-1 in games decided by five points or less this season. The Warriors went 8-14 in those games last season, in Jackson's first season as head coach.
3. This was the first game in Draymond Green's 22-game career in which he made a go-ahead shot in the fourth quarter. His basket on a backdoor cut continued a trend for the Warriors that has been key to their success.
Warriors in Clutch Time
Last 2 Seasons
Golden State is 19-for-26 this season on shots taken from within five feet and the score within five points in the fourth quarter or overtime (known as "clutch time."). That shooting percentage ranks third-best in the NBA.
The Warriors have been much more poised this season than last (as the chart on the right notes) in late/close situations … at least so far. Last season, they shot just 52 percent on shots inside five feet in those instances (fourth-worst in the league).
4. Forward David Lee had his fifth straight game with 20 points and at least 10 rebounds. That ties LeBron James for the longest such streak in the NBA this season.
5. James had his 20th straight game scoring at least 20 points, extending the longest such streak to start a season in his career.
But in the five games in which James has scored 30 or more (as he did on Wednesday), the Heat are 2-3. In the losses to the Warriors, Clippers, and Knicks, James' teammates are shooting 42 percent from the field.
James missed a potential game-tying shot at the buzzer. He's now 3-for-14 on game-tying or go-ahead shot attempts in the final 24 seconds of regulation or overtime with the Heat.
Statistical support from NBA.com was used in this article