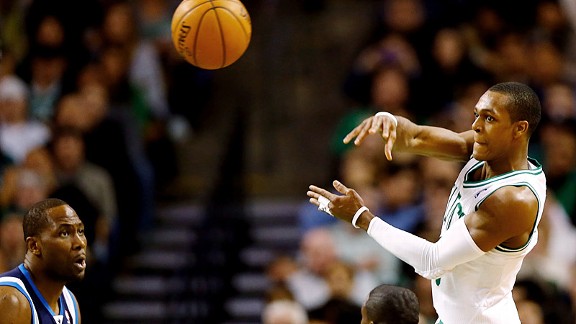 Jared Wickerham/Getty Images
Rajon Rondo out-thinks people all the time -- sometimes including referees.
Mavericks guard Derek Fisher fouled out with 1:07 left in the first overtime on what was, in slow-motion, a whopper of a flop by Rajon Rondo. Fisher appeared to do nothing more than rest a hand on Rondo's back. Feeling the contact, Rondo exploded away as if shoved ... and earned a whistle.
Saddled with his sixth foul, an aghast Fisher took a seat and watched from the bench as his team lost a nail-biter.
The Fisher foul was a small play that didn't merit mention in many of the game recaps. But it was huge in certain respects:
Fisher is a legendary flopper in his own right. His shock that the referees fell for Rondo's play comes with a certain rough justice.

Fisher is no All-Star, but he had plenty of impact on this game, including the key defensive stop, on Rondo, at the end of regulation.

The Mavericks are owned by Mark Cuban, who is rich, loud and a bit obsessed with how the league ought to be run. Both by complaining in public, and by advocating behind the scenes, he has been a major influence over NBA refereeing over the last decade.

The victims of the flop, the Mavericks, lost.

As a double-overtime game that the Celtics won by two, every play of the entire game, including this one, was arguably a game-deciding play. Not to mention the Mavericks had some late turnovers that, it's easy to imagine, could have been avoided with the most veteran of point guards in the game.
In other words, the NBA has both a new video-enforced rule banning flops and a game that was potentially decided by a flop that was obvious on video.
You'd hope it would be one or the other, right? Not both?
And this is what has always bothered me about the NBA's good, but not great, new flopping rule. It assumes that video replay is enough to know who is and is not flopping. Once you arrive at that point, how can you tolerate any delay? The video that convinced me Rondo had flopped was broadcast nationwide seconds after it happened and long before Fisher had even taken his seat. In other words, just about everyone (certainly including fans watching at home, Jeff Van Gundy, Rondo and Fisher) knew that the last few minutes of that game were illegitimate -- played fairly, the Mavericks would have had one more player at their disposal. That the game's officials -- Joe Crawford, Derrick Collins and Mark Lindsay -- didn't get to be on that list is a crying shame.
I assume Rondo will hear from the NBA about this flop. It's the kind of play that has been getting attention. And that's an improvement over last year, when nobody would have done anything.
But it does little to explain why, if the NBA knows that play was a flop, the last few minutes of that game were played without Fisher. I'm not advocating stopping the game for more video review. I'm saying whatever video review the NBA is doing now -- quietly, off in some back room -- do it in a matter of seconds so it could really be useful.