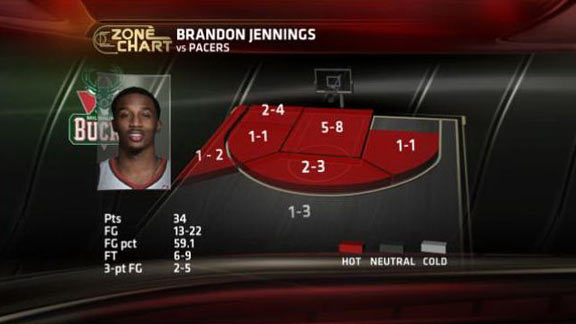 Brandon Jennings connects from deep
Milwaukee Bucks guard Brandon Jennings tied his season-high with seven made field goals from at least 15 feet in his 34-point effort in Tuesday's win over the Indiana Pacers.
Over his previous six games Jennings was shooting only 27 percent from 15 feet and beyond and was averaging 0.73 points per field goal attempt on those shots.
But Tuesday he was 7-for-12 from that distance and cashed in at a rate of 1.33 points per field goal attempt.
Jennings is now shooting 39 percent for the season from 15 feet and beyond, which if maintained for the rest of the season would be the best rate for his career. He shot 35 percent from that distance last season.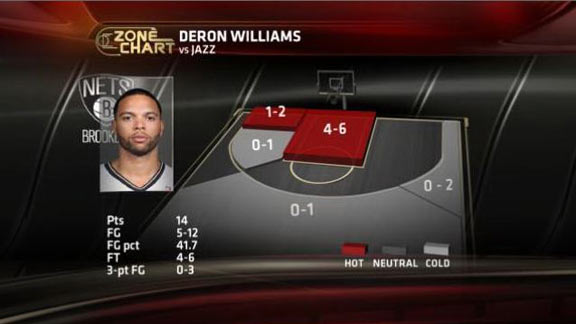 Williams still not comfortable
Brooklyn Nets guard Deron Williams fell to 0-3 in meetings against his former team, the Utah Jazz. Williams was 5-for-12 from the field for 14 points in a two-point loss.
Williams spoke Monday about his lack of comfort in the Nets offense. Part of the reason he is struggling this season is his outside shooting.
Williams was 0-for-3 from the 3-point line and 2-for-8 (25.0 percent) from 10 feet and beyond on Tuesday. He is shooting 29 percent from the 3-point line and 32 percent from at least 10 feet this season, both of which would be career-lows if maintained for a full season.
Among players that have taken at least 100 shots from 10 feet or longer this season, Williams ranks in the bottom 10 percent in the NBA in field-goal percentage.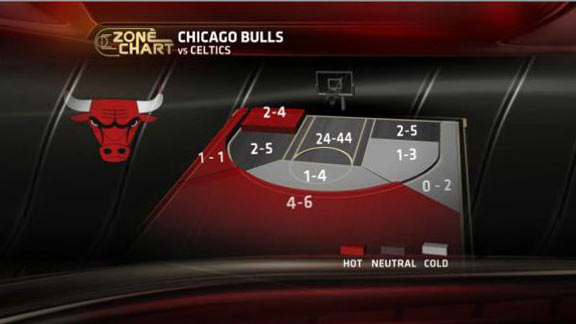 Bulls good enough in the paint
The Chicago Bulls outscored the Boston Celtics 48-36 in the paint in Tuesday's win.
The Bulls are 9-3 this season when scoring more paint points than their opponent.
Of those 24 Bulls field goals noted above, 22 were from inside five feet, one shy of their season high.
They did so against a Celtics defense that has been vulnerable. Boston has allowed 100+ pts in each of its last four games, matches its longest streak this season