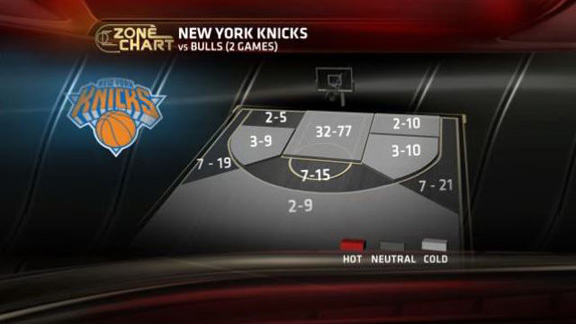 Bulls 'D' makes the difference
The Chicago Bulls continued their recent domination of the New York Knicks, beating them for the second time this season and the sixth time in the last seven meetings.
The Knicks were 8-for-26 from 3-point range, continuing their live-by-the-3-pointer ways. They are 1-4 this season when shooting below 31 percent from 3-point range, 18-3 otherwise.
The Bulls have held the Knicks to 37 percent shooting in their two meetings this season, including 33 percent from 3-point range. They've also outrebounded the Knicks, 98-80.
-- Steven Martinez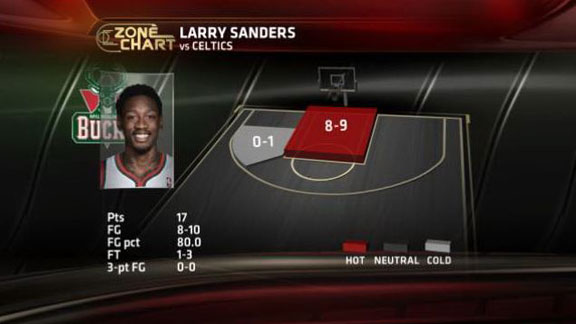 Sanders earns one for Bucks
Milwaukee Bucks forward Larry Sanders has been one of the biggest reasons that the team won three of four meetings with the Boston Celtics this season. Sanders finished Friday with 17 points and 20 rebounds in the overtime win.
The Elias Sports Bureau notes that he is the first Bucks player with 17 points and 20 rebounds against the Boston Celtics since Kareem Abdul-Jabbar in 1975. He is also the first player with a 17/20 game against the Celtics in Boston since Dikembe Mutombo for the Philadelphia 76ers in 2001.
In four games against the Celtics, Sanders shot 24-for-35 from the field (69 percent). He's shooting a hair under 50 percent against the rest of the league.
-- Mark Simon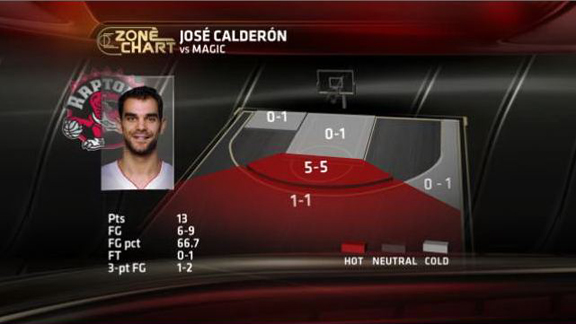 Calderon continues to roll
Toronto Raptors point guard Jose Calderon, who has been the focus of trade rumors (most notably involving the Los Angeles Lakers) continued his solid play in a win over the Orlando Magic.
Calderon has played at a much higher level when he's been able to start, like in this game, in which he shot the ball well and chipped in nine assists.
He's averaging 11.1 assists per 36 minutes in 13 games as a starter compared to 6.8 per 36 minutes in 15 games off the bench. Consider the fact that only one other player averages more than 11 assists per 36 minutes this season –- Rajon Rondo (11.7).
Toronto's offense has seen drastic improvements with Calderon getting most of the minutes. In the 13 games he's started, the Raptors are scoring 97.5 points. They're averaging 94.9 when he hasn't. The gap widens to better than eight points per 100 possessions when you adjust for pace.
Calderon has dished out at least 17 assists in three of his 13 starts. That's as many as the rest of the NBA's point guards have combined.
When Kyle Lowry starts, the Raptors are 2-13. But when Calderon is on the floor for tip-off, they are now 7-6.
-- Josh Parcell