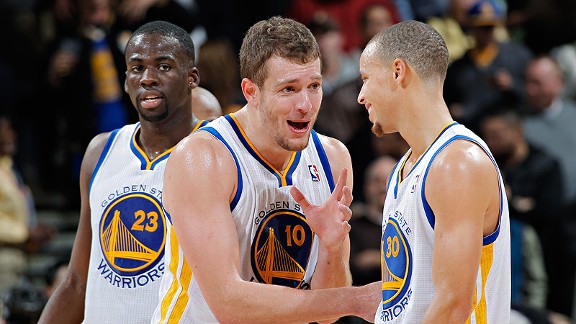 Rocky Widner/NBAE/Getty Images
Let the good times roll. There's a lot for David Lee and the new-and-improved Warriors to smile about.After finishing 20 games under .500 last season, the revitalized Golden State Warriors currently find themselves on the other, less-familiar end of the Western Conference standings. How did the Dubs turn things around? Here are 10 facts (and sorta-facts) about the new-and-improved Warriors.
1. They play defense. Seriously.
Don't feel bad if you haven't noticed. Some teams in the league haven't caught on, either.
"We still play teams, especially from the Eastern Conference, where they come in expecting like a 125-115 game," David Lee said. "And when they're sitting there with 43 points at half, I think they've started to realize [the difference]."
A 105-101 game is far more likely these days. After five straight seasons in the dregs of the defensive standings, the Warriors seem to have finally cut ties with the offensive-centric gonzo-ball of Don Nelson. The Warriors' defense is now ranked 10th in efficiency (100.8).
An influx of talent, as head coach Mark Jackson is quick to point out, surely helps: Because of injuries and "injuries," Golden State started Chris Wright, Jeremy Tyler, Mickell Gladness, Charles Jenkins and Klay Thompson in last season's finale. But a full summer and training camp under Jackson was just as important, especially given the rotten defensive reputations of most of the high-caliber players that replaced them. The Warriors' coaching staff went far beyond "Hand down, man down" in preseason, revamping the team's pick-and-roll coverage, as detailed earlier this season by Grantland's Zach Lowe, and preaching defense as the new identity to a cast once synonymous with offense-first basketball.
"Festus [Ezeli] has done a great job for us, and so has [Andris] Biedrins, of protecting the paint from a big man's point of view, which is something we haven't had in a couple years," said Andrew Bogut, the team's lone defensive stalwart who has missed the bulk of his time with the Warriors because of injury. "The guards are fighting much more over screens than they have the last couple years. As a whole, we've bought into team defense, and it's pretty nice to see. We've got a lot of guys who were labeled quote-unquote bad defenders, but we're actually defending at a very high rate."
Said Jackson: "Any great team has an identity. And ours is on the defensive end."
2. They can rebound, too.
Each time he takes the court, Lee sets his focus on two things: "Playing with energy and getting every rebound," he said.
Healthy, confident and focused on the crafts that have buoyed his career since being selected with the last pick of the first round in 2005, Lee is having his best season on the glass since 2008-09, his second-to-last with the Knicks before being signed-and-traded out West. The better board work has been pivotal to his own success -- his other numbers have seen slight upticks (20.85 PER, 19.9 points per game, 15.6 assist ratio) -- and the team's. After finishing dead last in defensive and overall rebound rate last season, Golden State is now ranked second and tied for third, respectively. "Last year, teams would play volleyball with it at the front of the rim," Lee said, but that's far from the case this season.
The coaching staff has also put a sharp focus on rebounding, with missed box-outs being harped on the most in team film sessions. Personnel, again, also helps. Thompson and Harrison Barnes have good size and athleticism for their positions. Offseason import Carl Landry is rebounding better than he has since his rookie season, rookie Draymond Green has the fourth-best rebound rate among small forwards and the scrappy Jarrett Jack is solid for his size. And while Biedrins and Ezeli provide virtually no help on the offensive end -- the centers boast the two worst plus-minuses on the team -- they are assets in the two categories that have helped spark the team's turnaround.
3. They don't miss Monta Ellis.
Perhaps more than any other player, Ellis represents the past of Golden State basketball. The most high-profile of the two holdovers from the We Believe Warriors, Ellis hijacked the team's identity with his gaudy numbers and flashy performances. But by trading their miniature moped enthusiast before last year's trade deadline for Bogut, Golden State invested in a future that was un-Ellis-like in virtually every way. It was ball-dominant offense for ball-stopping defense.
"It gave us a different makeup," Lee said.
Even with Bogut unavailable for the bulk of his time since, the addition by subtraction alone was bound to aid the defense, but the Warriors also haven't missed Ellis much on the offensive end, either. While no one Warriors player has the same knack for getting to the rim off the bounce, Landry and Lee have provided ample at-the-rim opportunities. And though Thompson has misfired a bit more than expected, both he and Stephen Curry are firing up more from long range this season; Curry is again one of the top 3-point shooters in the league and has looked particularly lethal playing the 2 next to Jack. The ball movement has improved as well, according to Lee, and it also gives the team a more traditional 1-5 lineup, which has helped most when matching up at the defensive end.
While Lee and others remember Ellis fondly as a teammate, Golden State's new flow extends beyond the court as well. The mood was always light in practice and in the locker room this weekend -- at shootaround at Staples Center on Saturday before their matchup with the Clippers, veterans giddily kicked basketballs into the stands and had rookies retrieve them, and Lee sunbathed shirtless as he waited for his teammates by the bus -- and Jackson has empowered talented assistants like Mike Malone to have a voice in the process and influence on the team, which has in turn presented a more cohesive unit to players.
"There's great chemistry amongst our coaches, and that really matters because everybody's preaching the same message," Lee said. "When the captains of the team and the coaches of the team are preaching the same message, especially when we have so many young guys that play a role in our success, it's good for them to hear the same message across the board."
4. Curry is finally healthy.
Despite having to wade through 43 losses, including 11 over the final 12 games, Jackson's first season as an NBA head coach proved a valuable learning experience.
"You need talent. And you need healthy talent," Jackson said. "Two tremendous lessons."
Curry would certainly agree.
For a year and a half, the health of his ankles consumed Curry's thoughts. Even when he was on the court, he had to account for it. "It was every day," he said. "Hours of rehab and therapy, not knowing if it was good enough to suit up or not, in and out of the lineup."
But now he thinks only in Xs and Os when he's playing, which he's doing more often than he ever has. While his 2-point field goal percentage and PER have taken a slight dip as he adapts to handling the ball on the pick-and-roll a bit more often, extra playing time has led to career highs in points (20.1) and assists (6.5) per game and a career-low turnover percentage. His advanced numbers remain steady, too, underlining that what the 24-year-old needed most this season was simply court time. That and peace of mind.
5. But injuries issues still linger.
Is it possible for a player to save a franchise in only 73 minutes?
That's how much playing time Bogut has seen in a Warriors uniform since he was swapped for Ellis last March because of a left ankle injury that required microfracture surgery. Golden State has managed to turn things around since then thanks to the culture change signaled by their foundation-shaking deal (see No. 3) as well as the roster moves they've made since. But imagine one of the league's top defensive centers patrolling the paint instead of a limited rookie in Ezeli and a player tailor made for the amnesty clause in Biedrins (even though they didn't use it on him).
When the Warriors will get to see that, however, remains a bit of a mystery. The 28-year-old 7-footer played in the season opener but shut it down after appearing in four of the team's first five games and hasn't played since. There is currently no timetable or target date for his return, he said, even among him and his doctors.
"For my personal sanity and the team's, I've kind of put my head down and worked every day," Bogut said. "When I'm ready I'll be in the layup lines. But I'm not gonna set expectations because with this kind of injury. You have swelling one week and you have to kind of turn it down."
The lack of an immediate goal has made the process tougher, but Bogut said the progress he has made has been "pretty positive."
"To be honest, I haven't had a life outside of rehab," Bogut said. "I've gone home and tried to put my foot up in the air and keep ice on it so I can be back on the court soon."
6. The Bay Area has been waiting for this.
Take it from Oakland resident and TrueHoop Network mainstay Ethan Sherwood Strauss:
David Lee called this Oracle atmosphere a 'rock concert' and we're not even certain about the Warriors making the playoffs -- for the second time in 19 years. A mere spark is needed to unleash the conflagration because this one team represents a long dormant enthusiasm of a seven-million-person region. They all share the same community because the Bay Area is a ring that wraps around the water. Its residents face each other as though in camp fire communion, and so many have been longing to funnel the pride and joy they feel for each other into this perennially depressing franchise.
7. They will have their first All-Star since Latrell Sprewell.
The Warriors used to be mainstays at All-Star Weekend two decades ago, with at least one Golden State player being selected into Sunday's game each year from 1989 to 1995, but they haven't had an All-Star since Sprewell's third career selection in 1997. (Jason Richardson, though, did manage to represent by windmilling his way to two straight dunk titles in the early '00s.)
All signs point to this year being the end of that drought.
Kobe Bryant, Chris Paul, Kevin Durant, Dwight Howard and Blake Griffin are almost assured fan-determined starter spots, and Russell Westbrook, James Harden, Tim Duncan and Tony Parker are safe bets as reserves. But with Kevin Love and Dirk Nowitzki dinged up and Steve Nash and Pau Gasol mired in Lakers muck, and as long as Lin fans don't unseat CP3 in the starting lineup, the final three bench spots are more open than usual in the star-studded West. The coaches, as they tend to do, will surely want to reward the Warriors for their fast start by sending one of their two key players to Houston, and Curry seems a more likely candidate than Lee given the former's more flashy offensive game and noticeable leap forward this season.
The guess here? Curry, Marc Gasol and Serge Ibaka get the final spots.
8. Barnes is still developing his brand (of basketball)
With each major free-agent decision by one of the NBA's power players, the veil surrounding the influence of "branding," or off-the-court earning potential, fades; basketball is a business, we are told time and time again, and never has this been more apparent. That was signaled perhaps most notably by Barnes, who, as a college sophomore, talked openly about his brand and how it affected his decisions.
Now a rookie for the Warriors, Barnes still has business aspirations, but he understands that he can't get too far ahead of himself.
"Your game dictates how much off-the-court stuff you want to do," he said. "Your on-the-court is going to be what defines that."
But so far, that itself has been hard to define. Barnes looks like he belongs -- he has good size for a wing at 6-foot-8, 210 pounds, and his cuts to open space and post-up abilities indicate a more mature offensive game. He has started from Day 1 and is averaging more than 9 points a game, yet his efficiency and overall production have been underwhelming. His recent performance alongside Curry in a mock-Hansel and Gretel scene for a fantasy basketball spot, though, was solid.
9. This is (probably) their best team since the Webber days.
The Warriors haven't been over .500 in January since the encore to the We Believe season in 2007-08, in which the Dubs finished with six more regular season wins than the previous season but couldn't crack a West playoff field that required a 50-win entry fee. That season also marks only one of two times in which Golden State has cracked 40 wins since 1993-94 (the Believers eked into the postseason the prior year with 42).
But here they are, a week into 2013, with twice as many wins (22) as losses, the No. 5 spot in the stacked Western Conference and a 92.4 percent chance of a playoff spot, according to Hollinger's Playoff Odds. The difference between those relative recent glory days and now is, of course, defense: Those Nellie-Ballers had the league's fourth-best offensive rating but ranked in the bottom third on the other end.
10. There is still work to be done.
Quoth Blake Griffin, whose Clippers have made the bottom-to-top turnaround the Warriors are currently chasing: "It's one of those things where nobody believes until you really make that transition, really prove beyond a reasonable doubt that you have made that transition to a legitimate contender. But they're doing a great job. I think they started out laying the foundation the last couple of years with Steph being there is a great piece to do that, and they brought in other great pieces to help them out as well. They're definitely getting there. But it's a process. It was a process for us even last year with the kind of talent we had. You just have to keep working it and working it."
That much was made clear Saturday when the Warriors, riding high after four straight wins and starting to attract eyeballs for their steady rise up the West standings, were shellacked by the Clips in L.A. One bad loss certainly doesn't reset the season, even one that was almost a 40-point game after three quarters, but things do get trickier from here for the turnover-prone group: After facing the 16th-toughest schedule, the Dubs see the Grizzlies, Blazers, Nuggets, Heat, Spurs, Thunder and Clippers over the next 16 days.
"We've been riding high, but we're not a team that's overly confident where we're giving away games," Lee said after Saturday's loss.
"We're still excited about what we've done thus far. We know there's a long road ahead of us and we're looking to get back on the court on Wednesday."