Not too long ago, 25 ESPN writers, editors and contributors weighed in on a number of topics concerning the upcoming season.
One issue discussed was which team was most likely to descend into turmoil.
You know the story. The Isiah Thomas Knicks. "The Ship be Sinkin'" Knicks. The Jail Blazers. The Clippers for a decade or two.
It happens sometimes. Things start poorly, continue worse, and then ... everyone seems to start agreeing that the team is falling apart.
There is an unofficial code in sports that players and coaches essentially do not make public statements about how bad their team or co-workers are. They just don't ... except on these teams.
Angry players. Dejected players. Tuned out coaches. Newspapers running photos of players looking upset or beaten (like the photos I am running with this story).
So, will we get one of those teams in the NBA this season? You have to kind of hope not. It's no fun at all to watch.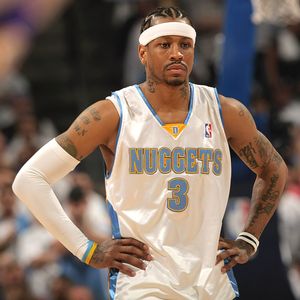 But it could happen.
The survey of 25 ESPN experts says ... that the Denver Nuggets are the most likely team to descend into turmoil.
They lead the pack with five votes. They are followed by the Clippers with four votes, then the Knicks and Suns with three each. The Rockets, Nets, and Mavericks each got two votes, while Detroit and Memphis each got one. Two voters abstained.
One thing that's noteworthy? Not a single vote for the Lakers, who would have won this category in a landslide a year ago. Winning is a fantastic thing.
Some of the voters agreed to explain their picks.
The Nuggets got a whopping five votes.
ESPN.com's Chad Ford says:
Denver seems to me the poster child for team turmoil next year. They've had high expectations with Allen Iverson and Carmelo Anthony, but the team hasn't lived up to them.

This summer Anthony was on the trading block for a short time and his future with the team still seems very much up in the air. Allen Iverson is in the last year of his contract and has the potential to cause problems if he isn't traded or doesn't get the contract renewed. The loss of Marcus Camby wasn't taken well by Iverson or Anthony. The Nuggets just took a big step backwards in their ability to compete.

To top it all off, the team has virtually no ability to get significantly under the cap to make the necessary adjustments, even if they let Iverson walk. Kenyon Martin is in a near-max deal. Anthony is maxed out. Nene is getting paid ridiculous dollars as well. They are likely a luxury tax paying, non-playoff team with two players on the roster who consider themselves superstars and a very volatile head coach.
Akron Beacon-Journal writer, and ESPN.com contributor, Brian Windhorst has lists:
Allen Iverson didn't get his extension, which at his age and contract demands was understandable but may not exactly have him thinking team-first right now.

Already one of the worst defensive teams in the league, Denver's best two defensive players (Marcus Camby and Eduardo Najera) are gone for nothing in return.

J.R. Smith now has more years on his contract than George Karl, which makes you wonder how that relationship will continue to fester.

There was already some question behind the scenes as to how committed Karl was at the end of last season and now it seems like he could easily become the scapegoat if the now weaker Nuggets can't keep up in the ultra-strong West.

Owner Stan Kroenke, perhaps tired of paying huge luxury tax bills for a team that can't get past the first round, has obviously ordered the payroll slashed and surely seems more interested these days in acquiring controlling interest in European soccer power Arsenal than investing in his Nuggets.

Unlike LeBron James, Dwayne Wade and Chris Bosh, Carmelo Anthony signed a full five-year extension in 2006 and is under contract through 2012, not '10 like the others. Which means less pressure to keep the resident superstar happy.
"So it surely seems," Windhorst concludes, "the Nuggets could be set up for a rebuilding phase if they fail this year with Iverson coming off the books. You never know, but the table hasn't exactly been set for them to succeed."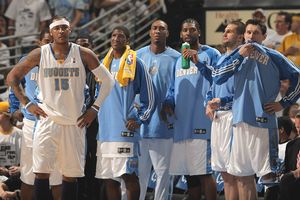 ESPN.com NBA analyst David Thorpe says he sees "all sorts of potential problems in Denver:"
Trading away Camby could serve as the fuse that lights that team up. He is well liked by most of his teammates, not the least of which because of his ability to cover up their defensive lapses with his shot blocking.

The bigger picture issue is that 'Melo and AI know this team is not going anywhere, and will be looking over their shoulder for trade stories every day. That team has always been a challenge to coach for all of the reasons we suspect, but subtracting hope from the formula may drain any chance Coach Karl had at keeping a group of 'stars' (who have lost eight straight playoff games) together and focused. Indeed, trading one of both of their stars away for a chance to build a new future might be the best move Denver can make.

I can't help but think that the Denver execs will be looking at Philly, if the Sixers are rolling with Andre Miller, and think "that's our point guard leading that team. How good would we be if we still had him?"
ESPN.com editor Maurice Brooks also voted for the Nuggets:
Allen Iverson is still great at dialing his own number offensively, but he doesn't make the players around him better. Is this the season where A.I. finally loses a step ... or two? Kenyon Martin and Nene are decent, but neither one of them ever seem to stay healthy. Although they aren't exactly role models, Carmelo Anthony and J.R. Smith are both solid players, but will that be enough for the Nuggets to punch a ticket to the playoffs in the ultra-competitive West? No. And George Karl will end up being the fall guy.
The Clippers came in second, with four votes.
I almost voted for the Clippers. Remember last season the owner and the coach were publicly mixing it up? That's Team Turmoil behavior right there. And they have started collecting players who have lots of skill but not a lot of track record of winning.
Dashed expectations are the surest seeds of NBA turmoil.
ESPN.com editor Royce Webb:
Do you see this working out well? Neither do I.

Baron Davis, their new, freestylin', shot-happy point guard, who isn't always listening when his coaches are talking, looks like a terrible fit for Mike Dunleavy's top-down system. We've seen what Davis can do to drive a team during a playoff chase, but what happens when the Clippers fall eight games back in the race?

Meanwhile, they're counting on healthy seasons from Davis and Marcus Camby, while hoping that Eric Gordon, Cuttino Mobley, Tim Thomas, Al Thornton, Jason Williams, Ricky Davis and Chris Kaman somehow mesh into something more than the sum of their individual talents.

Perhaps the Clips will whimper quietly back into second-c
itizen status in L.A. and also-ran status in the West. But after losing Elton Brand, awarding $65 million to Davis and committing most of their cap space to Camby, it seems more likely the crash will be noisy if this thing falls apart.
ESPN.com editor Matt Wong can't see how any team could look good after losing Elton Brand:
Baron Davis is not Elton Brand. Marcus Camby is not Elton Brand. Ricky Davis, Jason Williams and all of the other recently acquired vets are not Elton Brand.

Thus, the ingredient that Clipper Nation needs most -- stability -- is now missing again.

I like their talent and the chips on their respective shoulders. But in the West things can go south real quick. And if and when that happens, this combustible cast of characters will go Boom Fizzle.
The Suns and Knicks got three votes each.
I voted for the Knicks. Jemele Hill told me that was too obvious, like shooting fish in a barrel. ("Picking the Knicks as the team in turmoil," she writes, "would be like saying Amy Winehouse needs professional help.") But I can't lie: The team with Stephon Marbury and Zach Randolph gets my vote, even if they do have low expectations, a new front office, a new coach, and a mandate to clean house.
The Suns, though, that's where things get a little dicier. Fans in Phoenix are, I sense, genuinely thinking about a championship this year. They're not going to like seeing Phoenix tied for third on this list.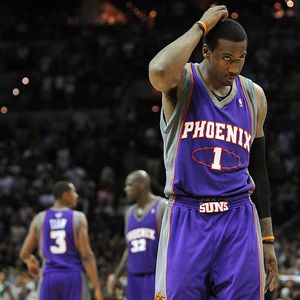 ESPN.com's John Hollinger explains his choice:
They have a new coach, they have high expectations that they probably won't meet, they have Shaquille O'Neal, who is likely to show up out of shape and has a history of complaining about touches, and they have a weird dynamic going with the Sarver/Kerr thing.

I guess "turmoil" would be a bit strong, but they're the best candidate I could come up with.
ESPN.com's Scoop Jackson chose Phoenix because he sees a team that's regressing:
Look at how they've gone backwards over the years in their playoff finishes. The loss of Marion. The unproductiveness of Diaw. Now the loss of D'Antoni. I just have a feeling it's about to all fall apart. Plus, for the last three years I've picked them to win it all and they've pissed me off all three years, so I'm done with them. I'm officially off the bandwagon and I'm taking the rims with me.
When ESPN.com editor Chris Ramsay stares at the Suns now, he feels a loss of identity:
My friend, I don't know you anymore.

You used to be so much fun. You were the burning hot, run-and-gun rock star of the NBA. You had amazing and powerful style. You had The Matrix. And you had Mike Mustache. You were -- without a doubt -- the coolest team in the league.

Now, you are suddenly uncool.

You are the ancient Rolling Stones playing halftime at Super Bowl XL. You will tip the season with a 163-year-old starting lineup: Shaq (36), Amare (25), Hill (36), Bell (32), Nash (34).

I'm concerned that age and injuries will devastate you. I'm afraid that a losing locker room will drag you down a cold, dark wormhole in the Arizona desert.

And my biggest fear is that you will become the '06-'07 Heat ... a Shaq-dismal team of semi-inspired vets. They opened with a 42-point home loss to the Bulls, drifted through the regular season and got swept in the first round of the playoffs.

You could not stay the same forever. I get that. The NBA has a natural cycle. Teams are sold. GMs move on. Players get traded. Coaches get fired. But you changed and you didn't have to, Suns. You were special. You gave away your mojo.

And that's why when I ask the Magic 8-Ball if you will make the playoffs this season.

It answers "My sources say no."

Even so, I have to send best wishes to your new coach Terry Porter. I've always liked TP. I really do wish you success ... but, my friend, I am not hopeful.
The Rockets, Nets, and Mavericks got two votes each.
I'd be very interested to hear how Houston -- a tightly bonded band of overachievers much of last season -- made it onto this list, but alas not everyone wanted to explain their picks.
Though they do have Ron Artest now. Perhaps he is combustible enough solo to earn the whole team some votes.
New Jersey is undeniably rebuilding. ESPN'com's Chris Sheridan picked New Jersey:
With the Nets, if they stink right from the get-go, there's going to be one very unhappy superstar with the initials V.C. who is going to want out as badly as Jason Kidd wanted out last season.

A question though, along the lines of the famous if a tree falls in the forest query: If the Nets are in turmoil, will anyone notice?
A voter who wished to remain anonymous writes:
The ongoing decline of Vince Carter, mixed with his fragile ego and big contract, will become a toxic situation. Plus the uncertain status of Lawrence Frank. Because of the retooling of this team there will be higher expectations now ... and expectations plus a lack of a team backbone always make for a bad equation.
ESPN.com's Jemele Hill voted for the Dallas Mavericks, under new coach Rick Carlisle:
I picked Dallas because they've gotten progressively worse since the 2006 Finals. The Mavs went from a team contending for the top seed to somewhere between a 6-8 seed. The next plateau for them is to not make the playoffs at all, which is at least a possibility with the competitive West and emerging teams like Portland and the Clippers. As we've seen, 50 wins is almost a starting point in the West.

Add in the fact they have Jason Kidd, an underrated coach killer, an antsy Mark Cuban ...

Carlisle has an awful reputation for his relationship with players. I was in Detroit when that thing went sour and I was not at all surprised the same thing happened at Indiana.

Kidd doesn't like to be questioned. He basically likes to be the coach and Carlisle's an alpha male. Again, if they start middling, Carlisle will be an easy target. At this point, Cuban has made trades, he's replaced two coaches, the only move he has left is to do a drastic breakup of the team because they aren't getting anywhere.
(Allen Iverson and Denver Nuggets photos by Doug Pensinger/Getty Images. Amare Stoudemire photo by Harry How/Getty Images.)