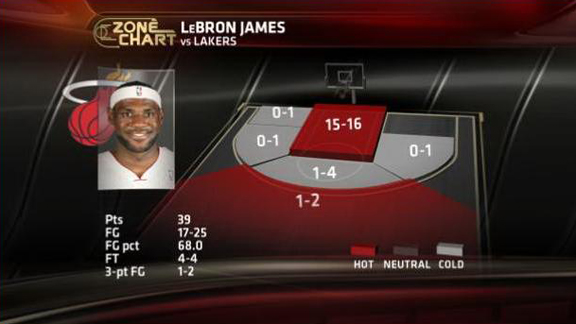 In the final six minutes of the Miami Heat's win over the Los Angeles Lakers, LeBron James scored or assisted on 14 of the Heat's final 16 points in a vintage "carry your team to victory" effort.
What else was of note from his game?
Plenty. Here are five nuggets of interest.
1-- James had 39 points, eight assists, seven rebounds and three steals. Via Basketball-Reference.com, we can tell you that the last three players to do that against the Lakers prior to him make for an unlikely trio-- Michael Jordan (1988 Chicago Bulls), Stephon Marbury (2003 Phoenix Suns) and Corey Maggette (2007 Los Angeles Clippers).
2-- James was 15-for-16 in the paint, as the shot chart above shows, and 13-for-13 from within five feet of the basket. The 13 made field goals tied his career high for the most such makes in a game.
3-- James had six dunks. That's his most in any game for the Heat and his most in a game since he had seven against the Utah Jazz in 2009.
4-- James is now 12-6 all-time in regular-season meetings with Kobe Bryant, 4-1 since joining the Heat. James' 39 points were two shy of his most in a game against Bryant.
There have been five games in which one of those guys scored at least 37 points. Four of those belong to James, who is averaging 27.7 points per game to Bryant's 25.1
5-- The Elias Sports Bureau tells us that the Heat are 5-1 in the second of games played on consecutive days this season (the best such record in the league). James is averaging 28 points-per-game in those six games, compared to 25.8 points in all other games.