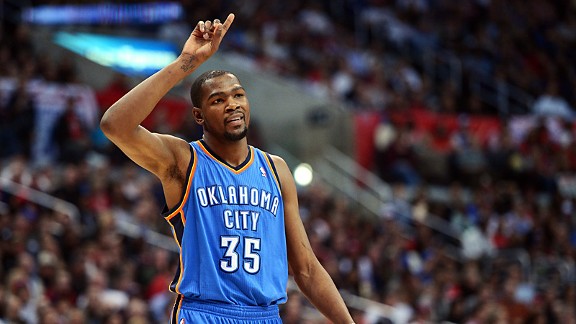 Harry How/NBAE/Getty Images
Kevin Durant took over the game with a 24-point second half against the Clippers.
Kevin Durant at the top of his game
There isn't enough length, ball pressure, traps, help or divine intervention to stop a run like Kevin Durant put together down the stretch on Tuesday night. The All-Star forward scored 32 points on 12-for-19 shooting from the field in the Oklahoma City Thunder's 109-97 victory over the Los Angeles Clippers.
"When a guy is nearly 7-feet tall with a crossover like Jamal [Crawford's], it's going to be tough," Clippers center DeAndre Jordan said of Durant's performance.
Durant can hit from anywhere, but he loves nothing more than to work from the top of the floor, which makes the game a living hell for the defense. It would be hard enough to defend Durant in a utility closet, but when he has the ball way up top with the floor spread, help defense becomes treacherous because the opposition is stretched from sideline to sideline -- which is how something like this happens.
In addition to the firestorm he started in the fourth quarter, Durant also racked up seven assists. Driving down the gut of the lane, Durant hit Thabo Sefolosha for a couple of corner 3-pointers and found Serge Ibaka for a 3-pointer and another baseline jumper. He also found Ibaka on a basket cut from that perch. The more Durant built his nest at that spot, the more you're going to his assist rate soar as it's doing this season.
Life without Chris Paul
It's not that the Clippers can't find shots without Paul, but, organizationally speaking, things don't run as smoothly. Because there isn't a tried-and-true system in Los Angeles, Paul is essentially the on-the-spot play designer for the team. After the game, Clippers forward Blake Griffin described how the game is harder for the Clippers when Paul isn't out there.
"[Paul] controls the game," Griffin said. "He's calling plays. He's making sure guys are in the right spots. He's always thinking and always talking. When he's out there, he's your guy you always look to see what we're in, or what we're doing or what we're trying to do."
Blake Griffin's big night
"We really don't double," Thunder coach Scott Brooks when asked why his team chose not to send extra defenders at Griffin, who finished with 31 points, hitting 11 of his 19 field goal attempts. Griffin had to dig hard for those 11 field goals, as he had to wrestle with Ibaka for position down low. Meanwhile, the Thunder weren't allowing Caron Butler and other Clipper wings to set that cross-screen to free up Griffin to catch the entry pass from the wing, then quickly storm the basket.
Still, Griffin had a tremendous outing on a night when he had to dig for every inch of space on the right block and contend with Ibaka's combination of length and savvy as a defender. The driving spin move was in full effect, as was the fadeaway baseline jumper.
"He had a great game," Brooks said. "He's one of the strongest, quickest athletic guys. He's an awkward scorer. You don't think he's going to jump, but then he jumps, or he jumps off the wrong leg. He just has a knack. He's an amazing player."
Kevin Martin making good
In 61 seconds of court time spanning the end of the first quarter and the beginning of the second, Martin drained three 3-pointers to turn a six-point Thunder deficit into a one-point lead that the Thunder would never relinquish.
How did Martin get those looks? The first came on a double-single, with Martin looping counterclockwise around his teammates from the top of the floor to the left sideline. The second occurred when Martin found an open lot along the arc after DeAndre Liggins collected a long offensive rebound. The third was more familiar, something we might have seen while Martin was playing in Rick Adelman's corner offense -- a little set with Nick Collision situated off the left elbow with Martin swinging around from the top to collect a handoff, then shoot from beyond the arc.
"We still put in a little corner action, having me play off Nick Collison in the high post just like Brad Miller," Martin said. "But you have to do more than one thing. You have to be able to take people off the dribble, come off screens, read, iso. Here, with the second unit I have to be more of a scorer. Then, when I'm out there with [the starters], I can be how I was in Sacramento when I played with Mike Bibby and [Chris Webber], just roam and get open jump shots."
We don't immediately think of Martin as a versatile player, but he's demonstrating in Oklahoma City how many ways he can hurt defenses with different actions and approaches.
Eric Bledsoe, starting point guard
The common knock on Bledsoe is that the third-year guard isn't fully verse in running an NBA offense. It's one thing to lead the storm-troopers in the Clippers' second team, but quite another to orchestrate the team's more studied starting unit. Contra those skeptics, Bledsoe filled in nicely for Paul during the Clippers' 3-0 road trip last week, but there were moments on Tuesday night when, as the Clippers' starting point guard, he got out over his skis.
The Clippers tried to make life easy for Bledsoe by running a series of elbow sets in which Bledsoe fed Griffin in the high post then cleared. They also called for a steady stream of pick-and-rolls for Bledsoe and Griffin. Too often, Bledsoe missed the angle on an entry pass, or held the ball a moment too long while the offense ground to a halt. As a result, Bledsoe, a 26 percent shooter from 16-to-23 feet, launched five shots from that range in the game's first nine minutes. On the Clippers' first possession of the second half, Bledsoe fired up another 22-footer indiscriminately when he couldn't find an immediate alternative.
Bledsoe still had his moments -- a block on Nick Collison, timely cuts to the basket, vicious ball pressure on Westbrook and a couple of unseemly offensive rebounds out of nowhere. But he's just beginning to grasp that delicate balance between patience and aggression that Paul understands better than any point guard in the game.