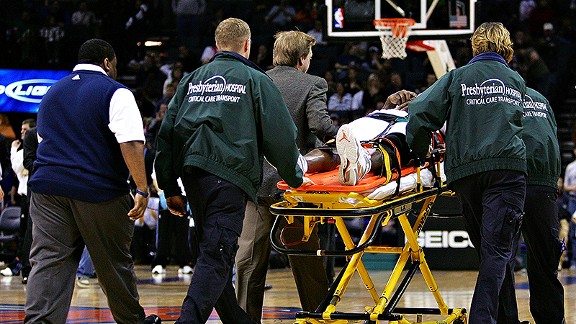 Streeter Lecka/Getty Images
NBA players remember -- or in some cases, don't remember -- suffering concussions.
Medical science suggests that blows to the head have potential to cause harm in ways we are only just beginning to understand. This is a huge issue in sports like football -- and, despite basketball's reputation as a non-contact sport, something of an issue in the NBA. As part of the Working Bodies campaign, we suggest that if you look for them, you'll notice blows to the head in basketball, too.
Brian Scalabrine has a powerful account of suffering three concussions in one NBA season. Ask around, and plenty of other NBA figures have concussion stories to share.
NICK COLLISON
The Thunder big man told his story to ESPN's Kevin Arnovitz.
I got hit right across the bridge of my nose. This was in Oklahoma City a few years ago. Jamaal Magloire went up for a shot. I fouled him and his arm motion follow-through hit me right here [pointing to nose].
It's kind of like I saw stars. I've had that feeling before, but then it eventually comes back together and you're fine.
So I was waiting for it to come back, but it never really did. I stayed in the game. I don't know why -- but I just stayed in the game. We went down and back a couple of trips, but I felt like I was going to the wrong end. I saw my teammates going, so I knew that's where we were going, but it felt like the wrong basket. I even caught the ball and passed it -- it was maybe like two or three possessions.
Then when there was a timeout, I came to the bench I felt like the bench was on the other side. Rationally I saw all the people going there but I felt like the bench was on the other side. It was a really weird feeling.
I told the trainer, "I don't feel right."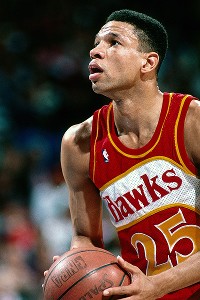 Rocky Widner/NBAE/Getty Images
Celtics coach Doc Rivers says he remembers nothing about the three concussions he suffered in his playing days.
So we went in the back. And then there's like a thirty-minute stretch where I couldn't answer really easy questions like what day it was. I remember being asked these questions, but I couldn't get my thoughts together to answer them.
So they kind of just quit asking me questions. About thirty minutes later I got everything back. I just had a headache the next couple of days. I was out maybe a week.
But they're really good [in Oklahoma City]. They don't mess around with that. They know how serious it is. We do the baseline testing with a computer program -- cognitive tests. We have to be able to reach a score before you can play again.
DOC RIVERS
The Celtics coach remembers his playing days, as told to CelticsHub's Brian Robb.
I was out cold. I woke up in the hospital -- literally.
It's very serious stuff. I don't think we know the ramifications of all of them yet, but I know we know they aren't good for you. It's serious thing that is happening. The Junior Seau thing and Duerson in Chicago. It's serious stuff and we got to figure it out.
I had three [concussions], that I know of. Two were bad. That one [in Atlanta] and one in high school. You don't remember them -- I can tell you that. Neither one of those two, you can't remember anything that happened. You remember that day, but you just can't remember [the concussion itself]. It's amazing, it never comes back. You don't ever see that. Maybe that is good.
JASON SMITH
The Hornets big man talked to Joe Gerrity of Hornets247.
Basketball is supposed to be a non-contact sport but obviously if you take a fall from missing a layup or somebody undercuts you and you hit your head on the floor that's hitting hardwood floor ...
It's one of the scarier injuries, I guess, that I've ever suffered. Just because you think that you're okay, but others around you know that you're not okay-- because you might be staring off into space or you might get a headache or you might not think anything about it, except that your brain controls your body and you don't want to try and mess with that at all.
If you have a sprained ankle you can see it swelling in the ankle. If you have a concussion it's kind of like where's the bruise? Let's put some ice on it. Oh wait, you can't do that because it's a concussion. It's one of the more scary injuries that I've ever had and I think we handled it the right way.
I've never had anything like that happen to me before. So it's the kind of thing I'm glad it's in the past and I'm not suffering any repercussions from it.
Comparing it to football it's not even close. You might catch the occasional arm from someone trying to block a shot and they catch you in the face, but that's not like somebody going across the middle on a passing route and getting knocked out by somebody's shoulder. So it's a little bit different. In some cases, yeah, it's serious hits.
In most cases, I hate to say it, but it's just kinda like you got stunned a little bit. But you never know how big of a stun you get until after the game or a couple hours after the game where you're just kinda like oh my head hurts, I'm not feeling right. You never know until anything happens how bad it really is.
DARIUS MORRIS
The Lakers guard told ESPN's Kevin Arnovitz a story from his college days, at Michigan.
In college, one of the guards got a concussion going after a loose ball.
It was Stu Douglass. He seemed fine, but after practice -- we had taken a baseline test before the year -- but he couldn't pass it [after the injury]. It was a pretty easy test, too.
He fell on the floor with someone else diving on the floor. He hit his head. It didn't look that nasty, but he was out for like a week.
He was a little slow at first. But after a while, he got over it. It was just a weird situation because it's not something you can physically look at, or physically rehab. It's hard to figure how that brain works. Because he couldn't pass that baseline test. The test wasn't that hard.
J.J. BAREA
The Timberwolves guard talked to Jesse Blanchard of 48 Minutes of Hell.
I went for a layup, got off balance, hit my head against somebody's leg and then hit it again against the floor.
When it happened I didn't go back to the game. And then a couple minutes later I fell back and started thinking about what happened. After the game I got a test and I passed it.
That night I felt a little dizzy, I wasn't hungry. But I got a good sleep, nothing lingering, I woke up fine. I took another test and had a workout before they let me play again.