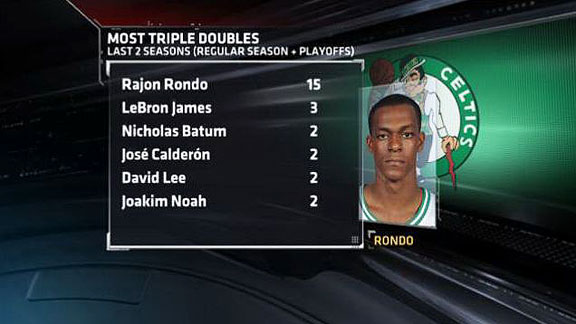 Rajon Rondo has been Mr. Triple-Double for the Celtics.
The Boston Celtics won but lost on Sunday, beating the Miami Heat but losing Rajon Rondo to a season-ending torn ACL.
Here's an overview of notes related to this injury, Rondo's performance, and how the Celtics could fare without him.
On Rondo's value
As good as Rondo has been, keep this in mind: Even with him this season, the Celtics ranked 23rd in the NBA in offensive efficiency entering Sunday.
Rondo entered Sunday ranked 49th in player efficiency rating among players (and 16th among guards) who have played at least 3,000 minutes in the last four seasons. He ranked tied for 54th overall this season among those with at least 500 minutes played.
Celtics With Rajon Rondo
This Season - Per 48 Minutes
The Celtics are averaging 93.8 points with Rondo on the court this season, and 90.7 points with him off the court. But they're considerably better in terms of what they allow, as noted in the chart on the right.
They've been able to survive his absence in the past.
The Celtics are 145-95 with Rondo over the last four seasons, but they are also 21-13 without him. He's previously missed as many as 14 games in a season.
In that span, they've been a plus-2.9 points per 48 minutes with him on the floor, but plus-4.4 points with him off the floor.
Where Rondo excelled
Rondo was creating a league-leading 24.3 points per game off of his assists this season, nearly three more points per game than the next closest player. Last season Rondo created a career-high 25.8 points per game off of his assists
Rondo assisted on 49 percent of his teammates field goals scored when he was on the court this season. That assist percentage led the NBA, as did his 19 games with 10 points and 10 assists.
The player who may feel Rondo's absence the most is Kevin Garnett.
It's a small sample, but Garnett was shooting 68 percent from the field on shots inside five feet with Rondo on the floor (56-for-83), but 59 percent (23-for-39) on such shots with Rondo out.
The Celtics will also have to make adjustments with their pick-and-roll.
Rondo was shooting a career-high 50 percent and averaging 5.3 points per game as the pick-and-roll ball handler this season, the former of which was seventh in the NBA, minimum 50 plays.
Rondo had scored 52 percent of the Celtics points on that play type this season.
Bittersweet Milestone
Presuming that this was Rondo's last game of the season, he becomes the fourth player in NBA history to finish a season averaging 13 points, 11 assists and five rebounds per game.
The other three are Magic Johnson (seven times), Oscar Robertson (three times) and Chris Paul (once).
Elias Sports Bureau Stat of the Day
The next time Rondo plays (which will presumably be next season), he will be trying to become the second player in Celtics history to record three straight triple-doubles. He would join Larry Bird, who had three straight during the 1984-85 season.