The Los Angeles Clippers confirm this shred of a report from Lisa Dillman on the L.A. Times website.
According to the Clippers, point guard Jason Williams has decided to stop playing basketball. There is no known reason for his decision, and messages left with his agents have not been returned.
Williams signed as a free agent with L.A. just in August, and evidently decided at some point since then few weeks that he has had enough.
There had been talk this off-season that he might play overseas.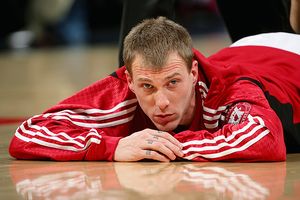 Williams, who played high school sports with NFL star Randy Moss, entered the league in 1998 as one of the most exciting players of his generation. His work as the ringleader of Rick Adelman's thrilling Sacramento Kings teams is the stuff of YouTube legend.
I remember once clearly seeing him hold the ball behind his back, at a full run, as he popped it with his opposite elbow to a streaking teammate. Even though I saw it, I wasn't sure it had really happened.
Under old-school Coach Hubie Brown in Memphis, Williams learned to be less flashy, which may or may not have contributed to his winning a championship ring with the Miami Heat in 2006.
In more recent years, Williams' star has faded somewhat as he has dealt with various injuries. At 33, however, a decade into his career, I don't think anybody suspected he may be ready to leave basketball, so needless to say this comes as a shock.
(Photo by Rocky Widner/NBAE via Getty Images)