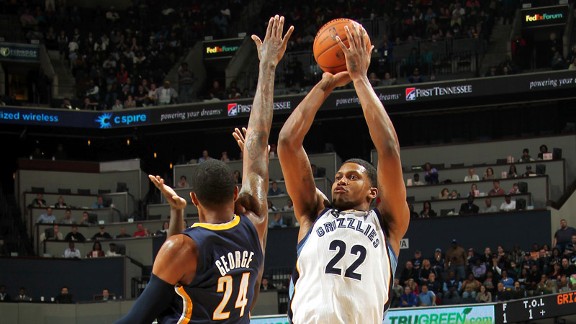 Joe Murphy/NBAE/Getty Images
Rudy Gay, an electric scoring talent who has underachieved, is headed to the Toronto Raptors.
Marc Stein is reporting that the Memphis Grizzlies have agreed to send Rudy Gay and Hamed Haddadi to Toronto in exchange for Ed Davis, Jose Calderon and a second-round pick. Calderon would then be moved by the Grizzlies, likely to the Detroit Pistons for Tayshaun Prince and Austin Daye.
Quick reaction:
Many Memphians see this as breaking up a contender. I see it as defusing a financial time bomb. Once the new luxury taxes and restrictive cap rules fully kicked in over the next few years, the team from the NBA's smallest market would have not only lacked the dollars, but also the roster flexibility to get the pieces to continue contending. And what did that top-dollar roster get them? Almost no draft picks and, according to the playoff odds, a team with a 2 percent shot at a title. Now, at least, the team will have the roster flexibility to try to find the right mix of players around Marc Gasol, Mike Conley and company while they're still young.

The optimist in me can picture Gay flourishing in Toronto. It only takes eyes to see he has the tools to be an MVP-type player, and by all reports he's a good guy. But something wasn't working in Memphis. I watched him in person on Monday night and on TV a hundred times. For all his skill, length and grace there were clearly times he was not going as hard as he could. He has not been an efficient player of late -- how much of that has been because he's unwilling to go hard, at the rim, on the break, off the curl? One take is that he was simply dispirited. Maybe a change of scene, and being in a city where he will be the focal point, will do wonders for him. With the right mindset, he could destroy defenses. And of course the mega-talent who doesn't play super hard in Toronto will bring up Vince Carter stories. But that's not the insult you might think it is: His reputation took a beating, but Carter has long been excellent.

It has always amazed me that more teams don't want Jose Calderon. He's good -- in fact he has the highest player efficiency rating of any player in this trade. He would help any team.

For the Raptors, Davis had served as insurance against Andrea Bargnani, who has been both injured and in trade rumors. Does Davis' departure assure that Bargnani -- who has not been a standout player this season at all -- will have a bigger role moving forward? If so, that, and the loss of Calderon, could make it tough for the Raptors to get much better anytime soon, no matter how well Gay plays.

Ed Davis is making 78 percent of his shots at the rim, which is a mighty number, tying LeBron James. It's a new thing for Davis that might not last. But he's an interesting young player. David Thorpe recently discussed Davis' emergence on TrueHoop TV.

The first six seasons of Tayshaun Prince's decade-plus in Detroit were incredibly exciting: Scoring monster buckets as a rookie in the playoffs, making key plays at both ends in one exciting playoff series after another, and even winning a title. The past four-and-a-half seasons, though, have been dismal. Michael Curry replaced Flip Saunders, and there were grumbles. John Kuester replaced Curry, and there was open mutiny. A contender was rebuilt around Rodney Stuckey & Co., with one title teammate of Prince's after another shipped off or let go. Meanwhile, Detroit posted zero playoff wins in a half-decade. And through it all, Prince is a gamer. He has played long minutes and he has not mailed them in. He's not the player he once was, but one coach after another has discovered he's impossible to keep on the bench, even at 32. Like Gay in Toronto, perhaps Prince will be rejuvenated by a change of scenery.