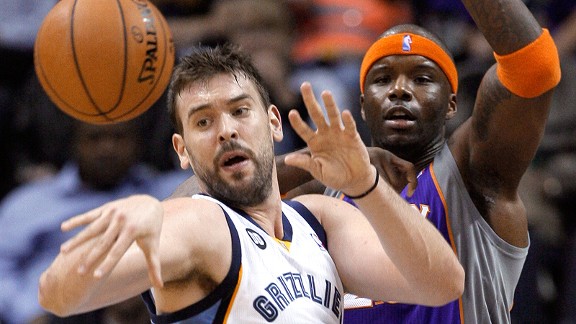 AP Photo/Danny Johnston
More movement could free up the Grizzlies' offense.
Trading Rudy Gay freed Memphis from one of the NBA's largest contracts. It could also free them from an underperforming offensive style that includes way too much standing around.
The Grizzlies do a lot of things right. Lionel Hollins has a reputation for being a players' coach, and the tenacity of his team's defense and rebounding speaks to his ability to keep players hungry and motivated. But the X's and O's of his offense, which is overseen by Henry Bibby, seems stuck in an NBA past that is not coming back. Walking the ball up and banging it into the post is just not a viable way to consistently generate great offense.
The Grizzlies generate a ton of turnovers, which for most teams would lead to a ton of easy buckets and offensive efficiency. But not on this team, which struggles to score both on the break and from the 3-point line.
The problem is stagnation.
The Grizzlies attempt fewer 3s than every team but one -- and also make them at the seventh-worst percentage in the league. Some of that has been about personnel -- there's a reason the newcomers are shooters like Tayshaun Prince (43 percent), Austin Daye (53 percent) and Jon Leuer (47 percent in the D-League). More quality long-range shooting helps. But good offense doesn't require it. Just ask the Utah Jazz, who have long achieved good offensive efficiency through player movement.
Utah's flex-driven motion offense generates spacing and opportunities through a system of movement and screening. That's how the Jazz far outpace the Grizzlies in free throw rate and transition scoring -- two areas where Memphis lags badly.
Memphis shows all kind of grit on defense, but the offense is all grind -- to a halt.
The problems start at the beginning of most possessions, when the Grizzlies choose to walk the ball up court. Very few of the NBA's best offenses regularly do this, and it's not just about shooting early in the clock. Here's Kevin Arnovitz describing the Spurs:
The Spurs force their opponents to defend for a good 18 seconds. They're all discipline and patience and slow-playing their hand in a half-court possession. They know that, more times than not, even a capable NBA defense will make a bad decision at some point, especially if the Spurs keep moving, picking and cutting.
Many Memphis possessions don't really start until the shot clock is close to single digits. The defense has less work to do and less time to make mistakes before a shot goes up.
And even when Memphis does get into a set, the team struggles to generate snappy ball movement. The departed Gay and the remaining Zach Randolph, in particular, both have sticky hands and tendencies to seek one-on-one scoring opportunities.
This was particularly ineffective for Gay, a slasher who'd like to find his way to the rim. He was fed the ball often enough to lead the team in shot attempts, but so often his drives ended in a less efficient midrange jumper because Marc Gasol, Randolph and their defenders were hogging the paint. Like all slashers, Gay would come off a screen looking for daylight, and instead he'd see a clogged lane with muddled driving angles.
Randolph is fairly productive as a post-up or isolation threat, as are the Grizzlies as a team. They rank above average in both categories according to Synergy. But here's the thing: Those two ways of scoring make up the least efficient ways to get buckets in the NBA. Having a great isolation player is most useful when he can distract multiple defenders and create open looks for teammates. In Memphis, that just has not been the case.
The lack of movement also contributes to a lack of free throws because while the Grizzlies have a number of players who can get decent shots, they don't really have a lights-out go-to scorer who can consistently create from nothing. Conversely, a motion-heavy offense like the modified flex sets that Utah runs rely on off-ball movement to generate advantages for players before they even catch the ball.
Most people consider Gay to be a superior player and athlete to Gordon Hayward, but I'll take Hayward catching the ball with a step on a recovering defender over Gay or Prince on the wing in isolation against a set defense. And indeed, Hayward draws 5.7 fouls per 36 minutes to Gay's 3.6.
There are moments of genuine fluidity and grace in Memphis' offense, particularly when Mike Conley and Gasol work together on pick-and-rolls or Gasol, a genius passer, operates from the high post as his teammates cut around him. But too often, the offense seems dedicated to seeking advantages in one-on-one matchups, rather than a group effort to find one-on-none.
The Grizzlies start four good offensive players and Tony Allen, which ought to be enough to carve up most NBA defenses. An offense like the flex, in particular, with all its screening and cutting and passing from the high post would also perfectly suit Gasol's gift for finding the open man, while keeping guys like Randolph in position to attack the offensive glass.
With Gay gone, Memphis has a chance to infuse more motion, ball movement and life into its offense. If the Grizzlies can, this deal might pay off on the court as much as on their cap sheet.