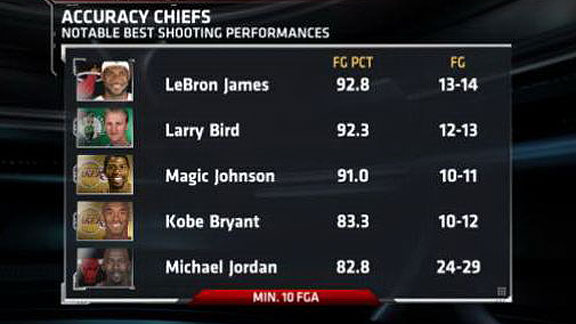 LeBron James came within one shot of perfection from the field on Monday. He was 13-for-14 in the Miami Heat's win over the Charlotte Bobcats on Monday night.
Here are the top things to know from that performance, one that stands atop James' best games in at least one area.
1. This was the best field-goal shooting game of James' career, regardless of the number of shots taken. His previous best was a 9-for-11 (82 percent) game against the Nets last March.
The chart on the right shows how James fared on all the different play types.
2. The only shot James missed was marked as a four-footer that rolled off the rim with 2:33 left in the 3rd quarter and the Heat leading 61-57. James has shot an NBA-best 76 percent from the field this season on shots from less than five feet (minimum 100 shots).
LeBron James FG by Play Type
As you'll see in the shooting zone chart at the bottom of this post, James was able to make things very easy for himself, by taking every shot from inside the paint.
3. Apparently the post-Super Bowl flight to Miami did little harm. This marked the seventh time this season that the Heat played on back-to-back days. It was the first of those seven in which James scored at least 30 points in each game.
4. The last player to shoot 13-for-14 from the field or better (minimum 14 shots) in a regular season game was Andrew Bogut for the Milwaukee Bucks against the Dallas Mavericks on January 26, 2010 (13-for-14). The last player to do so for the Heat was Shaquille O'Neal (15-for-16) against the Seattle Supersonics in 2006.
5. James is 25-5 against the Bobcats in his career and has won nine straight meetings against them. In his 30 games against the Bobcats entering Monday, James had only shot 60 percent or better from the field twice.
Statistical support for this piece came from NBA.com