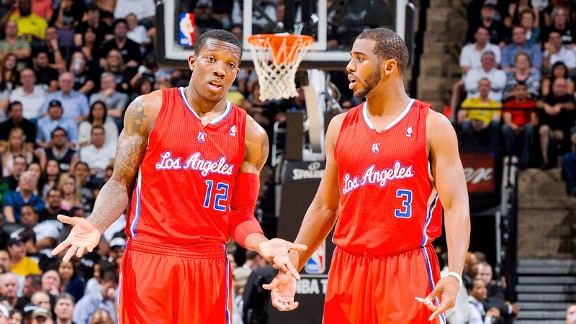 D. Clarke Evans/NBAE/Getty Images
Eric Bledsoe and Chris Paul: The Clippers' embarrassment of riches at the point.
Momentum is a precarious thing in the NBA.
Five weeks ago, the Los Angeles Clippers were romping through their schedule, dispatching teams with brutal efficiency en route to a 28-8 record. The Chris Paul system was flourishing. Blake Griffin's expanded offensive repertoire was blossoming, and his defense was coming along very nicely, thank you. The second unit was scaring the bejeezus out of the league, and the depth -- a rotation 11 deep with Grant Hill's return -- allowed the team to send a wave of reinforcements at opportune times.
Then bodies started to fall. Paul bumped knees with J.J. Redick on Jan. 12, suffering a bone bruise. Griffin picked up the slack, carrying the load as the featured player in the Paul-less offense, but then tweaked his hamstring earlier this week. He has missed the Clippers' past two games. Supersub Jamal Crawford is day-to-day with a sore shoulder. Since Paul's collision with Redick, the Clippers are 7-8.
Despite the bumpy ride, the Clippers aren't overly concerned. They feel the healthy version of their team can make a rightful claim as one of the league's elite powers, and are confident they're a top-three seed in the West. When intact, the Clippers' starting unit thrives. Their bench squad is gangbusters. All the permutations of their closing lineup -- whether it's Lamar Odom or DeAndre Jordan at center, or whichever combination of Crawford, Matt Barnes and Caron Butler at the wings -- kill the competition. Well aware of this, the Clippers have exercised caution with their stars' nicks and bruises, and now the returns of Paul, Chauncey Billups, Griffin and Crawford are imminent.
Once they're restored to full strength, the Clippers are presented with a dilemma:
Do they stand pat, faithful that the on-court efficiency and locker room chemistry is enough to put them on equal footing with San Antonio and Oklahoma City? Or does the tough competition from these seasoned rivals out West necessitate upgrading the roster if the right opportunities present themselves?
This is a tough proposition for the Clippers. If you're Bryan Colangelo in Toronto, you can roll the dice with impunity because you have little to lose at this point. For an organization adrift, change, in and of itself, can take the pressure off a beleaguered front office and buy it some time. But the Clippers have a far more delicate balance to maintain. Every team wants to improve, but there are no guarantees that any deal, no matter how attractive it appears in the Trade Machine, will do that. The risk of upsetting a winning formula is real, but so is the risk of not capitalizing on a chance to improve.
The situation in Los Angeles contains a series of intriguing variables and conflicting agendas. For instance, if you're in management -- a custodian of the future well-being of the franchise -- trading away a young player on a value deal isn't something you do lightly. Adding savvy veterans is always nice, but at what burden to the spreadsheet and at what cost to the current chemistry?
But if you're a coach or a star player whose contractual relationship with the Clippers expires on June 30, you have all the motivation in the world to push all-in for a chance to win the big prize in June. That's especially true if you're a head coach who values reliable vets with championship pedigrees more than younger players with raw, unrefined talent.
Specifically, Eric Bledsoe is the Clippers' most compelling case study. If Chris Paul returns to Los Angeles next season on a long-term deal, Bledsoe is somewhat (not entirely) expendable. At the very least, he becomes less valuable to the Clippers than to a team in desperate need of a point guard of the future. The best way to ensure Paul returns is to win now, and if Bledsoe can fetch a piece that can aid that effort, as our Kevin Pelton has outlined, does it make sense to move the young point guard?
The counter-argument goes that Bledsoe is not only insurance for Paul, but he's helping the Clippers now as the catalyst of the league's most successful second unit and as the team's best on-ball defender. Deal him at your own peril. Management understands this, which is why Bledsoe will more than likely be a Los Angeles Clipper in two weeks.
Jordan is a more complicated matter. He isn't likely to go anywhere, but his situation prompts some interesting questions. Vinny Del Negro puts a premium on experience, and he has been reluctant to place Jordan on the floor in big spots on a consistent basis, particularly now with Odom at his disposal. Moving Jordan could make sense for a couple of reasons. We can debate the validity of Del Negro's skittishness with Jordan, and there are reasonable arguments on both sides. But the fact remains that the confidence from the staff isn't there, so why not equip the roster with a big man whom they can trust, provided such a player is available at a reasonable price?
Then there's the issue of Jordan's contract, which he signed during the 2011 offseason -- another two years and $22.4 million after this season. This isn't a horrible deal because big men with Jordan's athleticism who can protect the rim are in short supply. But if they're riding the pine during crunch time, that salary is a bit more burdensome. The Clippers could try to deal Jordan, much like what the Nuggets did when they developed buyer's remorse over Nene soon after signing him to a slightly overvalued deal. Truth be told, landing in a place where Jordan is handed the center spot without reservation might be a welcome change for the big man, who has worked diligently over the past few seasons to polish his game. Jordan has maintained a stiff upper lip, but can get frustrated with his role, even as he loves being part of the tight-knit group that exists with the Clippers.
All of which brings us back to that delicate balance for this organization enraptured by its current success after eons of futility. Do the Clippers stick with a program that has yielded the best results in the franchise's history, or do they adopt the one move away plan, and act on the irresistible temptation to get over the hump, even if it comes at the expense of future success?