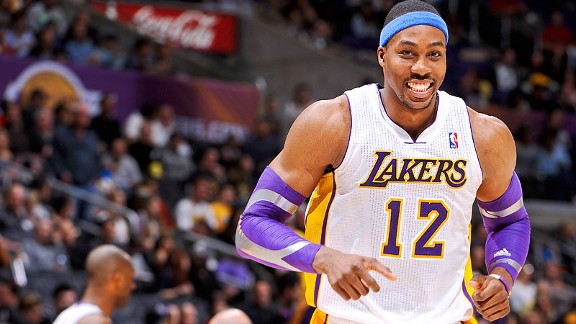 Andrew D. Bernstein/Getty Images
Dwight Howard's ongoing experiment in living without credibility takes a bad turn.
There's an unwritten rule in sports that nobody questions anyone else's injury.
It's how you'd like to be treated, too. Assume every player wants to play -- if they weren't super competitive, they never would have made it to the NBA in the first place -- and believe them if they say they're not ready to go.
Injuries, as any injured person could tell you, are just such incredibly personal things. It's silly for someone sitting next to you to declare you are ready to get roughed up on the court. Injured players talk things over with doctors, trainers and medical staffers, and they make the decision about whether to play or not.
And that's that, and that's sacred, and that's how it should be.
But that's not how it is on the Lakers right now.
Kobe Bryant is leading a number of Lakers who are noodling, publicly, with the idea that their franchise center, Dwight Howard, might be more ready to play than he thinks he is. Here's what Bryant said to ESPN Boston's Jackie MacMullan:
"We don't have time for [Howard's shoulder] to heal," Kobe said in an exclusive interview on Wednesday. "We need some urgency.

"[Dwight] has never been in a position where someone is driving him as hard as I am, as hard as this organization is.

"It's win a championship or everything is a complete failure. That's just how we [the Lakers] do it. And that's foreign to him."
Steve Nash told ESPN Los Angeles' Dave McMenamin: "Hopefully he's ready to come back soon. I think it's inevitable he's going to feel some discomfort and pain."
Mike D'Antoni pointed out Howard has been cleared by doctors.
Rule of not questioning somebody else's injury: broken.
In defense mode: Howard.
Missing: Anybody who'll say "there's no reason not to believe Dwight Howard," or "you can take Dwight Howard's word to the bank."
In search of credibility
That's the moral of this story. Why tell the truth, even when it's hard to do? To build your credibility for down the road. So people believe when you really need them to.
"The Boy Who Cried Wolf," and all that.
Howard has long been one of the best players in the NBA, anchoring some of the best defenses, improving his post-game to the point of becoming a leading paint scorer, and dominating around the rim in a way that few ever have. This season, recovering from back surgery and struggling with a shoulder injury, he has been a shadow of his former self physically. But even at half-speed and lacking the explosion you'd expect from a two-time dunk champ, he has been tremendous by almost any measure.
That's almost always enough, at this level of the game, to get people to treat you like gold in public.
But Howard had made himself a special case. His repeated actions have made his word something to be taken with more than a little salt.
This superman's kryptonite is keeping his word.
Seems cheap to even bring it up, but Howard arrived in the NBA showering people in talk of Christian values; the off-court Howard who's a mainstay of gossip sites and the "Basketball Wives" is not the kind of guy you'd hear about from many pulpits.
He made grand promises about the depth of his commitment to Orlando, only to later admit he was trying to get to Brooklyn all the while.
And, in one of the more embarrassing moments in league history, he hugged his then-coach, Stan Van Gundy, mid-press conference, pretending there had never been any rift ... moments after Van Gundy had told reporters he knew Howard wanted him fired.
Awkward, indeed. And damaging to the idea you can look in Howard's eyes and see the truth.
So now Howard is coping with real injuries while hearing real public criticism from his teammates the likes of which most players never have to deal with. One of the worst outcomes I can imagine is, effectively, the wolf gets Howard. As in the pressure works, Howard caves and plays when his body tells him it's not ready, and then he gets hurt.
What a shame Howard has to deal with that. What a shame he hasn't earned more of his team's trust.